Pregnant woman, several others injured in Agbara bank robbery [PHOTOS]
The robbery operation is said to have resulted in a fierce gun battle between police officers and the attackers.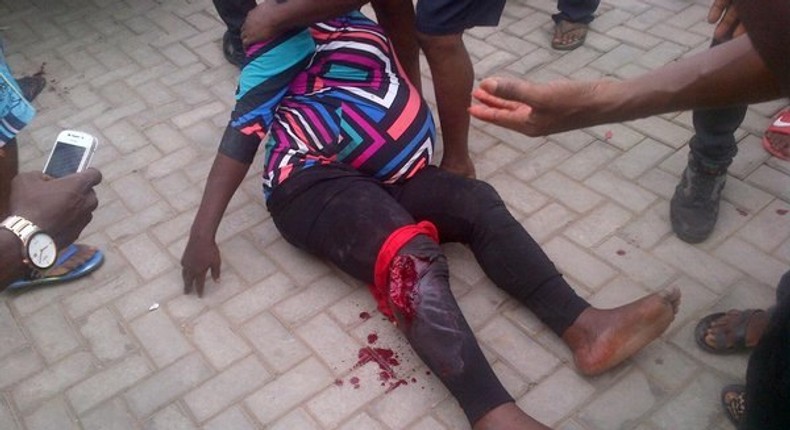 Armed robbers, today, November 19, 2015, attacked about five banks in Agbara Industrial Estate, Ogun State, reports say.
The robbers were said to have arrived the area at about 7am for the operation, according to Daily Trust.
"Some of the robbers stationed themselves in front of most of the Automates Teller Machine (ATM) located at the banks visited. They blew them open with Dynamite and carted away cash stacked inside the ATM. Others held staff of the banks hostage at gun point while they made attempt to enter the vault," a witness told Daily Trust.
A resident of the area, Segun Olumuyiwa, in confirming the attack to The Cable, said that he was forced to lie on the ground for two hours while the robbers operated.
"I don't know if it's the police that engaged them in shooting but the bullets kept flying all over," Olumuyiwa said.
"We had to lie on the floor for nearly two hours," he added.
Images shared on social media show that a pregnant woman and at least two others were injured during the incident.
One person has been reported dead but no official casualty figure has been released.
----------------------------
See Pulse Photo-News gallery below:
JOIN OUR PULSE COMMUNITY!
Recommended articles
APC low on funds as staff lament salary delay
Fact-check: Ghanaian President didn't ask Tinubu to give Peter Obi a chance
Peter Obi's camp replies 'Atiku's attack dog', Dino Melaye
China reaffirms commitment to sustaining cooperation with Africa
'I Just dey laff', El-rufai mocks Peter Obi 2m man match in Kaduna
This is our time and nobody is going to take it – Gov. Akeredolu
Monkeypox: Virologist urges government to acquire smallpox vaccines
Tinubu will continue from where President Buhari will stop – Nasarawa Speaker
Peter Obi thanks Nigerian youths for pushing the OBIdient movement