NRC conducts trial run on Abuja-Kaduna standard gauge
The trial ride which took off from the corporation's Idu Station in Abuja at 8.27 a.m. traversed the NRC stations at Kuchibon, Asham, Jere, Gidan, Rijauna, Dutse, Kakau and arrived in Rigasa in Kaduna at 12.42 p.m.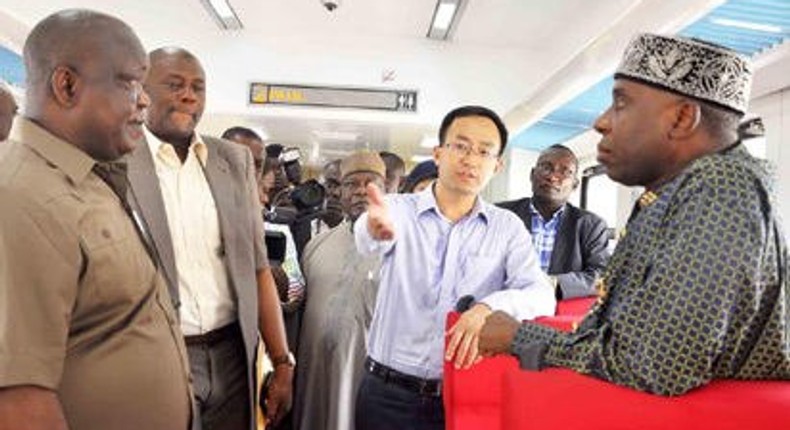 The Nigeria Railway Corporation on Wednesday commenced its maiden free trial run aboard the Abuja-Kaduna standard gauge rail track.
The News Agency of Nigeria (NAN) reports that the corporation took delivery of three 80-passenger capacity standard gauge coaches, one 56-passenger capacity executive coach and one Parcel/Guard van coach on March 2.
The trial ride which took off from the corporation's Idu Station in Abuja at 8.27 a.m. traversed the NRC stations at Kuchibon, Asham, Jere, Gidan, Rijauna, Dutse, Kakau and arrived in Rigasa in Kaduna at 12.42 p.m.
An individual standard coach which is 1,437 mm as against the 1,067 mm of the narrow gauge in width has a 57.2 tare weight with 150 km/h speed.
Mr Fidet Okhiria, Managing Director, who described the trial as successful, said that the purpose was to perform strategic inspection and attract passenger traffic.
``It is the first time we are running passenger train on standard gauge and that makes it unique. I can say so far, so good, the ride was smooth.
``The speed is going to be improved upon from 100 Km/h to 150 Km/h when the passenger locomotives come, say, September, because the locomotive we are using now is the one used for construction.
``We delayed the train because we were carrying out some strategic inspection to find out what is not in the station presently and what we need to add.
``We need to add more seats, not for the passengers (because that one is in place) but for comfort of our staff,'' Okhiria said.
``However, from now till the commissioning date we invite people to ride in the train from Abuja to Kaduna and Kaduna back to Abuja.
``The Abuja motor park union have agreed to have park at Idu Station so that they will be moving passengers from back and forth the city and this will also encourage intermodal means of transport.''
Okhiria, who said the free trial for passengers will end in two weeks, added that ``the business class will cost N900, while the standard class is N600''.
On security, he said that both private security operatives and the Nigeria Police would be deployed by June 27 to support the various stations' security arrangements.
``The stations are fenced, so people cannot just start jumping in like we have in Lagos,'' he added.
Okhiria also said that the revival of rail transportation was important to the growth of the nation's economy.
``You know economy means transportation, that's logistics, to be able to move from place to place both persons and goods.
``So, when you do that the economy will definitely shoot up.
``Some people fear going to Abuja to do some businesses perhaps due to the roads and timing.
``The good thing about rail is that you can use your laptop because we intend to put a wireless service on the rail so that people can subscribe and use it,'' he said.
``Apart from that, the rail has a lot of vast land around, so, I tell you within one and half years you will see fast development, industries and estates will be springing up because this means of transportation is good.
``Towns meet up the stations and not the other way round; don't forget where we have our stations in Dugbe (in Ibadan), Enugu, and Kano were nothing but bushes until the stations came.
``You can't go to the centre of a city to establish stations because the cost will be too much, and the rail is to lead to expansion and further development of a city.''
He disclosed that adverts would be placed in national dailies for persons interested in branding the stations as well as both the interior and exterior of the coaches.
``Online booking will be on our website within the next one month; however, we are going to have self-service centres in the major centres where passengers can print tickets.''
Mr Lv Feng, the General Manager, Chinese Civil Engineering and Construction Company, Abuja Regional Office, said the company put in measures to guarantee passenger safety.
``We have been running it for more than one month now and it's been safe.
``A total of 68 Nigerians have been trained in the first stage of the three-phased training of train engineers.
``This operation is being operated now by NRC, but we are providing the technical support,'' he added.
A passenger, Mrs Felicita Isiwele, who joined the train at Kubwa, described the ride as a fulfilled experience.
``Actually, I was there to see a friend so I saw the train and asked if I could be among the first to board it, and I was given the ticket.
``So far, it's really been fun, almost as tough I am in another place; as I'm here it's just like I am in a more developed place (country).
``It's been fun; I can't really believe that I'm in a Nigerian train and not those locomotives that to start is a problem,'' she said.
Isiwele, an English Language graduate of Ambrose Ali University, Edo, commended the NRC for the feat, saying: ``The way everything is here is fantastic, well organised and properly placed.
``Now I am sure that if I want to get to Kaduna faster and more comfortable, I need to use the train.
``They should, however, ensure that other states benefit from this facility,'' she said.
NAN reports that Idu Railway Station in Abuja is 186 km to Rigasa in Kaduna.
JOIN OUR PULSE COMMUNITY!
Recommended articles
Akwa Ibom: Jailed lawyer, Inibehe Effiong, sues chief judge
Fact-check: Senate President didn't send bill to Buhari to rename Kaduna State
Uzodimma donates 10 Armoured Personnel Carriers to Police
Blackout in 24hrs as Electricity Workers threaten indefinite strike
Buhari signs bills on terrorism, money laundering, electoral act, and more
2023: Atiku opens up on 'selling privatised enterprises'
Niger Republic denies receiving N1.15bn vehicle gift from FG
Goodluck to your defection - Adamu taunts Buhari's nephew for dumping APC
Matawalle orders for the headcount of households, buys 1,500 motorcycles for community guards