Rescued Babington Seminary girls resume studies
It was gathered parents who withdrew their children from the school following the abduction have started returning them.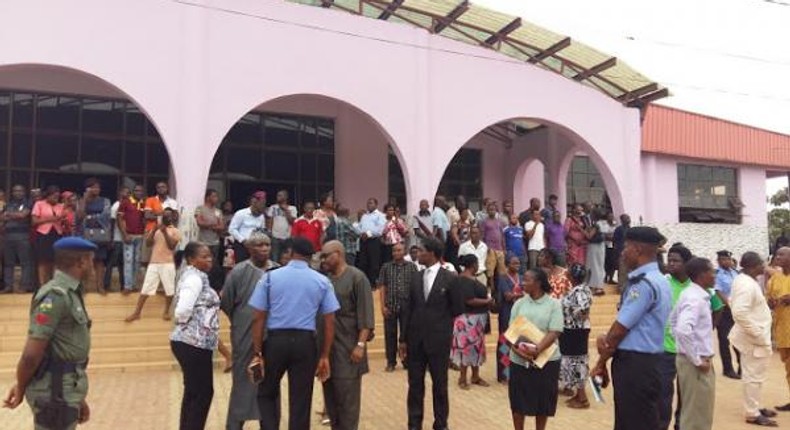 The three abducted girls of students of
The News Agency of Nigeria (NAN) reports that girls are back in school for regular academic activities as their examination begins next week.
"The girls are back in school and they are also preparing for their forthcoming examinations," an anonymous administrative staff member of the seminary told NAN. "This week is for revision and examinations will commence fully next week."
According to NAN, a parent, Bola Odu, who returned her children to the school, said the incident was a lesson for other school authorities to improve security around their premises.
He also advised them to always carry out proper screening and profiling of those to be employed as teaching and non-teaching staff.
"I have a boy and a girl in the school and I have returned them after the kidnap incident was resolved," Odu said.
It was learnt that the school has beefed up security in and around the school.
On February 29, the three female students – Timilehin Olusa, Tofunmi Popo Olaniyan and Deborah Akinayo were kidnapped by gunmen from the junior seminary at about 8p.m.
JOIN OUR PULSE COMMUNITY!
Recommended articles
Chaos in Ibadan as residents protest over naira and fuel crisis
Buhari begs Nigerians to give him 7 days to resolve new notes crisis
What is a run-off election and how is it conducted?
Ortom accuses Sanusi, other Fulani elites of plotting to eliminate him
APC Governors meet Buhari
So far, Buhari is giving right signal for credible elections– Organisation
We will end brain drain in medical profession – Makinde
FG evacuates 1,531 Nigerians from Ukraine
2023 Elections: Court orders INEC to accept LP candidates in 24 states