Fayose joins workers on indefinite strike, says he's handicapped
Fayose, who said he is handicapped, explained that he decided join the indefinite strike to express his concern.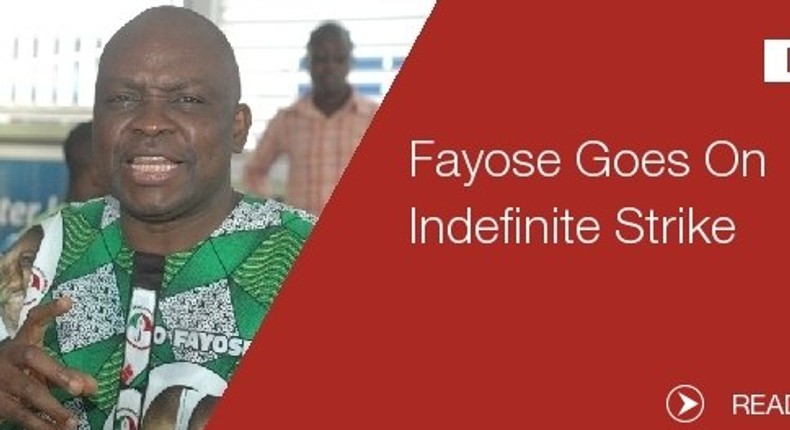 After failed efforts to make labour unions call off their ongoing strike over unpaid salaries, Ekiti State Governor,
He said he has opened up to labour leaders on the financial situation of the state, admitting that the situation might remain the same until the country finds a solution to the economic crisis due to the sharp decline in the price of oil.
"I want to tell workers that I have placed myself on indefinite strike in solidarity with them. I share your pains, but it is rather unfortunate that a man can't give what he doesn't have," he said in a broadcast.
"Presently, I am handicapped and there is nothing I can do. I appeal that you put the interest of the state above everything, because the present position affects everybody.
"I have told you the true position of the finances of the state, of which you had played critical roles in allocation of federal allocations to relevant sectors which shows how well I had carried you along since the dwindling revenue to the state commenced.
"During my first term, I mean, 2003 to 2006, I used to pay salary of workers by 21st of every month. But the present situation is very unfortunate and we have to learn how to live with it until the country wriggles out of it and things will change for better.
"I want to say that I will be expecting you back to your offices when you are ready to return to work. I shall be expecting you," Fayose said.
The Nigerian Labour Congress (NLC) embarked on the indefinite strike since Thursday, May 26, over non-payment of workers' five months salaries.
JOIN OUR PULSE COMMUNITY!
Recommended articles
Security: Ikpeazu inaugurates Umuchieze Cattle Market Committee
Ohanaeze aligns with Obi as SANs call for caution in Ekweremadus' trial
LP chieftain says quality of candidates responsible for surge in PVC demand
IGP lauds INTERPOL over recovery of stolen vehicles in Niger Republic
Akeredolu approves Olugbenga Ojo as new Oba of Isinkan
Policeman gets 30k reward for returning missing dollars to owner
Students praise Lagos govt for free education as they end SSCE
Obi, Kwankwaso play the waiting game on presidential candidate, running mate
Fresh headache for Machina as Yobe North senatorial aspirant heads to court