Former Governor insults Ribadu, denies $15m bribery allegation
James Ibori was the Governor of Delta State from 29 May 1999 to 29 May 2007.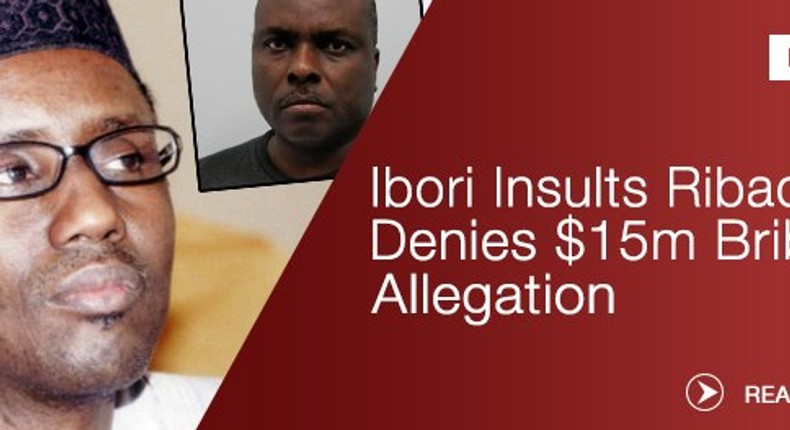 A former Governor of Delata state, James Ibori has denied bribing Nuhu Ribadu with $15m, as reported in the media.
According to Vanguard Newspapers, Ibori called Ribadu-a former Economic and Financial Crimes Commission (EFCC) boss, a damned liar.
The former Governor's media aide, Mr. Tony Eluemunor, in a statement said "Ibori's first reaction was to once again overlook the wild claim as Ribadu appears to be back at his game. As the Senate and some security agencies appear to be asking questions about some unwholesome events at the EFCC, including the mismanagement and criminal diversion of funds from the sale of confiscated property  into personal pockets, Ribadu may have a need to attempt to burnish his fading image, fearing the investigations may ask questions about events during his tenure."
Adding that "The attempt to shoot Ibori down began in 2003, when some Peoples Democratic Party, PDP, governors were opposed to Obasanjo's second term bid. That money, sourced from wherever, was used against Ibori, as part of that long-time bring Ibori down project. We challenge any newspaper or magazine to check all the statements on this bribery allegation and see how each of them, including Ribadu's five different statements, howls to Ribadu himself:
"Nigerians should know that it was the money from Chief Olusegun Obasanjo's third term tenure elongation bid that was dressed up as a bribe just to demonize Ibori.  Some $5 billion were employed to bribe the national and state legislatures to support the accursed project, with certain individuals receiving from N50 to N200 million," the statement said.
JOIN OUR PULSE COMMUNITY!
Recommended articles
United by Sallah: Kaduna Christians join Muslims to clear grass at mosque
UNICEF applauds release of over 50 abducted children in Ondo
Customs Onne Port command generates N115.26bn in 6 months
Presidential Amnesty Programme revokes training contract for ex-agitators
5 political reasons you should #GetYourPVC
Vandals destroy 20 transformers in 3 weeks – EEDC
Nigerian celebrity marriage breakups dominate social media scene
1,979 Kaduna State prospective pilgrims depart for Saudi Arabia
NDLEA intercepts N4.5b heroin concealed in baby food at Lagos airport