Buhari appoints 75-year-old Gambari to replace late Abba Kyari as chief of staff
Gambari previously served as a minister when Buhari was a military Head of State over 35 years ago.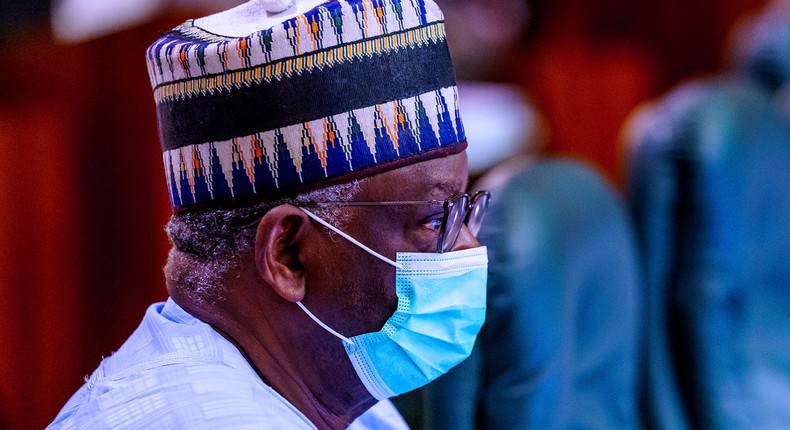 President Muhammadu Buhari has appointed Ibrahim Agboola Gambari, a former Minister of External Affairs, as his new chief of staff.
Boss Mustapha, the Secretary to the Government of the Federation (SGF), announced the appointment during the Federal Executive Council (FEC) meeting on Wednesday, May 13, 2020.
Gambari resumed at the Presidential Villa in Abuja on Wednesday to participate in the first FEC meeting conducted in nearly two months.
Due to social distancing measures to combat the ongoing spread of the coronavirus disease (COVID-19), the meeting was conducted via video conference with many cabinet members joining remotely.
Gambari, a Kwara native, replaces the late Abba Kyari, who served as Buhari's chief of staff since his first term inauguration in 2015 until April 2020.
Kyari, 67, died from coronavirus-related complications in Lagos last month, after years of acclaimed influence in the presidency.
While speaking to the media after the FEC meeting, Gambari promised to serve the president to the best of his ability.
"I thank the president for giving me this opportunity to serve him and, of course, the country.
"I think it demands loyalty, competence, and support," he said.
Gambari was the Minister for External Affairs between 1984 and 1985, a time President Buhari was the country's military Head of State.
He was also Nigeria's Permanent Representative to the United Nations (UN) for nine years between 1990 and 1999.
He also served as the Chairman of the UN's Special Committee on Peacekeeping Operations during the same nine-year period.
Pulse Nigeria
He was also the first UN Under-Secretary General and Special Adviser to the Secretary-General on Africa between 1999 and 2005, and chairman of the UN Special Committee Against Apartheid between 1990 and 1994.
The 75-year-old has also served as Head of the UN Department of Political Affairs between 2005 and 2007, and also operated as UN Secretary-General's Special Envoy on Cyprus, Zimbabwe and Myanmar, and Special Representative in Angola.
Gambari is an alumnus of King's College, Lagos; London School of Economics; and Columbia University, New York.
He was named the pioneer chancellor of the Kwara State University in 2013 by then-state governor, AbdulFatah Ahmad.
JOIN OUR PULSE COMMUNITY!
Recommended articles
NDLEA raids Abuja garden, arrests 6 over drugged cookies, noodles
Anambra residents react to 80-man committee for Soludo's transition programme
Benue will soon benefit from World Bank grant of 5m dollars–Ortom
Borno govt constitutes committee to investigate razor blade attack in school
TUC gives conditions FG must meet before subsidy can be removed
Governorship primaries: Pastor prays no life will be lost in Ekiti
UN chief pledges support for Nigeria in rebuilding Boko Haram ravaged Northeast
Idumota mayhem: Accord Party asks Sanwo-Olu to ban NURTW
UNIMAID has highest number of students in Nigeria, safe for learning - VC