Nigeria's lawmakers are "dishonourables"
A case in point is that of three members of the House of Representatives who were recently accused of improper conduct while on an official trip to the United States of America.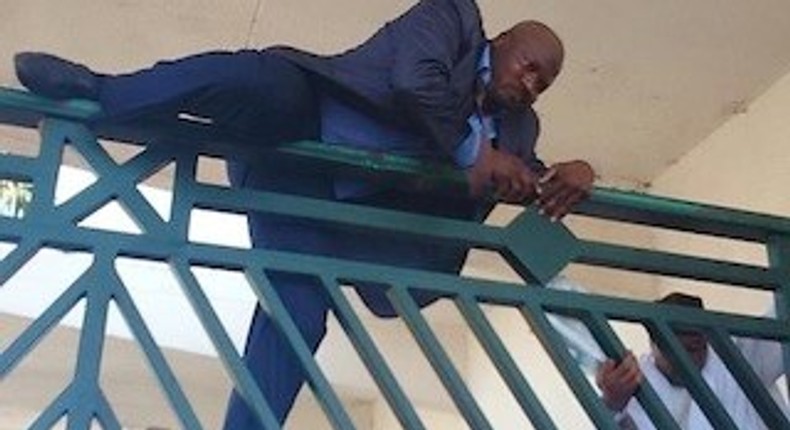 Nigeria's legislators are called "honourables" due to their position, but many of them are actually very dishonourable.
"The U.S. Department of State and the Cleveland Council on World Affairs received reports from employees of the Cleveland hotel where the representatives stayed, alleging the representatives engaged in the following behaviour: Mohammed Garba Gololo allegedly grabbed a housekeeper in his hotel room and solicited her for sex."
"While the housekeeper reported this to her management, this incident could have involved local law enforcement and resulted in legal consequences for Representative Gololo. Mark Terseer Gbillah and Samuel Ikon allegedly requested hotel parking attendants assist them to solicit prostitutes."
"The U.S. Mission took pains to confirm these allegations and the identities of the individuals with the employees of the hotel in Cleveland. The conduct described above left a very negative impression of Nigeria, casting a shadow on Nigeria's National Assembly, the International Visitor Leadership Program, and to the American hosts' impression of Nigeria as a whole."
"In addition, most of the members of this group reacted very negatively to my deputy when she brought this matter to their attention, further calling into question their judgement and commitment to the goals of the International Visitor Leadership Programme."
The US government was apparently just issuing a warning to the legislators but instead of reacting responsibly, they started to deny and threaten legal action.
"This is an affront on the National Assembly and Nigeria, it appears they have ulterior motives. We are not going to take this lightly; we will take legal actions against the US government. It is a dent on our image," Gbillah said in response to the claims.
Gololo also expressed outrage while announcing his position as "a honourable member representing a hallowed institution" and his "integrity as a husband and father".
The unfortunate truth however, is that these lawmakers are most likely guilty. The US would not make such heavy accusations without concrete evidence to back them up.
Gbillah is saying the US has ulterior motives, like what? Why would they randomly choose three legislators, out of ten who made the trip, to frame? What could the US possibly stand to gain by making false accusations? It's unbelievable that the legislators couldn't even restrain themselves while on official assignment. This shows that they're so used to behaving badly that they don't see anything wrong with it any more.
It's also easy to believe that they're guilty because Nigeria's lawmakers have made a reputation of behaving badly. From brawls in the "hallowed" chamber, to unguarded statements being uttered with reckless abandon, to "honourable" legislators scaling gates and chasing each other around, they have proven to be a dishonourable bunch.
This is beside the fact that they make tons of money for doing almost nothing and even believe that they are entitled to a lion's share of the nation's resources despite being grossly unworthy of it.
Nigeria's legislators do not deserve to be called "Honourables". You don't become something because you're called by the name, it is exhibiting the necessary character in the first place that qualifies you for the name in question. Our legislators are known for their unbelievable and inexcusable allowances, their extravagant lifestyles, their penchant to get down and dirty if the need be and so on. They are definitely not known for their honour.
That being said, it's either something is done to ensure that only truly honourable people get into the legislature or we'll just have to find another way of addressing them. It's time to say No to dishonourable "Honourables".
JOIN OUR PULSE COMMUNITY!
Recommended articles
Presidency: Stop wasting your time, resources - Ohanaeze slams Atiku
Underage voting: We will sustain clean-up of INEC register – Chairman
Yobe Gov, Buni bags Niger Republic's National Honour Award
Oil derivation: 9 oil producing states receive N625.43bn – Presidency
2023: We're working with NCC to counter result transmission issues - INEC
Ibadan residents express divergent views on spicing homes with Christmas decorations
Fuel scarcity: NSCDC deploys officers to curb hoarding in Osun
Okupe's suspension null and void - Labour Party leadership
Aminu Adamu charged with 'criminal defamation' over first lady tweet