Goodluck Jonathan is truly a buffoon
In January 2016, international publication "The Economist" described Jonathan as an "ineffectual buffoon" because of the unbelievable corruption which occurred during his administration.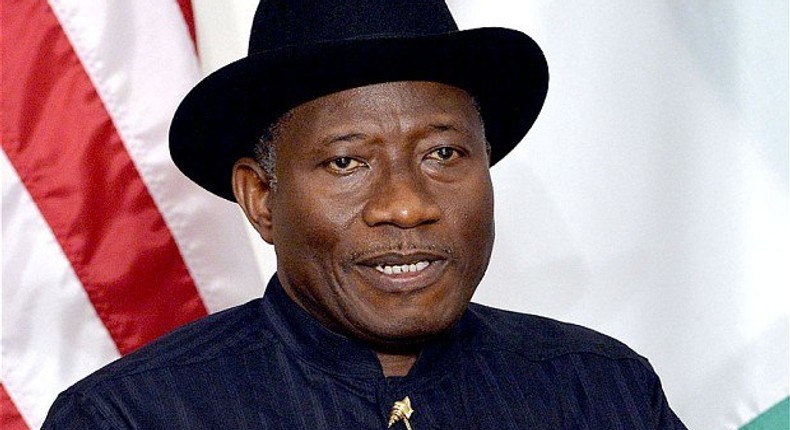 Buffoon: a ridiculous but amusing person; a clown.
Former Nigerian President, Goodluck Jonathan is a buffoon, possibly one of the most amusing in the world, and he doesn't even know it.
In January 2016, international publication "The Economist" described Jonathan as an "ineffectual buffoon" because of the unbelievable corruption which occurred during his administration.
At the time, Nigerians went up in arms to defend their compatriot but time has proven that The Economist was right about Jonathan.
Former National Security Adviser, Sambo Dasuki is being tried for supervising the looting of $2.1 billion from Nigeria's coffers. Dasuki and his aides also admitted to taking out $48 million from the Central Bank in one night.
Jonathan's service chiefs are being prosecuted for stealing money meant to fund the war against Boko Haram and many of his ministers and aides have been arrested by the Economic and Financial Crimes Commission (EFCC).
The Muhammadu Buhari administration has also revealed that persons who looted Nigeria's treasury have willingly returned N78 billion, $185 million and £3 million to the government.
A reasonable person who is in the middle of all this fantastic corruption would likely shut his mouth and hide his face in shame, but not Mr Jonathan.
"I cannot say that the country since the beginning of our Independence, that there was no corruption. Yes, there has been corruption," he said.
"I did very well also to curtail corruption. My approach to corruption was: don't make money available for anybody to touch.
"We made sure that the area of fertilizer subsidies was cleaned up. The whole corruption there was removed. I wanted to do the same thing in the oil sector but the very people that have been accusing us of corruption are the very people that frustrated it. It's unfortunate," he added.
Jonathan's bold faced lie that he fought corruption is the product of either a delusional mind or a sociopathic one. The former president not only turned a blind eye to corruption, he also hindered attempts to fight it.
For example, when former CBN governor, Sanusi Lamido Sanusi revealed that billions of dollars had gone missing from the Nigerian National Petroleum Corporation (NNPC), it was he who was suspended and harassed, not the thieves.
"I said to him that I'm surprised that I'm being asked to resign for raising an alarm over missing funds and the minister in charge of the portfolio is not being asked to resign," Sanusi, now Emir of Kano,told Forbes Africa in May 2016.
"From then I knew I had signed my equivalent for death warrant. But I said I was not resigning. He got very angry and said whether you like it or not, you're going to leave that office, I cannot continue to work with you, either you or I will leave government.
"I knew that taking on NNPC was taking on the most powerful minister in Jonathan's government, and nobody who had touched Diezani had survived. It was not a question of what would happen, I just didn't care at that time. I did not want to go down in history as having seen this and kept quiet," he added.
The Jonathan administration is a stain on the fabric of the Nigerian nation and the only reason why he is still free to wander the world and make ridiculous statements is because he conceded power to Buhari.
Goodluck Jonathan's attempt to earn statesman status by giving lofty speeches around the world is an exercise in futility because all right thinking Nigerians and citizens of the world already know who he is and what he stands for.
The unquestionable truth is that Jonathan and most of those who worked with him are the very embodiment of thievery, they are the actual bane of the Nigerian society, and no power concession or grandstanding narrative can change that.
JOIN OUR PULSE COMMUNITY!
Recommended articles
FG warns ASUU against disobeying court order
2023: Tinubu group commences training for over 600 vote canvassers
Monkeypox: Nigeria records additional 41 cases 7 days
Lassa fever: NCDC registers additional 6 cases, one death
2023: Nigerians won't regret electing Tinubu - Yoruba group
Atiku vibes to Davido's 'Stand Strong' to unveil recovery plan (VIDEO)
El-Rufai condemns lynching of 2 herdsmen in Kaduna
I'm healthy - Tinubu rides spinning bike to prove fitness (VIDEO)
Presidency presents 25-minute documentary on second Niger Bridge
Get our Top Stories delivered to your inbox