How Gov rescued Apostle Johnson Suleiman from DSS ambush
Fayose was said to have led a security team to confront the DSS operatives who stormed the Pastor's hotel at 2am.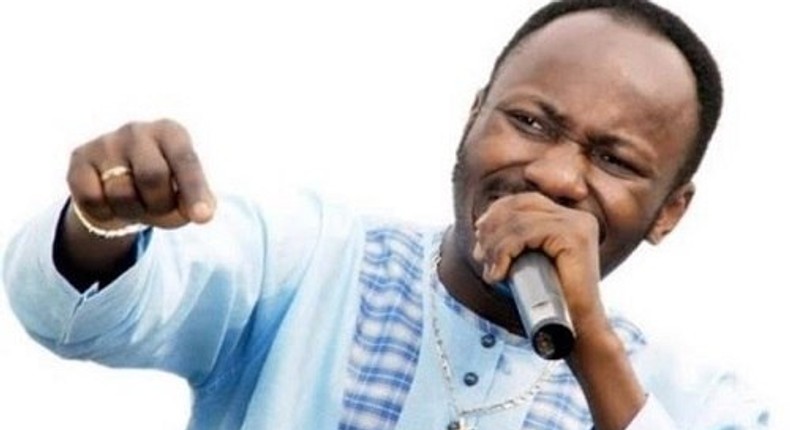 According to reports, the man of God is in the state for a two-day crusade, not knowing the DSS had perfected plans to arrest him.
In the early hours of Wednesday, January 25, operatives of the DSS were said to have laid siege on Suleiman's hotel, waiting for him to arrive from the day's programme which was attended by Fayose.
Upon arrival, the agents reportedly moved in and attempted to forcefully take him from his hotel room in the Adebayo area of Ado-Ekiti, but were resisted by the hotel security.
While the security men stalled his arrest, the Pastor hurriedly called Fayose on the phone and the Governor immediately led his security team to the scene.
Fayose was said to have, in strong terms, questioned the mission of the DSS operatives and shortly after took the man of God with him to safety.
Recounting the ordeal, the cleric said: "I came to Ado Ekiti for a crusade. But I had a premonition that I was being trailed after I  preached that Christians should retaliate any attack or killings by the Fulani herdsmen. These Fulani headmen had turned many Christians to orphans and widowers but the time has come to protect ourselves.
"I received several calls from hidden numbers trying to locate where I am and I had warned my security not to allow any Fulani man to come near me. So when the men of DSS came in the middle of the night, I knew their mission and I had to call the Governor because if they arrest me, they will set this country on fire."
Reacting to the incident, Fayose expressed disappointment at the DSS conduct, saying the pastor should have been invited not arrested like a thief.
"If they have any issue with him instead of  arresting him in the dead of the night after a powerful and spirit-filled crusade in my State," the Governor was quoted as saying.
"I personally attended his crusade and I think it is wrong for a man of God who is armless that could be invited if they have any issue against him. Are Christians and Moslems under different dispensation of the rule of law? . That's why I went there to rescue him. Let them kill two of us together. But when they saw my vehicles and the crowd, they fled.
"But we have information that instructions came from DSS in Abuja that the Pastor should be arrested. We are not in a fascist state, Federal Government must learn to respect the rights of Nigerians and freedom of expression," Fayose added.
Suleiman had in one of his recent sermons called on his church members to kill any Fulani herdsman they sight around them - he was reacting to the recent massacre of Christians in northern Nigeria.
Many Nigerians have, however, condemned the message which is said to be everything against what Jesus stands for while some described it as a call to violence.
JOIN OUR PULSE COMMUNITY!
Recommended articles
Buhari greets Atiku Abubakar at 75
Gov Okowa charges Nigerians to be steadfast amid challenges
President Buhari deserves credit for tackling insecurity, says Garba Shehu
Adamawa records 149 rape cases in 10 months
El-Rufai restores telecoms services to bandit-infested areas
AIG approves dismissal, prosecution of policeman who killed 5 people in Enugu
Banditry: Kaduna govt orders restoration of telecoms services
Rising cost of cooking gas worries environment minister as more Nigerians turn to firewood cooking
FEMA warns public against taking pictures during rescue operations