Gov. calls President Buhari a coward over absence at Ogoni
Fayose had since 2015 attacked the President and his administration at every given opportunity insisting neither the President nor the ruling party is fit to govern the country.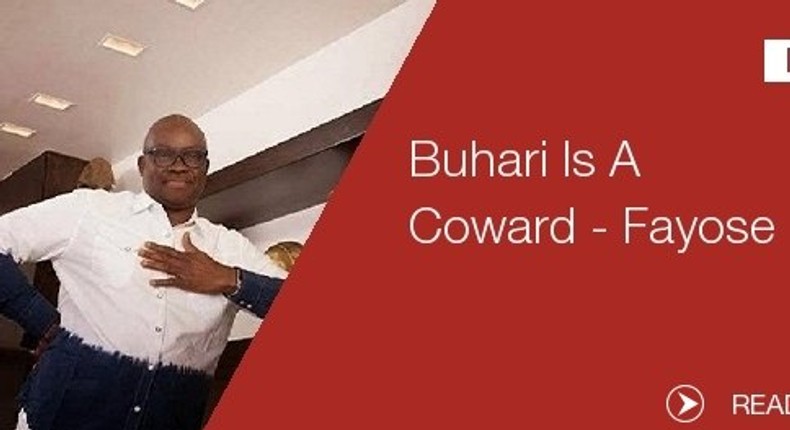 Speaking through his special assistant on public communications and new media, Lere Olayinka, the of Ekiti State governor said it is shameful and embarrassing to see that the President could succumb to ordinary threats from militants.
"It is shameful and embarrassing that a retired military general could succumb to threat from militants despite what he told Nigerians that he was going to lead from the fronts," read the statement.
Continuing, he said, 'By not going to Ogoni today, because of threat from the NDA, our president has shown that he is actually afraid of the militants and the best thing to do in a situation like this is to dialogue with the militants so as to save Nigeria economy from imminent collapse.
'It also shows that the president's ability to secure Nigeria and its people is doubtful, because if the president could succumb to threat from militants and abandon his official function for his deputy, ordinary Nigerians should seek help elsewhere.
'The president should therefore save Nigeria the agony of military misadventure in the Niger Delta by holding dialogue with the militants with a view to resolving their grievances. He should emulate late President Umaru Musa Yar'Adua by having a roundtable talks with the Niger Delta militants,' he said.
President Buhari had canceled his trip to Rivers and delegated Vice-President, Yemi Osinbajo to the landmark flag-off of the clean-up of Ogoni with no reason given.
JOIN OUR PULSE COMMUNITY!
Recommended articles
APC postpones screening of Tinubu, Osinbajo, other presidential aspirants
PDP primaries: I will wait as long as it takes – Banky W
Abductors reject N1m ransom offer; seize cleric, son in Ondo
PDP suspends primaries indefinitely in Imo
Tinubu pledges to establish agro industrial processing zone in Yobe
PDP primaries: Reps Minority Leader Elumelu wins ticket
NDLEA arrests ex-drug convict with 24 parcels of cocaine on arrival from Brazil
We'll reconcile Tinubu, Osinbajo, other APC aspirants after primaries - Adamu
Buhari returns from Abu Dhabi amidst Electoral Act confusion