'I'm worried soldiers are taking over police work,' House Speaker says
Dogara said the deployment of soldiers to over 28 states in the country is an indication that Nigeria is already in a state of emergency.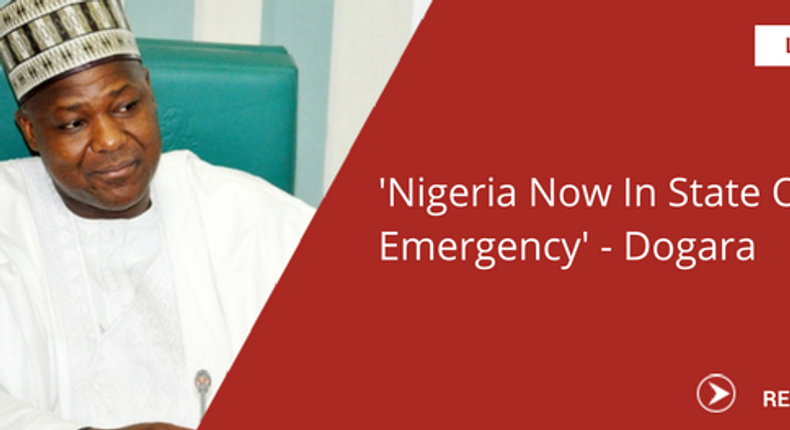 The Speaker of the House of Representatives, Mr.
The Speaker on Monday, July 3, said the deployment of soldiers to over 28 states in the country is an indication that Nigeria is already in a state of emergency.
Dogara noted that in peacetime, soldiers are only meant to complement the police and other civil authorities, and not the other way round.
He stated this in Abuja at a "Capacity/Interactive Needs Assessment Workshop of Security Sector Related Committees in the House of Representatives."
The programme was organised in collaboration with Policy and Legal Advocacy Centre.
Dogara cited Section 217 of the 1999 Constitution (as amended), which, according to him, defined the duties of the Armed Forces, contrary to what they are doing these days in many states of the federation.
"It is worrisome that Nigeria is effectively permanently in a state of emergency as the Armed Forces are deployed in more than 28 states of the federation in peacetime," the Speaker lamented.
"The Armed Forces have virtually taken over routine police work in Nigeria. They are no longer acting in aid of civil authorities but have become the civil authorities.
"Section 217 of the constitution spells out the duties and responsibilities of the Armed Forces of Nigeria, which include defending Nigeria from external aggression; maintaining Nigeria's territorial integrity; and securing our borders from violation from land, sea or air; suppressing insurrection and acting in aid of civil authorities to restore order when called upon to do so by the President," he said.
Speaking on the funds appropriated for security operations annually by the National Assembly, Dogara said the legislature must ensure that the money is transparently and judiciously spent.
He said, "Related to the constitutional powers of the National Assembly to appropriate funds and thereby allocate funds for security, is the power to ensure that such monies or funds appropriated are used in a transparent and accountable manner and for the purpose for which they have been given.
"The National Assembly's powers of legislative oversight cannot therefore be over-emphasised."
On the rising security concerns in the country, the Speaker assured that the House is ready and committed to providing legislative support to the executive to confront the issues.
"This past experience which saw a powerful military exercise absolute control and authority over the machinery of government has translated to the current challenge of getting these institutions to subject themselves to legislative scrutiny," the Speaker stressed.
"The often seen consequence of this is inadequate and inefficient delivery of security to citizens, as well as lack of accountability and transparency as they relate to security expenditure.
"The House has consequently, recently amended the Public Procurement Act to make the Armed Forces more accountable in procurement matters," he added.
JOIN OUR PULSE COMMUNITY!
Recommended articles
2023: INEC begins preliminary display of voters' register in Cross River
Peter Obi emerges 2022 'Man of the Year' with 2.4m votes
416 night accidents occur in 8 months, 97 die in Lagos — FRSC
2023: INEC displays voters register for claims, objections in Lagos
Monkey Pox: Ebonyi records 1 confirmed case
Matawalle orders house-to-house search to flush out criminal elements
Buhari congratulates William Ruto on election as President of Kenya
Ayu has no plan to resign as PDP Chairman- Media Aide
PDP presidential candidate, Atiku Abubakar receives thousands of defectors in Adamawa