President rumoured dead again
A purported UK based news website has again reported that President Buhari has been confirmed dead in London.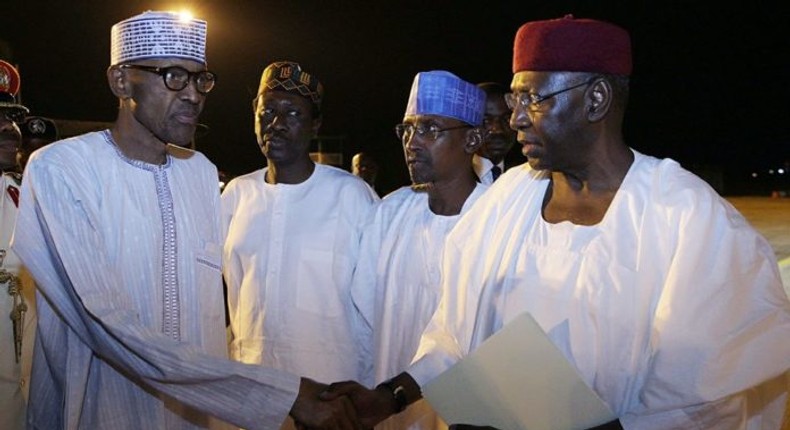 There are fresh speculations as spurred by the Metro UK website that President
The unconfirmed rumour, which is not based on any convincing evidence, is coming barely eight days after the Nigerian President flew to London for his scheduled follow-up medical treatment.
While Pulse is yet to establish anything concrete, it would be recalled that similar rumours from the same platform in the past have proven to be false.
The wild rumour of the President's death began to spread again for the second time in the last four months on the internet on Sunday evening, May 14, 2017 after a fresh report by Metro UK.
President Buhari returned to London on Sunday, May 7, 2017 for a scheduled follow-up medical checkup after receiving the recently released 82 Chibok girls.
Earlier, President Buhari had spent 50 days there between January 19, 2017 and March 10, 2017 on a medical vacation in London.
However, on Saturday, May 13, 2017, Femi Adesina, the Special Adviser on Media and Publicity to President Muhammadu Buhari had said no one except the president himself can tell the world what is wrong with him.
Adesina said "It is only the president himself that can declare that. It is within his prerogative to do that. Nobody can do it for him. Not even the doctors treating him can do it for him. Under the Hippocratic Oath, nobody can do it except the patient.
"Nobody; under the Hippocratic Oath, it says that even the doctor has no right to reveal the health status of his patient to anybody. So, it's only Mr President that can say what exactly is wrong with him," he said.
On Sunday, Adesina tweeted on President Buhari.
"Why do some people rage and imagine vain things? It is the counsel of God that shall stand. May God bless all those praying for PMB," he tweeted.
JOIN OUR PULSE COMMUNITY!
Recommended articles
Osun to hold Local Government elections on Oct. 15
APC low on funds as staff lament salary delay
Fact-check: Ghanaian President didn't ask Tinubu to give Peter Obi a chance
Peter Obi's camp replies 'Atiku's attack dog', Dino Melaye
China reaffirms commitment to sustaining cooperation with Africa
'I Just dey laff', El-rufai mocks Peter Obi 2m man match in Kaduna
This is our time and nobody is going to take it – Gov. Akeredolu
Monkeypox: Virologist urges government to acquire smallpox vaccines
Tinubu will continue from where President Buhari will stop – Nasarawa Speaker