10 things we learnt from President's speech
President Muhammadu Buhari's return address was neither here nor there. Find the major talking points below.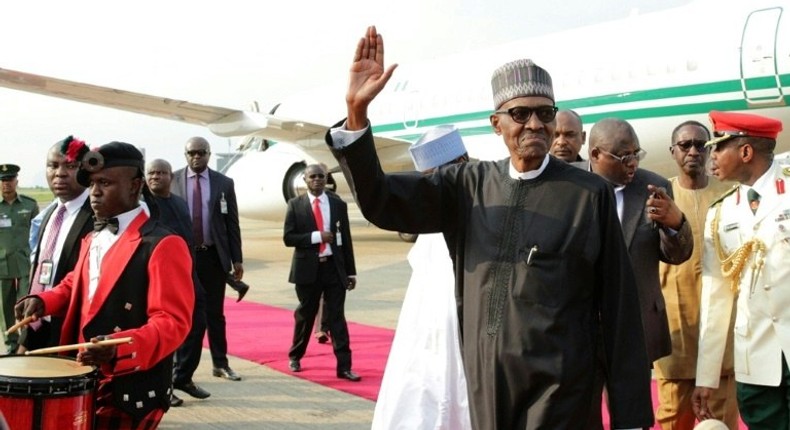 President Muhammadu Buhari has just ended a short nationwide broadcast that dwelt extensively on the nations unity crisis and fault-lines.
It is the president's first address to the nation he leads, since he made a return to Nigeria at exactly 4:36pm on Saturday, August 19; after he had spent 103 days in the United Kingdom on a medical vacation.
If you were commuting to work during the president's address, just to say you didn't miss a thing.  This was basically a bare-bone speech, warts and all.
Here are ten basic things we sifted off a presidential address that contained nothing new:
1. The presidents voice is back:
The delivery wasn't great and the lines were bare-bone, but Buhari's shaky voice pre-May 7, 2017, appears to have been replaced with a sturdier cadence.
That raspy voice Buhari deployed while addressing a batch of rescued Chibok girls on the eve of his departure to London, is thankfully no more.
The glow on the president's skin is gradually making a return as well, it appears.
2. Buhari says Nigerias unity isnt negotiable:
It's a tiring line in Nigeria these days, but one every president who has overseen the affairs of this country, loves to deploy.
"Nigeria's unity is settled and not negotiable", Buhari said with presidential glib, under the studio lights.
"The National Assembly and the National Council of State are the legitimate and appropriate bodies for national discourse. The national consensus is that, it is better to live together than to live apart".
3. Buhari had Nnamdi Kanu in mind during this address:
The shadow of Nnamdi Kanu--the eccentric Biafra agitator--loomed like a bad coin over the president's address.
The president's speech writers made sure to leave out Kanu's name, but they did a good job of aiming darts the way of the Abia state born separatist.
More than half this address could well have been delivered in Kanu's name.
The word "irresponsible" in the following paragraph is definitely Kanu's subliminal to claim.
"We shall not allow irresponsible elements to start trouble, and when things get bad they run away and saddle others with the responsibility of bringing back order, if necessary with their blood".
It is common knowledge that Kanu possesses a British passport and until he was arrested in October of 2015, he stirred trouble from Europe through a pirate radio station.
Kanu's international passport has been seized so he can't possibly run away, but hey, stranger things have happened.
4. Arewa youth also got a mention:
A certain youth group from the north had asked Igbos to vacate their region before October 1.
It was a reprisal order; issued off the back of the separatist rhetoric of Kanu and his followers from the Southeast.
Buhari didn't mention the Arewa youth, but if you inserted their name in the following paragraphs, you'll be in order.
"Every Nigerian has the right to live and pursue his business anywhere in Nigeria without let or hindrance", Buhari said.
"I believe the very vast majority of Nigerians share this view. This is not to deny that there are legitimate concerns. Every group has a grievance. But the beauty and attraction of a federation is that it allows different groups to air their grievances and work out a mode of co-existence".
5. The President is grateful for your prayers:
Nigerians who prayed fervently for the president's recovery, had a look in as well in this address.
"My dear citizens, I am very grateful to God and to all Nigerians for their prayers", Buhari said.
6. Buhari is excited to be back:
The nation's leader is over the moon concerning his return, he had to say it twice--Once at the beginning of the address and once at the end.
"I am pleased to be back on home soil among my brothers and sisters", Buhari said at the commencement of his address.
And then in the penultimate paragraph, this arrived: "I am so glad to be home".
We heard you the first time, Mr. President.
7. Dear social media users, Buhari has his eyes on you:
If you are on Twitter, Facebook, Instagram or Snapchat, Nigeria's president doesn't really fancy how you've been communicating.
This was a warning to all those who spew hate on social media:
"Nigerians are robust and lively in discussing their affairs, but I was distressed to notice that some of the comments, especially on social media, have crossed our national red lines by daring to question our collective existence as a nation. This is a step too far".
You heard the man, Mr and Mrs social media influencer.
8. Buhari once spoke with Ojukwu about Nigeria for two days:
The late Chukwuemeka Odumegwu Ojukwu was leader of the Biafra side of the divide during Nigeria's bloody civil war and uprisings of the late '60s.
Buhari spent two days with the face of the '60s separatist movement and the topic was uniting Nigeria, according to this speech.
Here's President Buhari: "In 2003 after I joined partisan politics, the late  came and stayed as my guest in my hometown
"Over two days, we discussed in great depth till late into the night and analyzed the problems of Nigeria. We both came to the conclusion that the country must remain one and united".
9. Buhari says Boko Haram is dead meat:
"Terrorists and criminals must be fought and destroyed relentlessly so that the majority of us can live in peace and safety.
"Elements of Boko Haram which are attempting a new series of attacks on soft targets; kidnappings; farmers versus herdsmen clashes in addition to ethnic violence fuelled by political mischief makers. We shall tackle them all".
10. No, Buhari didnt resign today:
If you thought the president's three-month long medical vacation is enough to make him relinquish his hold on the throne, you can get to work now, because that announcement didn't happen in this speech.
Instead, the president resolved to pursue the goals his administration outlined from the outset.
"Finally, dear Nigerians, our collective interest now is to eschew petty differences and come together to face common challenges of economic security, political evolution and integration, as well as lasting peace among all Nigerians.
"I remain resolutely committed to ensuring that these goals are achieved and maintained", Buhari said.
JOIN OUR PULSE COMMUNITY!
Recommended articles
5 problems Nigerians expect Tinubu to solve in the first 100 days
Why I conceded to Buhari - Jonathan
Badagry residents task Tinubu's administration on security, electricity
Buhari departs Eagle Square for Abuja airport enroute Daura
'My cows and sheep are easier to control than Nigerians' - Buhari
Tinubu sworn in as President
My ambition to be speaker intact – Rep. Gagdi
Increase your chances of winning with these tips on efficient online betting
Gov. AbdulRazaq discloses plans for better Kwara