Troops go deeper into Sambisa Forest
According to him, before the troops got to the village, the residents had captured and lynched two of the terrorists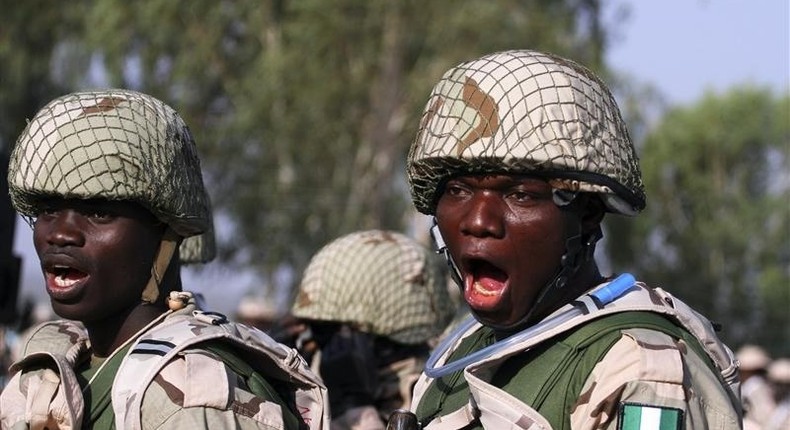 Troops has penetrated deeper into the dreaded
In a statement issued on Monday, May 9, the army disclosed that more camps of the insurgents in the forest have been cleared.
"On Sunday 8th May 2016, the troops have cleared 4 villages in the terrorists enclave which include Bala Karege, Goske, Harda and the famous Markas 3. There was no encounter with the terrorists in all the villages as the Boko Haram terrorists have abandoned their huts and ran away," the spokesperson for the army, Sani Usman, said.
"Unfortunately, the troops ran into an ambush at Harda village, while advancing. The resilient troops successfully cleared the ambush without any casualty and proceeded with the operations.
"The formation recovered suicide vests and quite a number of high calibre weapons which include; 1 Rocket Propelled Grenade (RPG) Bomb, 18 rounds of 23mm Shilka ammunition, 1 Barrel of AK-47 rifle, 1 Extra-barrel of General Purpose Machine Gun (GPMG), 3 AK-47 rifle magazines, metal link of 12.7mm ammunition and a heavy-duty solar panel battery.
"The troops also recovered 10 vehicles and 50 motorcycles belonging to the fleeing terrorists.
"In a related development, Boko Haram terrorists from another part of Sambisa forest, were reported to have taken advantage of the heavy downpour that occurred to move closer to the troops.
"However, the troops were very vigilant as they decisively and successfully dealt with the intruders. So far, 2 vehicles were recovered from Boko Haram terrorists and over 8 Boko Haram terrorists bodies were counted before nightfall.
"Meanwhile the troops were exploiting aftermath of the attack by Boko Haram terrorists on their location last night in Sambisa forest despite difficult climatic conditions.
"Please be informed that 8 more Boko Haram terrorists dead bodies were found this morning in addition to other recoveries made. Therefore, attached here are more photographs of the recoveries that include vehicles, arms and ammunitions.
"In a related development, yesterday Monday 8th May 2016, at about 10.30pm, 3 Boko Haram terrorists went to Puchi village to tax the community. On received of information, troops of 7 Division mobilized in conjunction with some Civilian JTF to the area," Usman said.
According to him, before the troops got to the village, the residents had captured and lynched two of the terrorists, but the third one narrowly escaped.
Recovered from them were 1 AK-47 rifle, 1 rifle magazine and 8 rounds of 7.62mm ammunition and a dane gun.
JOIN OUR PULSE COMMUNITY!
Recommended articles
2023: I'm more experienced than Osinbajo, Tinubu, others - Amaechi
Explosion: Police seize vehicle loaded with bomb-making materials in Kano
2023: I will replicate Lagos development in Nigeria, says Tinubu
Okada ban: Lagos police vows to arrest, prosecute passengers
Army, DSS destroy IPOB training camp, kill 2 wanted members in Imo
Catholic Church suspends Priest for joining governorship race in Benue
Rampaging youths burn houses, injure pastor over 'blasphemy' in Bauchi
Buhari appoints new Statistician-General for NBS
Party primaries: APC delegates vow to vote credible leaders