'Terrorist group now like a dead snake,' Oshiomhole says
Oshiomhole made the comment on Thursday, March 17, 2016, while receiving Chief of Army Staff, Lt. Gen. Tukur Buratai at the Edo Government House.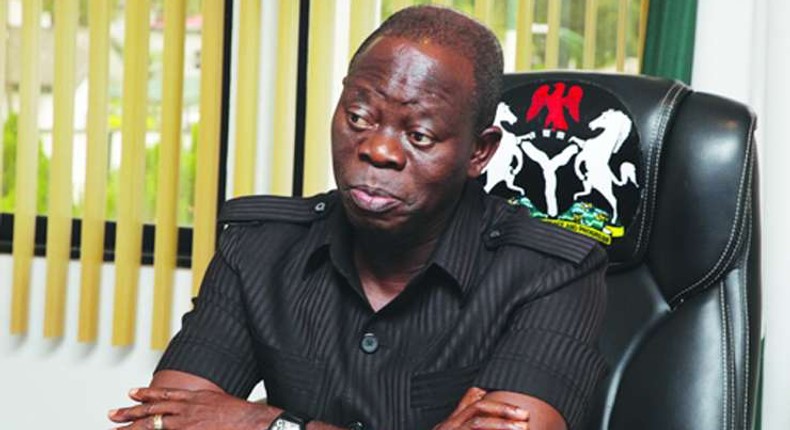 Oshiomhole made the comment on Thursday, March 17, 2016, while receiving Chief of Army Staff, Lt. Gen. Tukur Buratai at the Edo Government House.
"We in Edo State appreciate the leadership that you are providing for the Nigerian Armed Forces and the Nigerian Army in particular. We watch you on television and we see a very senior officer going to meet his officers and men right in the battle field, sharing the dust, the sun and all the deprivations, the sort of thing you sometime see in foreign countries. I think that you are leading by example in every sense of the word," the governor said.
"Yes, Boko Haram has not exactly disappeared, but there is no doubt that they themselves will in their own way appreciate that things have changed, that the Nigerian side is better. They no longer have that audacity, that impunity to move freely without fear. So, you are doing a terrific job for Nigeria, and I believe that we are the beneficiaries, we the civilian population.
"Nigeria doesn't have boundaries, North East, North West, South East. It is just one. And I know that at a point, the Boko Haram elements had gotten up to Kogi. If that situation had continued, it was clear that by now some of us can't sit here presiding over government affairs.
"So, we are very impressed with your leadership, we are impressed with your style, we are impressed and excited with your total commitment that people can see from your body language and from your action in the battle field. We can only pray that God will give you more strength, more wisdom and even better courage that this war which is already won that you sustain it, and in the very near future our brothers and sisters who have been displaced, some of whom are in Edo State, will have the confidence to be able to return to their various homes and get on with their lives the way it was before the word 'Boko Haram' ever emerged in our national discourse.
"Yes, Boko Haram is still there, but obviously there is no doubt it no longer has that capacity to harass us. I think whatever they do now is like a dead snake, it might still continue to wriggle its body, but it's dead. It is only with time that the teeth will be removed.
"So, congratulations on your efforts. I believe the Nigerian people appreciate. We also congratulate the Commander-in-Chief for his leadership. What has also come out in recent times is that no matter how serious the Nigerian Army is, if the Commander-in-Chief is not clear and doesn't provide the right leadership, the army will to that extent be constrained.
"President Muhammadu Buhari is exactly the kind of person we need at this time, when Nigeria is in distress, we need someone to give all of us the sense of confidence. And there is a leadership that we can trust, a leadership that commands respect and a leadership with integrity," he added.
------------------------------------------------
See Pulse Photo-News gallery below:
JOIN OUR PULSE COMMUNITY!
Recommended articles
TAFTA: Providing world-class creative education to thousands of Nigerian youth
How fragile border fuels terrorism, economic sabotage - Buhari
Omo-Agege will end farmers, herder clashes in Delta – APC Chieftain
PoS operators increase charges to 10% as Naira scarcity persists
FG to launch 24/7 citizen's desk for diaspora response - Minister
Buhari congratulates Arise News on 10th anniversary
NNPCL, Daewoo sign contract for quick repair of Kaduna Refinery
4 rescued as building collapses in Gwarinpa Estate
Court dissolves Ganduje's daughter 16-yr-old marriage, orders return of dowry