Soldiers kill 2 terrorists in Borno [PHOTOS]
Soldiers of the Nigerian Army have killed two members of Boko Haram during an anti-terrorist operation in Borno State.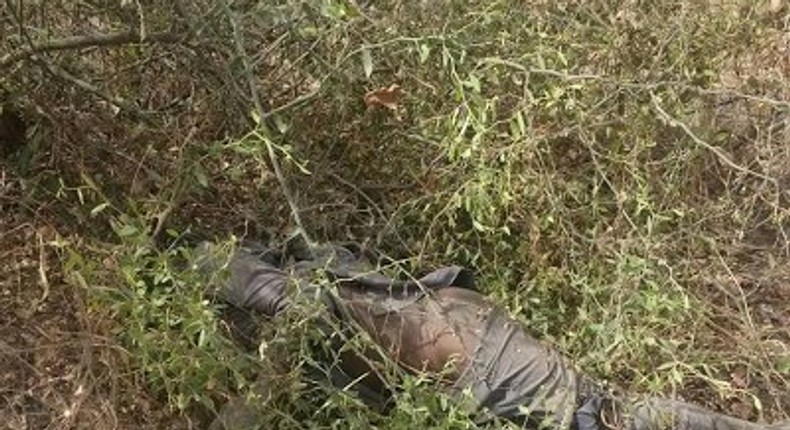 This was disclosed via a statement released by army spokesperson, Colonel Sani Usman.
Troops of 81 Battalion and 251 Task Force Battalion of 25 Task Force Brigade on Wednesday engaged in hot pursuit of remnants of Boko Haram terrorists in Kumala.
This followed an earlier incident in which suspected Boko Haram terrorists ambushed fighting patrol elements of 25 Task Force Brigade. After clearing the ambush, the troops exploited further off Damboa road from Kumala.
During the pursuit, the troops traced the axis of withdrawal of the terrorists and discovered that the terrorist vehicle mounted with an Anti-Aircraft Gun tasted a bit of the Boko Haram terrorists' evil intents as it ran into an Improvised Explosive Device (IED) buried by them.
The vehicle was shredded into pieces by the IED while 2 of the Boko Haram terrorists died in the process. The troops recovered 1 General Purpose Machine Gun (GPMG), 2 AK-47 Assault Rifles as well as one Boko Haram terrorists' flag, 6 primed IEDs, Anti-Aircraft Gun links and rounds of ammunition. Other recoveries include 43 rounds of 7.62mm (NATO) ammunition and a mobile telephone handset.
This incident of the terrorists group falling victims of its evil plans against the troops, the wrath of God has been aroused by the retributive justice against the devilish Boko Haram terrorists.
------------------------------------------------
See Pulse Photo-News gallery below:
JOIN OUR PULSE COMMUNITY!
Recommended articles
FG backs US on visa ban for Nigerians disrupting democracy
Why I am not allocating land in FCT – Minister
7 governors who have been sacked by Nigerian courts since 2012
What went wrong with BVAS in the Osun governorship election?
Jandor promises to convert Lagos 'Area Boys' into positive tools if elected
BREAKING: Court dismisses suit seeking Buhari's sack
NDLEA bursts trans-border cartel, arrests 5 kingpins, seizes skunk, meth in compressors
APC accuses PDP of planning campaign of calumny against it and Tinubu
We are winning the war against oil theft, says Brigade Commander