Nigerian victim stranded in Sweden after being deported from Iceland
32-year-old Eze Okafor was deported from Iceland on May 26 and taken to Stockholm after being put on a plane in handcuffs.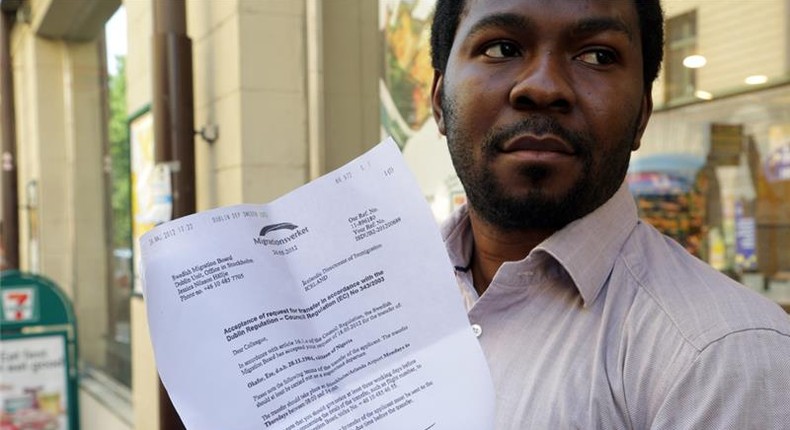 32-year-old Eze Okafor was deported from Iceland on May 26 and taken to Stockholm after being put on a plane in handcuffs, Al Jazeera reports.
Prior to his deportation, Okafur had lived in Iceland for last four years, working as a cook in a local restaurant.
According to Al Jazeera, Eze fled Nigera after being targeted by Boko Haram. In 2010, he and his younger brother, Okwy, were attacked for not joining the group. Members of the sect invaded their home in Maiduguri, Borno State and Okwy was killed while Eze was left with stab wounds in the head and face. "They tried to recruit me, but I refused," he said.
After the attack, Eze left Nigeria and embarked on a risky boat journey to Europe. In 2011 he sought asylum in Sweden but was denied. He then travelled to Iceland where he applied for asylum in 2012 but was also denied.
Before his deportation, he was working with a lawyer, Katrin Theodorsdottir, who applied for permission for him to stay in Iceland on humanitarian grounds and he was eventually given a temporary residency.
Eze was deported after he was arrested during what seemed like a routine visit to the immigration office to process his asylum request.
"The police said I should come to sign and all of a sudden they took me into custody. They arrested me. I spent the night in jail. They next morning they said they were deporting me. I said I should go and get my stuff from my house. They said no. They took me to the airport and manhandled me," he told Al Jazeera.
Eze was left in Stockholm with no identification and a piece of paper saying he had no right to financial assistance. He was also handed papers by the Swedish immigration authorities, which gave him until June 1 to leave Sweden or be deported back to Nigeria.
"What I am facing in Nigeria is that this Islamic group is after my life. My life is in danger. Boko Haram has a network. They have been looking for me since then," he said.
Eze is uncertain about his future but he says that he knows one thing for sure. If he returns to Nigeria, he believes it would mean death for him.
Boko Haram has killed many Nigerians and has rendered many others homeless in the troubled North-East.
The Muhammadu Buhari administration has however dealt a major blow on the activities of the sect and it seems that the insurgency might finally be in its last days.
JOIN OUR PULSE COMMUNITY!
Recommended articles
Tinubu ran out of the country to dodge Arise TV debate - PDP
I will change for the better - Student apologises to Aisha Buhari
Labour Party lists 7 priority areas as Obi finally releases manifesto
Don't blame us, you failed Nigerians, Govs fire back at FG
Greetings pour in as Buhari, Aisha mark 33 years in marriage
Tinubu's valid American visa surfaces amid denial rumours
Datti accuses APC of setting Obi up against north, Muslims
2 former heads of state have endorsed Obi - Pat Utomi
Tinubu group tackles Dogara, northern leaders over Atiku's endorsement