OBJ was angry with me because I opposed his third term bid - Ex-VP says
Atiku also alleged that Obasanjo tagged him as a corrupt person because of his refusal to play along.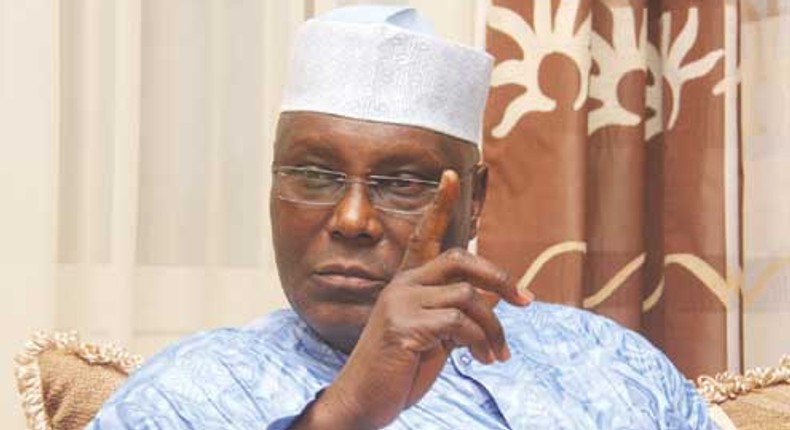 Former Vice-President Atiku Abubakar, has revealed why he was at loggerheads with former President Olusegun Obasanjo.
Atiku said his troubles started when he refused to support the tenure elongation plan of former President Obasanjo.
According to him, what OBJ wanted was to become the life President of Nigeria, and not just a third term in office.
He said "My offence was that I disagreed with him on the amendment of the constitution to remove tenure/term limits or what was popularly called the 'third term agenda'.
"In fact, he sent the then Attorney-General and Prof. Jerry Gana to my office to bring the draft amendments to the constitution. After going through (them), I found out that tenure limits had been removed. In other words, he could be President for life.
"I then asked them that 'if I send you to the President, can you deliver this message?' They said yes. I said 'go and tell him I will not support it and (I) will fight it'."
According to Punch, Atiku said this during an interview with the editorial team of Zero Tolerance – an Economic and Financial Crimes Commission (EFCC) quarterly publication.
When asked about the allegations levelled against him by a former EFCC boss, Nuhu Ribadu, Atiku said the allegations were false, adding that Ribadu came back to apologise to him.
The former VP said "When he came to ask me for forgiveness, I said if you want me to forgive you, Nuhu, go to the same television stations where you said I was corrupt and say you now (have) realised that I am not corrupt.
"Then he said 'sir, you have forgiven so many people who have offended you publicly without them going to TV stations to apologise to you' and I said, 'your case is different because first of all, I helped to found the EFCC'.
"I was instrumental to your appointment, so, I believe I have contributed to your development and this is how you are paying me back. In any case, he kept on apologising and I said, 'okay, no problem. That closed the chapter'."
Atiku also spoke on the allegations that he laundered $40m, saying "It was an allegation which was not proved. It was my legitimate money which I transferred to the US; there was nothing (wrong) about it. More so, I was not indicted in that report. They only said suspicious funds but I proved before the Senate committee that they were not suspicious."
"Apparently, I didn't know he (Jefferson) had duped a lady and collected marked money from her in my name. Unknown to him, the FBI were on his trail. But, of course, there was no way he could give me money because what was $100,000 to me?
"Eventually, my wife's residence was searched and nothing was found but when his residence was searched, of course, the money was found there and he was convicted. I was not even called as a witness," he said.
Alhaji Atiku Abubakar also advised his associates not to take paid advertorials in the media to congratulate him on his birthday.
The former Vice President will turn 70 on November 25, 2016.
JOIN OUR PULSE COMMUNITY!
Recommended articles
We're still owing 10,000 retirees N10bn pension outstanding- Lagos govt
INEC monitors security situation ahead Osun guber poll – Chairman
Soludo seeks foreign assistance for Anambra development
Osinbajo leaves for Accra ahead of ECOWAS summit
Labour Party gets new governorship candidate in Enugu
Ondo church kept kidnapped kids in basement for over 6 months - Group
2023 presidency: Ohanaeze president mourns injustice against Igbos
The wrath of God will befall anybody who blasphemes Jesus - Adeboye
Police rescue abducted kids in underground of Ondo church; pastor arrested