In Dubai, Pulse asks business executives what they make of Nigeria's border closure, here's what they said
At a forum for business leaders in Dubai, Pulse asked what they make of Nigeria's decision to close its land borders.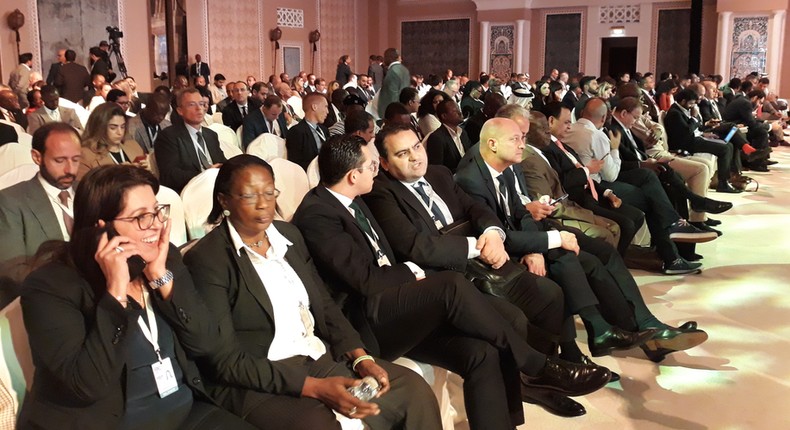 In August, Nigeria closed its land borders in a bid to curb smuggling and stimulate local production.
"Now that our people in the rural areas are going back to their farms, and the country has saved huge sums of money which would otherwise have been expended on importing rice using our scarce foreign reserves, we cannot allow smuggling of the product at such alarming proportions to continue," President Muhammadu Buhari told Benin President Patrice Talon on the sidelines of the seventh Tokyo International Conference for African Development (TICAD7), in Yokohama, Japan.
For all you need to know about Nigeria's border closure, you may want to read this.
At the Global Business Forum (GBF) for Africa which Pulse has been covering, a handful of business leaders and foreign investors shared their thoughts on a subject matter that has remained controversial in Nigeria's social media space and in the local press.
For purposes of brevity and house style, we have condensed the reactions into three.
Sangu Delle, CEO Golden Palm Investments
Pulse Nigeria
If you look at where trade levels are, there is a huge opportunity within the African continent for us to greatly increase intra-Africa trade which lead to creation of jobs, expansion of markets and all that.
As a continent, you are looking at 1.3 billion people and in fact, I always say that the promotion of intra African trade is not a new thing. Prior to the arrival of European trade, we were trading all across Africa and those trade routes spanned from west to east and down south and north. So, it's nothing new. It's harking back to some of the trade routes that have existed in pre-colonial Africa.
It is very disturbing that Nigeria has closed its borders. It is the wrong move by all accounts. It is not just bad for the region, it is bad for Nigeria as well. And you are already starting to see the impact on business; especially on businesses that are involved in cross border trade.
We were of course very excited when Nigeria--the region's largest economy--finally signed the Africa Free Trade Continental Agreement (AfCFTA) which was a positive step. So, it's disheartening to see the most recent moves, but I'm hopeful that it's a temporary measure and that within ECOWAS and within the African region, I'm hopeful that Nigeria will revert and will open its borders and will be a champion for trade because in a world of increasing complexity and the rise in protectionism across board, Africa has largely been a leader in promoting openness and trade and I think we need to continue to do that.
There has been about 650 million dollars in investments from UAE into Africa from 2015 to 2019, trade has doubled and there has been an increased cross-border collaboration between us. That also speaks to the benefit of these kinds of forum which explores synergies between the African continent and the UAE.
I have been very active in investing in Nigeria. We have mini portfolio companies in Nigeria like Africa wealth holdings, mpharma, flutterwave, Andela, frontier car group, reliance HMO, solo mobile etc. There are lots of businesses in our portfolio. Nigeria is probably our biggest market from a portfolio perspective.
It's undisputed that Nigeria is home to some of the most innovative and entrepreneurial ecosystems on the African continent and that I think is a tribute to the energy and the creativity of Nigerian entrepreneurs.
Pulse Nigeria
That said, Nigeria is among the more difficult places to do business. If I contrast the experience dealing with bureaucracy and red tape versus let's say Rwanda, it's night and day. Whereas in Rwanda, under a day, you can set up a business online with all the paperwork that you need, your interaction basically with government is one where they are truly looking forward to making things easier for business and they really want you to set up there.
Nigeria is not there yet. There has been some improvements. There has been a lot of improvements in Lagos at the state level, at the federal level, there are certain things that are improving, there's still a lot more to be done. There's still a lot of red tape and bureaucracy and there still needs to be a streamlining of processes. It should be made easy and the orientation of the agencies needs to change.
You want to encourage businesses to come and set up, yeah? So, your interaction, your attitude and orientation towards businesses should be one that's encouraging and one that's conducive to businesses.
And then there's perennial challenges of infrastructure and power which significantly increases your cost. I always say that the government that can come in and just solve power alone, with the creativity and innovation that's coming out of Nigerian entrepreneurs, if you solve power, we'll see a significant boost in GDP.
Toyin Sanni, CEO Emerging Africa capital group
Pulse Nigeria
If you are talking about Africa, you are talking significantly about Nigeria because it is the largest economy in Africa and the largest economy in sub saharan Africa in terms of population.
As regards the border closure, people are still moving in and out anyway, it's just costing them a little more. Any time you put in place something that leaves room for corrupt practices, you do not help anyone.
I suppose the measure would have been okay if it was intended for a very limited period of time but once it becomes indefinite...when you are promoting investments and partnerships regionally and internationally, you don't want to be seen to be doing knee jerk stuff.
Investors want to know that you have a plan and I don't see border closure as a plan. I can't recall seeing border closure in the Economic Recovery and Growth Plan (ERGP).
While I see some sense in the closure--and there are benefits from knee jerk reactions sometimes--the long term losses may outweigh the short term benefits.
Kenneth Obiajulu, CEO Farm Crowdy
Pulse Nigeria
Every single time we give an opportunity for someone else to be able to feed into the African market, we export these opportunities. And I think that with poultry...we do poultry and I have seen the numbers, as a business, we have raised 2.4 million poultry birds in 3 years.
We work with one of the major processors that has the capacity to process about 10 million poultry birds per annum and we have more than 1,000 of such processors.
I think it's laughable for people to feel like we cannot feed ourselves for things that we can do and it all comes down to this issue about, can we scale up Africa? Can we work with investors? And I'll give you an example with rice. When the partial border closure came up and the major importers of rice saw that they couldn't import the volume they required, what did they do? They set up rice milling facilities. Olam has one in Nasarawa state that does a huge amount of metric tonnes every single day.
Check the number of rice milling facilities that have come into Nigeria as a result of that partial ban. Those are the kinds of things that people don't get to communicate.
Government now has to regulate what exactly is responsible for the increase in the price of rice. But we should be able to meet local production. We should be able to stimulate the economy in such a way that investors can now see the opportunity in investing in production of processing activities as against just importing. I think this might lead to one of those induced innovations that I keep telling people about.
If land shrinks in the western world, what happens is that you don't build bungalows anymore. You see that the buildings go up because you have to utilize that scarce resources. If labour shrinks in any economy, especially in farming, you see that you don't use farmers anymore.You focus on mechanization and use of robotics.
If capital shrinks and farmers cannot have access to capital, businesses like ours will come into place to be able to show that farmers can get access, not from restructured financial systems, but from individuals like me and you. So, when a destabilization in any factor of production occurs, innovation will take place.
As for the closure of the border and the reported shortage of rice, innovation will take place in such a way that it will balance out that deficit. And that's development as far as I am concerned.
JOIN OUR PULSE COMMUNITY!
Recommended articles
'Okada' ban remains on June 1 – Gov. Sanwo-Olu
Gov Soludo condemns killing of woman, children, assures justice
Dino Melaye crashes out in Kogi west PDP primary senatorial election
Ngwu replaces Ekweremadu as Ugwuanyi, Nnamani secure PDP senatorial tickets in Enugu
Dino Melaye explains why he lost PDP senatorial primary in Kogi
ASUU, polytechnic lecturers, others to get N34bn minimum wage arrears -FG
BREAKING: EFCC finally arrests presidential aspirant, Rochas Okorocha
FRSC confirms two deaths as petrol tanker crashes, explodes in Anambra
Why EFCC is at Okorocha's home