Watch the moment Twitter founder Jack Dorsey became a Marlian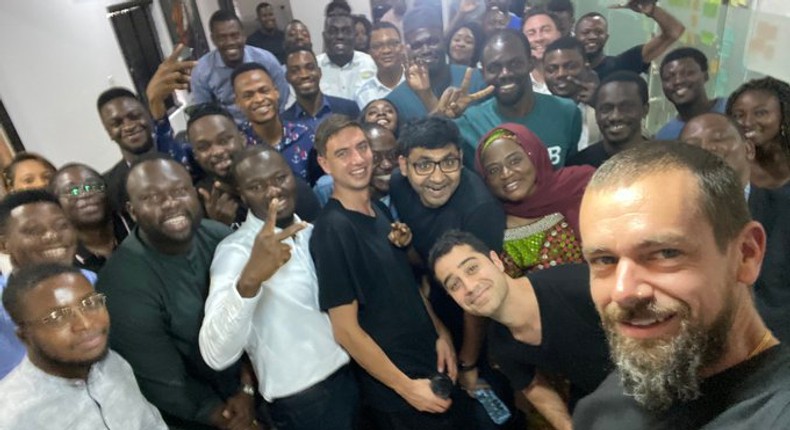 Look away now, Naira Marley, because Twitter co-founder and CEO Jack Dorsey is coming for your crown!!
"So grateful to finally be in Nigeria," Twitter co-founder and CEO, Jack Dorsey, tweeted on Thursday, November 7, 2019.
By the time he left Nigeria on Monday, November 11, Dorsey had sampled Nigerian jollof (actually, he called it the best there is), tried his hands on pidgin English, taken selfies with just about everyone, visited developers at tech hubs in Lagos and Abuja, interacted with software developers and influencers, shared thoughts with art lovers and tried the 'Zanku' and 'Soapy' dance moves.
All within a 4-day span in Africa's most populous nation. 
"Goodbye for now, Nigeria. We'll be back soon," Dorsey tweeted. 
Of course he will. He'd packed so much fun in a few days in Nigeria.
Among Dorsey's most memorable footage during his time in Nigeria would have to be the one shared by content creator and communications expert @Real_jaeflex, which you can watch below:
It took former Minister of Finance, Ngozi Okonjo-Iweala, to get Dorsey off the dance floor!
How do you rate Dorsey's Marlian credibility? And those rigid...ooops...flawless moves? No one has 'Gbesed' better, we tell you. Not even Naira Marley!
JOIN OUR PULSE COMMUNITY!
Recommended articles
'What has happened has happened,' Lagos church backs Sanwo-Olu's 'walk of peace'
UK will continue to process work, student visas for Nigerians despite Omicron ban
Niger Government pays N400m backlog of 2019/2020 debt to NECO
Yahaya Bello gets another endorsement to run for President in 2023
'I facilitated N60 million COVID-19 intervention fund for constituents' - Sen Dadu'ut
FG says no economic development without transportation
Fresh PVC registration applications hit 4.5 million
Lagos State First Lady unhappy about Sylvester Oromoni's death
Terrorist attacks forced 11,500 Nigerians to run into Niger Republic last month