How to survive in a Nigerian traffic jam
If you live in Nigeria, then you must be familiar with the infamous maddening Nigerian traffic jams but here are a few tips to help you stay sane while waiting out a traffic jam.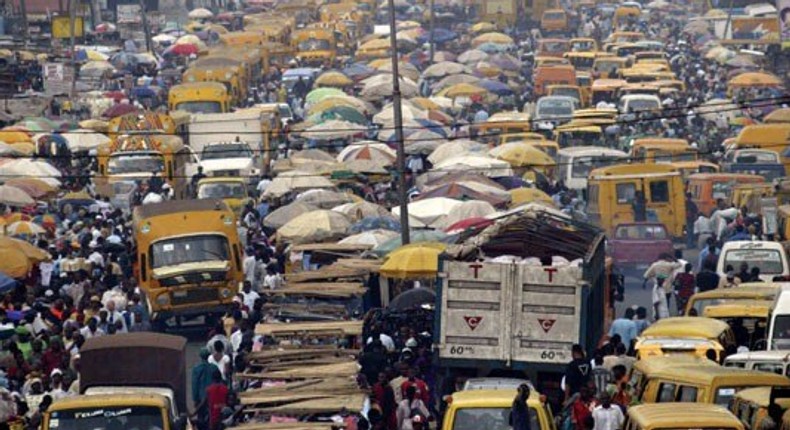 As frustrating as Nigerian traffic jams can be, it would do you no good to go into a fit of rage. If anything, road rage will only make a bad situation worse. So stay calm, and patiently wait for the road to clear up.
Driving aggressively will not do anything to help you; on the other hand, you are more likely to get scratches or dents in your car by driving aggressively. Stay calm and avoid switching lanes every three minutes to avoid running into some other road user because of your lack of patience.
Other people will get frustrated and that frustration may likely turn into anger. Such people are unpredictable and may lash out at the nearest person in sight. What you should do is avoid such people and refrain from confrontations with them.
2. Protect yourself and your vehicle
You should be ready to defend yourself and your vehicle should the need arise. You should make sure that all the doors are locked and the volume turned up. Traffic jams are the perfect cover for a lot of pickpockets who pretend to be beggars, or street hawkers.
A lot of mugging and robbery incidents happen in Nigerian traffic jams, so it is important to be security conscious.
Since the car isn't moving at all, or moving at a slow speed, it is easy for them to snatch your belongings. So protect yourself as much as possible from these miscreants.
Even if your air-conditioning system does not work, wind up your windows and leave just enough space to allow some air in. The space should be too small for a hand or weapons to fit in. You may also want to keep your phones and other valuables completely out of view; make sure they are properly kept in your bag or in the glove compartment.
Locking your doors and keeping your windows up will stop most people, but some miscreants might still want to try and force the door open. Against this set of people, you will actually need to defend yourself from them.
3. Monitor the traffic situation on social media/ radio
There are some Twitter handles that provide authentic traffic updates daily, follow them and monitor their tweets religiously. With these updates, you can map your routes such that you'd avoid areas bedeviled by traffic jams.
And even after you are caught I a traffic jam, these updates will provide you the nearest alternative routes. There is also the Lagos traffic radio station where traffic updates are provided by the minute. Listening in will not only help you avoid many traffic jams, it will also help you navigate your way through if you're already caught in traffic jam.
4. Make sure your vehicle is in good working condition
A broken down vehicle itself can cause serious traffic jam. So if your vehicle is not working well, it is best to leave it at home so as not to risk causing a traffic jam. If your faulty vehicle does not cause a traffic jam, it won't fare well in a Nigerian traffic jam.
Running the engine for long hours in static traffic may cause a faulty vehicle to overheat, and then stop working altogether, further compounding your woes. Always check your tyres, oil, radiator etc. before taking your car out, or else you risk causing a traffic jam, or having your car die in one.
Even worse is that your vehicle may be towed away if it stops working on a major road, causing you more expenses as you might have to pay a fine to get it back.
It is a good idea to have some snacks and drinks tucked away in your bag or somewhere in your car. You may end up spending hours in a traffic jam, leaving you completely famished.
Have water, biscuits, chips, groundnut etc. in your bag so you don't have to deal with extreme hunger while dealing with annoying traffic jams too.
However, most times, street hawkers tend to show up with their wares wherever there is a traffic jam.
6. Have a working radio or music player
Staring in space while waiting for the line of vehicles in front of you move forward a scant inch is a very frustrating thing. Instead, occupy your mind with music while you wait. Great music will soothe you and reduce the mental stress you go through in traffic.
Also, you can catch some interesting and funny radio programmes while you're stuck in traffic. You may also listen to audiobooks while in traffic; it is a good way of making the most of a bad situation by learning something new.
7. Try to avoid the rush hours
The roads are usually packed full between 6 and 9am when people are on their way to offices and schools and 4 to 6pm when they close from work and/or school. You are more likely to be stuck in traffic at these times.
Some people deliberately stay behind at work till much later at night when the traffic jams would have cleared. If you are trying to avoid being stuck in a traffic jam, then you should study the rush hours and avoid going out at those times.
JOIN OUR PULSE COMMUNITY!
Recommended articles
VON DG advises Nigerians against returning PDP to power in 2023
Gumi: Bandits commit terrorism, but they're not terrorists
Renowned businessman, Sani Buhari dies at 89 in Dubai
'There was no gun duel,' Army, police dismiss reported clash in Imo
COVID-19: NCDC registers 58 new infections, zero death
PDP members in Enugu send SOS to Gov Ugwuanyi over party leaders' high-handedness
China to deepen ties with Nigeria on sports, says Envoy
Buhari urges universities to use FG interventions to boost research activities
'I didn't want to contest,' Ortom narrates how God asked him to seek re-election in 2019