A 135 ft high futuristic condominium [PHOTO]
Check out this 11-story structure that measures 135 feet high.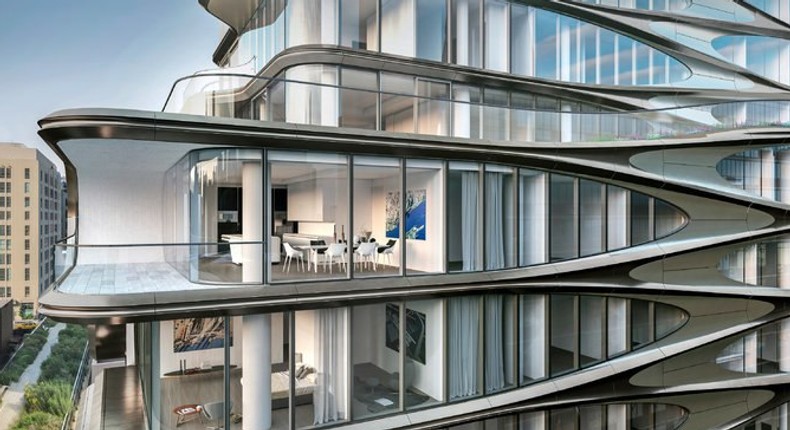 Pulse Nigeria has spotted a unique building in New York City.
Designed by popular architect, Zaha Hadid, this futuristic condominium is amazing.
According to her, the design was an attempt to evoke the urban dynamic that exists between the streets of Chelsea and the High Line.
"The multiple layers of the public realm of 28th Street and the High Line are conveyed in the split levels of the building, which in turn are reflected in the woven chevron pattern of the facade. This metal facade is handcrafted and carries the spirit of this industrial neighborhood."
According to Gregory Gushee, the developer, the building will be completed by late 2016 or early 2017, but sales will begin this month.
He went on to speak on Zaha's style and design.
"Her style is an optimistic view of the future. It's modern and taking advantage of curves, which is hard to do in real estate — it's expensive to do, frankly — but the design was so compelling that we decided to spend the money. Basically, it's sculpture. There's always the debate about whether just having a 'starchitect' alone adds value. We tend to think, maybe, but it's really not about having a name on the building. It's really about great design."
This building will have a 2,500-square-foot sculpture deck, art presented by the Friends of the High Line, a gallery in its commercial space, an automated underground parking, a robot-operated storage facility, apartments fully wired to be "smart homes," round-the-clock concierge, doorman services, a "luxury attaché" to handle everything from booking a restaurant to booking a helicopter, a 75-foot pool, a gym, a spa suite featuring a spa pool, cold plunge pool, waterfall shower, sauna, steam room, chaise longues and massage treatment beds, an entertainment lounge, an outdoor terrace, a private 12-seat IMAX screening room.
Apartments with two to five bedroom layouts are expected to go for $4.95 million(N985m) to $50 million(N9.9billion).
Would you live in this futuristic building?
Let us know by taking the poll below.
JOIN OUR PULSE COMMUNITY!
Recommended articles
Despite calls for southern presidency PDP wants northern aspirants to contest
Customs intercepts N3.9bn worth of cocaine on Seme-Badagry expressway
No aspirant boycotted Ekiti APC governorship primaries - Gov Badaru
Buhari sympathises with victims of market fire incidents in Onitsha
PDP will keep Soludo on his toes in Anambra – Party chieftain
U.S. Consulate launches anti-corruption website in Nigeria
Oyo Senator, Folarin loses wife in UK
Group roots for Tinubu, says he will hand over to youths
Avoid panic buying, Petrol Marketers urge Nigerians