Meet the country's wealthiest men
Top 7 Nigerian men who stand out among all others in financial strength.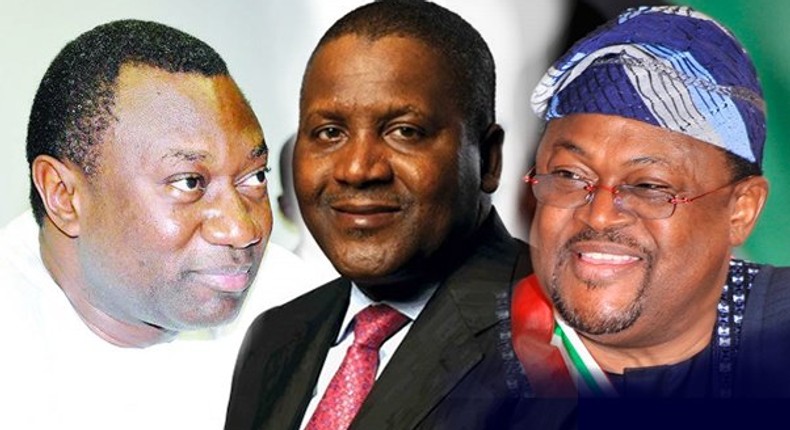 In the instances where more recent data could not be obtained, ranking was based on information as of December 2015.
Below, in descending order, are Nigeria's richest men:
Aliko Dangote: $15.4billion
Aliko Dangote, 59, is easily the richest man in Nigeria.  The billionaire, Chairman & CEO of Dangote Group, is also the richest man in Africa, as well as being the richest black African in the world.
His company, which deals majorly in food processing, cement manufacturing, and freight operates in Nigeria, Benin, Ethiopia, Senegal, Cameroon, Ghana, South Africa, Togo, Tanzania, and Zambia.
He is currently ranked 51st on Forbes' list of world billionaires.
Mike Adenuga : $10.3billion
The 63-year old billionaire is a business tycoon, and he takes the spot as the Nigeria's second richest man behind Aliko Dangote. His major enterprise is telecommunications company, Globacom is Nigeria's second-biggest telecom operator which also operates in Ghana and Benin. He has interests in Conoil, and in the Equitorial Trust Bank.
Adenuga sits in 103rd on Forbe's 2016 list of world billionaires
Femi Otedola : $1.19billion
Femi Otedola, 54, is a businessman, entrepreneur, philanthropist. He is the chairman of Forte Oil Plc, as well as being the founder of Zenon Petroleum and Gas Ltd, and a number of other businesses across shipping, real estate and finance.
He is #1011 on Forbe's 2016 billionaire's list.
Samad Rabiu : $1.17billion
Abdulsamad Rabiu, 55, takes the fourth spot on the list of Nigeria's richest men. Founder and chairman of BUA Group, a privately-owned conglomerate, his wealth comes from the company's active sugar refinery, cement production, real estate, logistics and port concessions.
He is #1577 on Forbe's 2016 list of world billionaires.
Theophilus Danjuma : $750million
Theophilus Yakubu Danjuma is a 78-year-old Nigerian Army General and Politician. He is the founder of oil exploration company South Atlantic Petroleum (SAPETRO), which owns upstream assets in Nigeria, Republic of Benin, the Central African Republic and Madagascar. He owns real estate, has interests in a urea fertilizer company, and in NALComet, a Nigerian shipping company.
Ranked #30 on Forbe's list of 2015 wealthiest africans.
Jim Ovia, 65, is a Nigerian businessman. The bulk of his fortune can be traced to his interests in Zenith Bank which he founded in 1990. He is the bank's chairman and largest individual shareholder with slightly more than 9% stake. He is also into real estate and telecommunications. His telecoms company Visafone has about 3million subscribers.
Ranked #37 on Forbe's list of 2015 wealthiest africans.
Muhammed Indimi: $500million
Number 7 on the list is Mohammed Indimi, a 68-year-old Nigerian businessman who founded Oriental Energy Resources in 1990. He still sits as chairman, and holds the highest shares in the privately held Nigerian oil exploration and production company. His value suffered a significant drop between 2014 and 2015, due to the fall of oil prices. He is now valued at $500million, suffering a $170million drop from the previous year.
He was #39 on Forbe's 2015 list of richest African men.
JOIN OUR PULSE COMMUNITY!
Recommended articles
Sanwo-Olu increases BRT fares by N100
Military recovers 3.8m litres of crude oil, arrests 26 thieves
Onitsha port will generate over N23 billion in 30 years - Saraki
NEMA receives 98 stranded Nigerians from Niger Republic
Corruption: EFCC expresses worry over declining number of whistleblowers
INEC vows to prosecute anyone involved in multiple PVC registrations
Trial of suspected invaders of retired Justice Odili's home suffers setback
Anambra confirms 1 positive case of monkeypox – Commissioner
Bill to set up commission for electoral offences passes 2nd reading