My Grandfather's house
This is an old Nigerian story that is all too familiar now.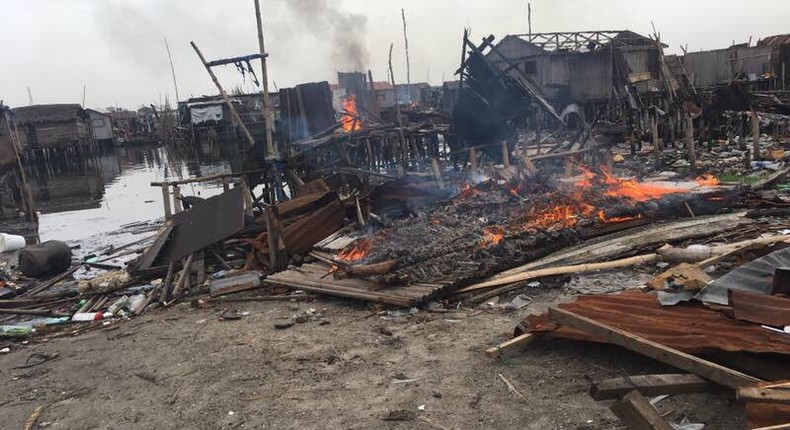 That's what they called him in Idumota, where he made shoes for a living. He was a simple man, who worked hard, and bruised his fingers to make ends meet.
By the early eighties, his hardwork was paying off. Not only had he built himself a country home in Ijebu, he also built another house in Lagos, not too far from where he made his living — Maroko.
But he didn't stop there. Man had big plans. Maroko was a very diverse community; from the indigenous Egun people, to settlers from all over Yoruba land and beyond. It was a lower and middle class community.
One day in the mid eighties, his family gathered again, to celebrate something he was genuinely proud of. It was a 40-room building with long corridors. What we now know as face-me-I-face-you was pretty much a big deal at the time. The rooms got occupied as quickly as work had finished on his new pride. One day in November of 1989, the people of Maroko received the greatest guest any community can receive — the Head of State, General Ibrahim Badamosi Babangida. He was accompanied by Colonel Raji Rasaki, the Military Administrator of Lagos at the time.
People remember the excitement the community felt at the time, taking pride in the fact that the government recognised their existence. They remember IBB saying their governor had a plan to develop their community.
When IBB left that day, the people were in high spirits. Their struggle, and presence felt valid .They never saw their Head of State after that day.
Colonel Raji Rasaki, on the other hand, returned. But not in person.
He returned first in July, as a radio announcement giving the residents of Maroko eight days to evacuate their community. Then the bulldozers came one morning, not to build as their Head of State had promised, but to destroy.
They came one day before the deadline. Just after sunrise.
Marching with the bulldozers were tons of soldiers. They beat and killed anyone that stood in their way. The rains poured as bodies fell and buildings were pulled to the ground.
When the dust settled and the shooting stopped, Maroko was blood and rubble. My grandfather's houses went down too. Many people say he was lucky. He had a country home to return to. Thousands were displaced.
According to sources, over 100,000 former residents died within the next 12 years. The Maroko community was that large.
When some residents went to court at the time, asking for an extension for the evacuation, their pleas fell on deaf ears. The Chief Justice of Lagos at the time didn't do them much good. His name is Ligali Ayorinde, and he has a street named after him in Victoria Island — a place that used to be the old Maroko.
Raji's argument was that Maroko was below sea level and needed urgent intervention. He promised to resettle the displaced. Only a few ever got resettled. Looking at what the old Maroko has become — Lekki, VI, most of the people who once lived there, will find no stone willing to let them rest their heads now.
Now, Otodo Gbame is being reduced to rubble. Governor Akinwunmi Ambode's argument is that they are illegal settlers and pose a security challenge to the state.
In a few years, the rubble will be used to fuel an elitist obsession. The people who live there now, will only return as labourers, carrying concrete to build a wealthy neighbourhood. Some of them will recognise places their little homes once stood. But none of them will be able to afford a square inch of land there.
Over and over, Lagos continues to prove that it's most effective method for alleviating poverty is by eradicating poor people. They push the lowest people to the shadows. Progress is not measured by how the wealthy live. It is measured by how the poorest get by.
I work in Lekki. Sometimes, I imagine what it must feel like to have lived in the old Maroko. I imagine old residents looking up at the tall massive buildings, with nothing in it for them.
Sometimes, I wonder where my grandfather's houses once stood, and if he thought about it during his last days alive in '98. Sometimes I wonder that perhaps, the very place I toil to make a living, is the very place his sweat was reduced to dust.
Please help the people of Otodo Gbame in any way you can.
JOIN OUR PULSE COMMUNITY!
Recommended articles
2023: Court clears Jonathan to contest for president
Kwankwaso offers Peter Obi Vice Presidency under NNPP
Former Air Chief, Abubakar clinches Bauchi APC guber ticket
Bago wins Niger APC governorship ticket
Jonathan recommends removal of Section 84 of Electoral Act
Uba Sani emerges Kaduna APC governorship candidate
How delegates emerged for APC and PDP presidential primaries
After losing PDP primary, Ondo Senator retrieves gifted cars from party leaders
APC Primaries: Kano Deputy Gov, Gawuna wins 2023 governorship ticket