"Take Insurance to cover your risks and be assured of better tomorrow," - NIA
The Nigerian Insurers Association (NIA) is stressing the need for insurance, in light of the recent collapse of a five-storey building.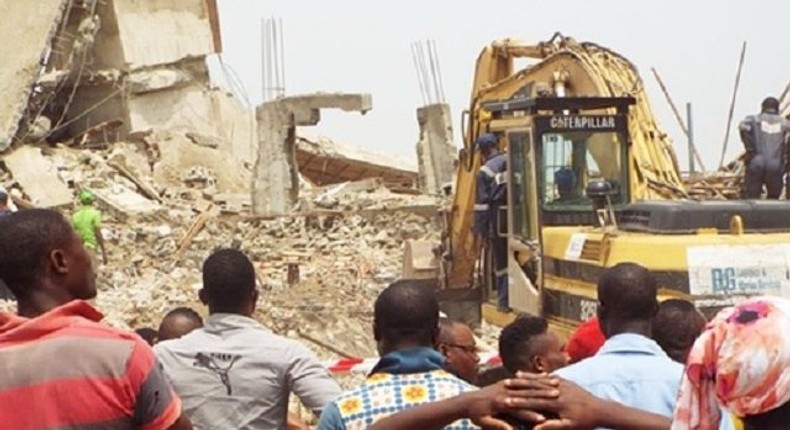 While sympathising with the victims, the Director General of NIA, Sunday Thomas, urged contractors, developers to show their respect for human lives by getting insurance, Vanguard reports.
Thomas added that having an insurance reduces some of the monetary responsibilities.
"As a nation, we should learn to place premium on human lives by doing the needful.  This is where the insurance companies can be called to action.
Insurance Act 2003 in its Section 64(1) states that No person shall cause to be constructed any building of more than two floors without insuring with a registered insurer his liability in respect of construction risks caused by his negligence or the negligence of his servants, agents or consultants which may result in bodily injury or loss of life to or damage to property of any workman on the site or of any member of the Public.
All the stakeholders in the construction industry should take appropriate steps to ensure compliance with the extant laws to stop the needless loss of lives and property and the resultant problems for the families. This is not the time for the blame game but indeed a time for sober reflection and a call to action.
Those who are vested with the power to enforce the laws of the land owe it a duty to ensure that laws are obeyed. What is more?  The Lagos State government had domesticated the law on Insurance of Buildings under construction.  What remains is for the law enforcement agents to enforce the law.
The nation cannot afford to waste its citizens and its assets given the robust insurance arrangement opportunities provided by the insurance Act 2003. Enough of this waste!  Take Insurance to cover your risks and be assured of better tomorrow in case the unexpected happens,"  he said.
JOIN OUR PULSE COMMUNITY!
Recommended articles
How fragile border fuels terrorism, economic sabotage - Buhari
Omo-Agege will end farmers, herder clashes in Delta – APC Chieftain
PoS operators increase charges to 10% as Naira scarcity persists
FG to launch 24/7 citizen's desk for diaspora response - Minister
Buhari congratulates Arise News on 10th anniversary
NNPCL, Daewoo sign contract for quick repair of Kaduna Refinery
4 rescued as building collapses in Gwarinpa Estate
Court dissolves Ganduje's daughter 16-yr-old marriage, orders return of dowry
Nigerian farmers promise 17m votes for Tinubu