Rusty vintage car sells for an outrageous amount of money [PHOTO]
A rusty 1949 Aston Martin DB2 Fixed-Head Coupe has been auctioned off for £679,100 (N256M).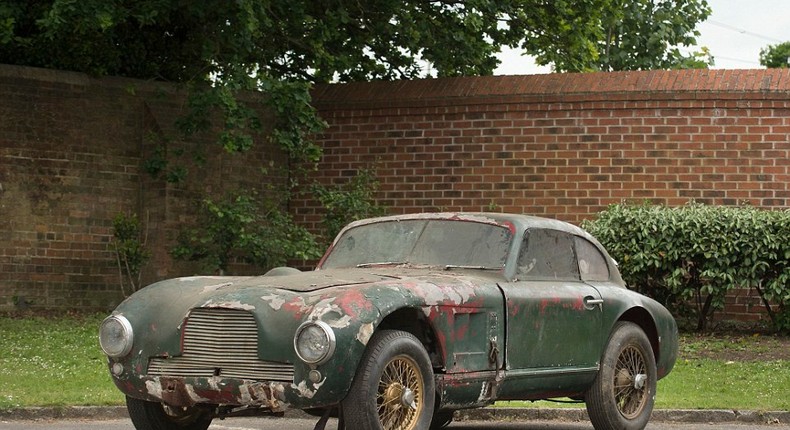 A rusty Aston Martin DB2 Fixed-Head Coupe has been sold for a huge sum of money.
The dilapidated appearance of the car was overlooked because of it's remarkable racing history.
It's achievements include:
1. Completing back-to-back 24-hour marathons almost 70 years ago,
2. Taking seventh position overall (third in class) at the first postwar Grand Prix d'Endurance,
3. Returning to the Le Mans circuit to complete a track parade in 1971.
"It is an outstanding survivor from not just one 1949 24-Hour race – but two – both of which it finished in significant positions. As a surviving progenitor of the Aston Martin DB2 production model – and as one of the very first David Brown Aston Martin works team cars ever built - its stature as a landmark in the Feltham marque's glittering history becomes even more evident", a statement read.
Tim Schofield, from the Bonhams Motor Car Department, said: "It started the DB line of cars which are still being built by Aston Martin today. It is remarkably complete and original, but it clearly needs a great deal of work. It was left to the elements for many years and for the past 40 or so years it hasn't had a wheel turned in anger."
Other items at the auction include the 1965 MGB EX234 Prototye roadster - sold for: £55,000, 2016 Bentley Continental V8 S convertible - sold for £250,000, 1981 BMW M1 Coupe - sold for £270,000, 1996 Porsche 911 RS Clubsport Coupe - sold for £250,000 and a Lamborghini Gallado 5.2-litre V10 coffee table - sold for £1,700.
JOIN OUR PULSE COMMUNITY!
Recommended articles
Presidency: You'll be a worthy opponent to me, Tinubu congratulates Atiku
Breaking: Atiku clinches PDP Presidential ticket
Breaking: Tambuwal drops out of PDP presidential race, endorses Atiku
How poor, out-of-school children gain education with N100 in the FCT
Southern Kaduna Christian Leaders urge communities to defend their land against terrorists
Group tackles INEC over extension of party primaries' deadline
Respect peoples' choices at the polls - Buhari
APC postpones Abia Central Senatorial primary, as Nwogu withdraws
Former Deputy Gov defeats Obanikoro to pick APC ticket for Lagos West