These are all the crazy United passenger stories that have emerged since last week's scandal
After the incident, things turned nightmarish when a passenger on a flight from Houston to Calgary reported being stung by a scorpion that fell out of an overhead bin that same day.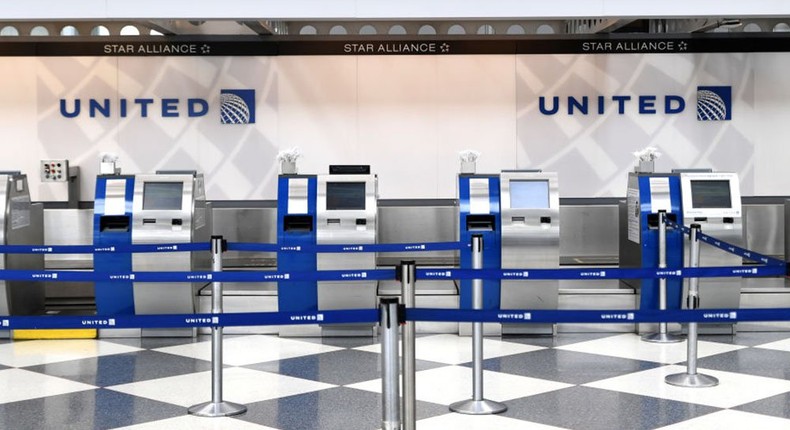 So much for flying the friendly skies...
United Airlines is having a bad month. Since they made international what-the-eff news last week when airline officials and airport security dragged a doctor named David Dao off of an overbooked flight, a bunch of passengers have been speaking up about their terrible United experiences.
After the incident—and the fallout as United's CEO Oscar Munoz issued a statement that seemed to stand by the company's actions—things turned nightmarish when a passenger on a flight from Houston to Calgary reported being stung by a scorpion that fell out of an overhead bin that same day.
Passenger Richard Bell was eating his lunch in business class when he felt something fall into his hair, reports CNN. When he grabbed it, the venomous creature stung him.
"Our flight attendants helped a customer who was stung by what appeared to be a scorpion on a flight last week," the airline said in a statement. "Our crew immediately consulted with a MedLink physician on the ground who provided guidance throughout the incident and assured our crew that it was not a life-threatening matter." Luckily, the passenger was ultimately okay.
Then on Saturday, an engaged couple was removed from a United flight from Houston to Costa Rica while traveling for their wedding—allegedly for sitting in upgraded seats they didn't pay for, reports CNBC.
According to the couple, they boarded the plane to find someone sleeping across their assigned seats, so they moved up a few rows to empty seats, which happened to be economy plus. The couple said they were then forcibly removed by an air marshal.
United disputes the account. A spokesperson said in a statement that the couple "repeatedly attempted to sit in upgraded seating which they did not purchase and they would not follow crew instructions to return to their assigned seats.
They were asked to leave the plane by our staff and complied," the statement continued. The airline also reportedly offered the couple a discount on accommodations for the night and rebooked them for a flight the next day.
Capping off United's nightmarish week, passenger Trey Harris shared a story on Medium recounting his ordeal with the airline from the previous month. Due to a spinal condition called spondylitis, Harris uses a Segway miniPro to get around. In order to fly with the device, he says he contacted both TSA and United's Special Needs department prior to his trip to make sure the device would be approved.
Both confirmed it was okay to fly and United even placed a special note on his ticket. But on the day of his flight, a United crew refused to allow him to bring the device on board or even check it at the gate. He had to abandon it at the airport.
United has yet to respond to this last story, but things aren't looking good for the company. As of Friday, Money reported that United's shares fell 4 percent last week, amounting to a loss of $770 million. The company had already faced harsh criticism in late March for turning away young female passengers for wearing leggings on a flight.
The company confirmed to the New York Times Sunday that after reviewing the events leading to the violent removal of David Dao, they're changing policies to prevent employees from taking the place of boarded passengers on crowded flights.
A spokesperson for the company told the New York Times that this is one of several upcoming policy changes, with the hope that an episode like last week's "never happens again."
As for David Dao, his lawyer says that he will "probably" sue the airline, according to NPR. His lawyer also said that he suffered from a concussion and a broken nose and lost two teeth because of how he was handled.
JOIN OUR PULSE COMMUNITY!
Recommended articles
Fancy Acholonu Nigerian-American model & entrepreneur launches new fragrance line, Simply Fancy
3 reasons you need to start wearing lingerie
9 foods that make your child smart
3 overnight tricks to flatten your bloated stomach
Who wore it better? Nengi Hampson's recreation, or the original outfit on Didi Stone?
Top 5 Nigerian chefs with the best Instagram content
itel celebrates Children's Day 2023 with over 1,000 children In Abuja
What kind of parents are millennials? 5 ways they differ from their own parents
This week's best celebrity pictures on Instagram
Orijin launches 'Deeply Rooted' campaign championing transformative power of Naija roots
5 things adults miss about Children's Day
5 African countries where snow falls