This mom just explained stretch marks to her daughter in the best way possible
You probably do what you can to be as body positive as possible, but some things in life make it harder than others.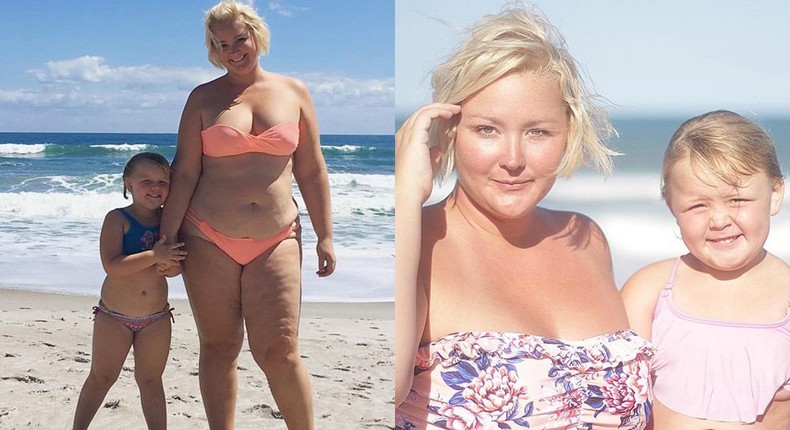 And her daughter's reaction is SO sweet.
You probably do what you can to be as body positive as possible, but some things in life—like, cough, stretch marks—make it harder than others. Now, one mom is showing that perception is everything when it comes to accepting your imperfections.
Health coach Allison Kimmey broke it all down in a Facebook post that's gone viral. In her post, Allison recalls a conversation she had with her daughter while they were at the pool. Allison's daughter asked about the stretch marks on her stomach and her response was amazing:
"Well, when I was a little older than you, I got some stripes when I grew really fast! And some of these stripes are from when I had you growing in my tummy."
Allison also called her stretch marks "shiny and sparkly." Her daughter's response: "I like this one the best, it's so glittery," she said, adding, "When can I get some?" (Allison told her daughter she'd get her own "glitter stripes" when she's a little bit older.)
"It matters how we talk to our daughters about our bodies," Allison concludes. "They are listening. They are asking. And it is up to YOU to help them shape how they will feel about these things!"
People applauded Allison in the comments, sharing their own stories—both positive and negative. "I was a putting a belt on recently and a little of my stomach showed," one woman wrote.
"My 10-year-old son looked at my stomach and said that's my favorite part of you mom.. those marks are love marks.. because they came from my brother and me growing in your stomach."
Another talked about how it's important to talk to little boys about body positivity, too, and shared this story: "One day I was changing my clothes, my oldest asked if he had bumps on his butt (dimples). I laughed and asked why. He said I like your bumpy butt."
This isn't the first time Allison has preached about body positivity—she regularly posts messages on Instagram about how size doesn't matter:
Clearly, Allison is on to something really powerful here.
JOIN OUR PULSE COMMUNITY!
Recommended articles
7 incredible health benefits of bitter kola
5 most fashionable plus-size celebs in Nigeria
See the forest in Ondo where masquerades are forbidden
Blow by blow of how Hypo made an all - white impression at the AMVCA 2023
3 foods believed to have spiritual significance
You should visit 5 of Africa's most popular and historic markets
The scary and toxic side of applying sunscreen every day
YAPPI: Opportunity for youth empowerment through animation, post-production industry
How music can transform a bland s*xual experience into an enjoyable one
Original name of Africa and how it got its current name
3 mistakes to avoid when cooking fried rice
How unmarried people in Nigeria will be affected by fuel subsidy removal