3 delicious new ways to eat honey
About a decade ago, honeybees were in trouble: A variety of factors, including pesticides, parasites, and diseases, were causing swarms to die off at alarming rates.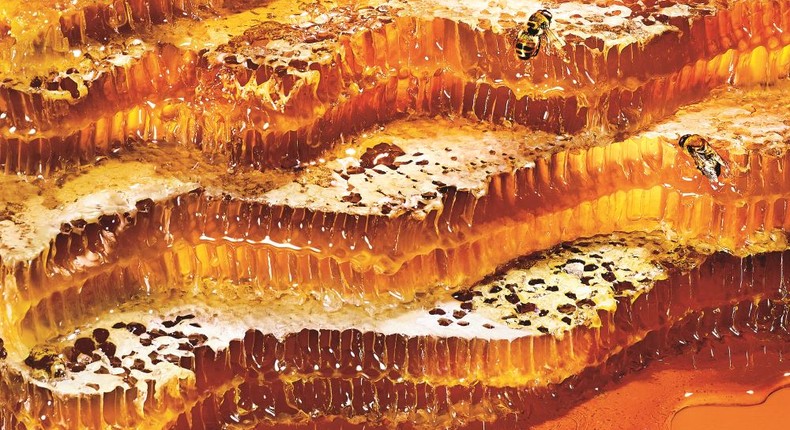 About a decade ago, honeybees were in trouble: A variety of factors, including pesticides, parasites, and diseases, were causing swarms to die off at alarming rates. Since then, the industrious little critters—which pollinate roughly one-third of the U.S. food supply—are starting to rebound.
With its rich flavor and stellar nutritional profile (probiotic! anti-inflammatory!), honey should be more than just a sugar substitute. Check out these buzzy new ways to lap up the nectar.
TECHNIQUE #1: EAT IT IN THE RAW
Most commercially produced honey is pasteurized and filtered to prevent it from crystallizing, but that process markedly decreases some key nutrients, including probiotics and antioxidants. Raw, unfiltered honey also has a more complex and robust flavor than the processed variety. In a no-bake recipe like this fruit-and-nut-filled dessert, all of those qualities shine.
In a food processor, combine 2 cups chopped medjool dates and 1 1/2 cups raw walnuts and process until a small amount holds together when pinched. Press the mixture evenly into the bottom and sides of a parchment-lined 9-by-9-inch pan.
Wipe out the food processor and add 1 cup raw cashews, soaked in water overnight and drained, 1 cup coconut cream, 1/3 cup raw honey, 1/4 cup melted coconut oil, 2 teaspoons vanilla extract, and 1/4 teaspoon kosher salt; process until smooth.
Fold in 1 cup unsweetened shredded coconut and spread evenly on top of crust. Arrange slices from 2 peeled kiwifruit on top, cover with plastic wrap, and refrigerate for at least 2 hours. Just before serving, drizzle with 1 tablespoon raw honey and slice into squares.
MAKES 24 SQUARES Per serving (1 square): 240 cal, 14 g fat (7 g sat), 31 g carbs, 26 g sugar, 25 mg sodium, 3 g fiber, 3 g protein
TECHNIQUE #2: SWAP IT FOR SIMPLE SYRUP
You know what's got true grit—and not in a good way? Sugar in a glass of iced tea. Simple syrup can make for smoother-sipping cocktails, but may also be heavy on corn syrup and artificial ingredients. Enter honey: nothing fake, a tad sweeter than sugar (so you can use less), and mixes in a flash.
In the bottom of a rocks glass, use the handle of a wooden spoon to muddle 10 mint leaves with 1 teaspoon each honey and water. Let sit 5 minutes to infuse. Fill the glass three-quarters full with crushed ice. Top with 2 ounces each bourbon (or cold, unsweetened tea) and seltzer and stir until cold.
MAKES 1 SERVING Per serving: 150 cal, 0 g fat, 6 g carbs, 6 g sugar, 10 mg sodium, 0 g fiber, 0 g protein
TECHNIQUE #3: HIGHLIGHT ITS SAVORY SIDE
Honey isn't just for dessert. A drizzle can tame spicy dishes and balance the acid in vinegar-based salad dressings. And because cooking caramelizes its sugar, honey brings a richness to meats and seafood.
Whisk together 1 1/2 tablespoons each of honey, soy sauce, and rice vinegar; 1 teaspoon toasted sesame oil; and 1 clove minced garlic.
Heat 2 tablespoons canola oil in a large skillet over medium-high. Pat dry 1 pound of sea scallops and add to the skillet in a single layer. Cook until golden brown and translucent, flipping once, about 3 minutes per side. Transfer to a large plate, reduce heat to medium, and add honey-soy mixture to the pan.
Simmer until thickened slightly, 1 to 2 minutes. Add scallops and 2 chopped scallions to the pan and toss to coat. Top with 1 teaspoon sesame seeds.
MAKES 4 SERVINGS Per serving: 190 cal, 9 g fat (1 g sat), 12 g carbs, 7 g sugar, 650 mg sodium, 0 g fiber, 14 g protein
For more healthy eating tips, check out the April 2017 issue of Women's Health on newsstands now.
JOIN OUR PULSE COMMUNITY!
Recommended articles
Inspiring Connections: The creative community unites at the Walkers Mix by Johnnie Walker and Sarz
5 lessons from a K-drama about true love and healthy relationships
Dano Milk inspires Nigerians to enjoy dairy on World Milk Day
7 ways to style your braids for a more formal look
Top 5 most stylish Nigerian women who host podcasts
How's the air quality in African cities? Plus, 5 cities in the world with the worst air quality
Unveiling Glamcityz: Nigeria's fashion destination redefining style with authentic flair
The smelly side of using a public gym - and what to do about it
What you should know about the Museum of failure
Masturbation may increase a male primate's chances of impregnating a female - Study
5 ways to protect your hair from heat damage
7 herbs that reduce stress and anxiety
'There are people in Barcelona who don't want me to return' — Messi
EXCLUSIVE: 'It is only Paul Onuachu' — Frank Onyeka reveals his Super Eagles friend
Explained: How much will Lionel Messi earn at Inter Miami in USA?
Ese Brume soars to her best mark this season at ORLEN's Cup
Romelu Lukaku gives advice on how to stop racism in football
Victor Osimhen's unprecedented Capocannoniere
Chukwueze beats two Morocco stars and Ghanaian striker to LaLiga award