This woman gave birth to 'twins' who were conceived 10 days apart
After she was pregnant, she started ovulating and conceived again with some of the sperm still in her body from the initial sex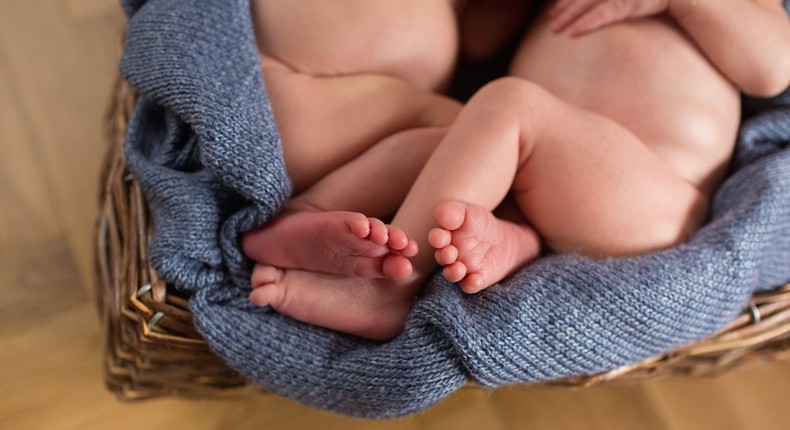 How is this even possible?!
In today's weird health news, it's apparently possible to get pregnant while you're already pregnant. Seriously.
Australian mom Katie Hill just gave birth to non-identical "" who were conceived 10 days apart. Katie was initially told she wouldn't be able to conceive at all due to polycystic ovarian syndrome, according to Today Tonight Adelaide.
But after taking hormones to help increase her odds of getting knocked up, she conceived. Then, after she was preggo, she started ovulating—totally abnormal—and conceived again with some of the sperm still in her body from the initial sex. "I was shocked," Katie's husband told the show. "Shocked and happy, of course."
As you might have guessed, this is insanely rare, says Lauren Streicher, M.D., associate clinical professor of obstetrics and gynecology at Northwestern University's Feinberg School of Medicine.
"This is the kind of thing that, quite frankly, most ob-gyns will never see and might not even be aware of," she says. "The ability to conceive once you're already pregnant is something we see in the animal world, but it's not something that's been demonstrated in humans other than in a couple of rare cases."
The official term for this kind of medical marvel is "superfetation." Typically, the only way to really prove that this happened is if there are two different fathers, which wasn't the case for Katie. (Her daughters do have different blood types, though, according to Today Tonight Adelaide.) "It is not really fully understood how this can happen medically," says Streicher.
Still, cases like Katie's, no matter how rare, beg the question: Should you use contraception even if you're pregnant? The answer is no, says Streicher. "The bottom line is this is an extraordinarily rare event," she says.
JOIN OUR PULSE COMMUNITY!
Recommended articles
5 things a cheating partner says that prove they cheated
Braids by Hilda: 4 simple and stylish braids Hilda Baci loves
The top 10 poorest countries in the world are all in Africa
15 unconventional foods that Nigerians eat
5 concert safety tips that should be on your mind for Detty December
Top 5 coldest countries in the world
DIY Recipes: How to make shawarma bread using oats
Mingle Yard - Your premier online dating destination!
Senator Ekpenyong's Thanksgiving celebration attended by Senate President and others
Get ready to kick it up, a notch at Sneakerfest 2023
5 signs they are the villain even if they claim to be a victim
5 kinds of butts and clothes that fit them
Thiago Silva recalls TB fright ahead of Chelsea debut
Brazil vs Argentina: Bloody scenes at the Maracana as Brazilian police and Argentine fans clash
Arda Turan: Ex-Atletico star in hot tears after losing $13 million to 'yahoo yahoo'
Global Soccer Award: Osimhen to battle Messi and Ronaldo
Lionel Messi and Scaloni's Argentina relationship set to end