Why this grieving mother is saying 'don't let people kiss your baby'
Nicole and Shane married six days after Mariana was born, but within two hours of the ceremony, Mariana had stopped eating and would not wake up.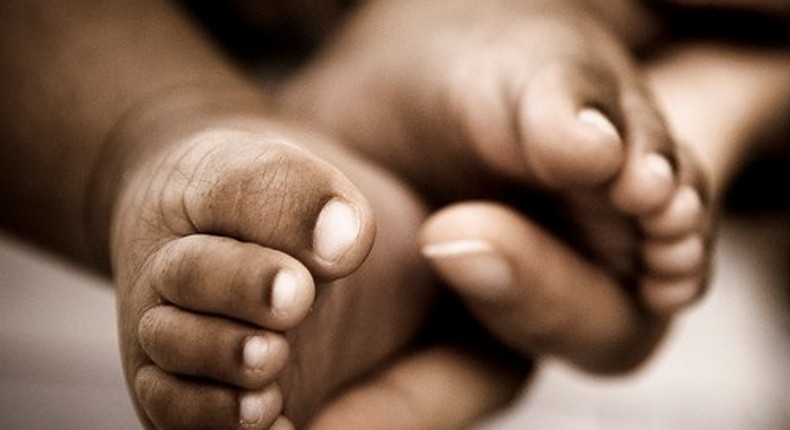 After her 2-week-old daughter
According to CNN, Mariana's meningitis was caused by herpes-simplex virus 1 (HSV-1), the same virus that causes cold sores on a person's mouth. It's very rare for the virus to lead to meningitis, a serious and potentially deadly inflammation of the tissue covering a person's brain and spinal cord.
"HSV is not a common infection [in infants], but it can happen and we do see it," says Danelle Fisher, M.D., chair of pediatrics at Providence Saint John's Health Center in Santa Monica, California. Babies are particularly vulnerable in their first few weeks of life, and don't have any antibodies built up to protect them from a herpes infection, she says. As a result, they can get really sick if they contract it. "In a baby, it can go from exposure to a cold sore to meningitis in a relatively short period of time," Fisher says.
Her parents, Nicole and Shane, both tested negative for the virus, so it's likely that their baby contracted it from someone else.
Nicole and Shane married six days after Mariana was born, but within two hours of the ceremony, Mariana had stopped eating and would not wake up, the couple told WHOtv.com. They rushed Mariana to the hospital, where they learned that she had contracted meningitis HSV-1, which can be carried by someone with the virus even if they do not have an open cold sore, CNN says. (BTW: While babies can get sick quickly from HSV, Fisher says it's unlikely that Mariana got the infection from her parents' wedding since her symptoms developed so soon after the ceremony.)
If an adult has a cold sore, Fisher says it's really best to ask them not to kiss the baby anywhere, not even on their feet. She also recommends asking people not to kiss your baby on or next to their mouth, and limiting your baby's exposure to other people in their first month of life. That means keeping them away from public places like grocery and coffee stores, or anyplace where there can be large gatherings of people. "The baby should not have a lot of exposure to other people within the first few weeks of life because they are so vulnerable," Fisher says.
That doesn't mean you shouldn't take your baby to your grandma's house or have a friend over to visit—you just need to limit the number of people your baby is exposed to and, again, put a kibosh on any mouth-kissing. That goes for you, too, since Fisher says babies can also get HSV from their parents. "I'm not saying to parents, 'Don't kiss your baby,'" she says.
JOIN OUR PULSE COMMUNITY!
Recommended articles
Anticipated Akada children's book festival returns for its 5th edition
Unforgettable Night of Fun & Smirnoff: Lagos soars with epic BBN fans party
5 things women put on that men find instantly attractive
5 bad habits to drop if you don't want to look older than your age
If you feel insecure about your boobs, read this
The Macallan exclusively launches Double Cask 30 Years Old in Abuja
How to turn down sexual advances from your partner
The Macallan Sherry Oak 25 & 30 YO unveiled in Nigeria
Delusion might be the solution: Study reveals negative thoughts are better suppressed
The legend behind why cassava makes us very sleepy
Why guests had to squeeze between 2 naked models to enter an art show
How to give your pork this popular South American drink flavour
Super Falcons' Michelle Alozie drops football hot take
Kane defends Harry 'One of the best defenders in history' Maguire, calls for end to scapegoating
Provedel: 4 goalkeepers who have scored in the Champions League including Vincent Enyeama
Andre Onana: Critics of the Manchester United goalkeeper are missing the bigger picture
100 not out: Lewandowski moves closer to Messi and Ronaldo with century of European goals
Is Victor Osimhen in for a troubled season under Rudi Garcia?
Pep Guardiola laughs off Man Utd's title challenge
Braga vs Napoli: Victor Osimhen aiming to break Obafemi Martins' 13-year-old UCL record
Victor Boniface girlfriend: 8 Interesting things to know about Rikke Hermine