Serena Williams just posted a video of her truly badass pregnancy workouts
We asked an expert if you should try these at home.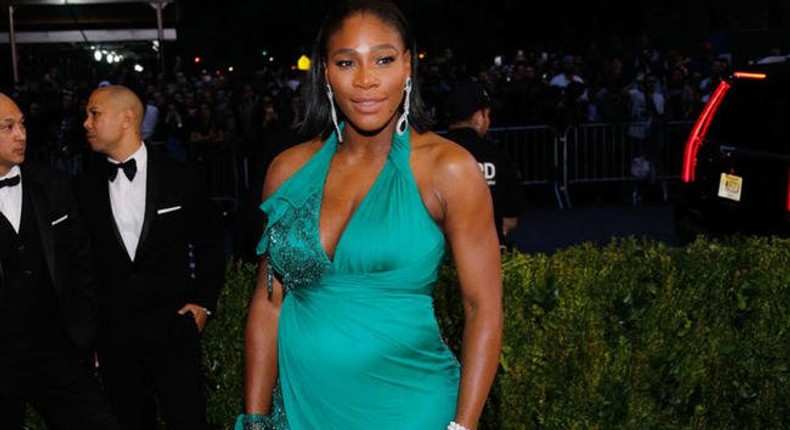 It's a pretty well-accepted fact that
Not only is she one of the best tennis players ever, she also won the freaking Australian Open in the early stages of her pregnancy. Now, eight months pregnant, Serena just proved that she's still going hard.
In a new series of Snapchats, Serena shows off some of her workouts—and they're probably more intense that what most people do without a baby in their belly. In one video, Serena can be seen repeatedly bouncing a heavy medicine ball onto the ground. In another, she does something she dubbed "the turtle," which involves pushing a sled across a gym floor.
Despite what people used to think, working out during pregnancy is now generally considered safe, and even good for you, as long as you have no complications.
The American College of Obstetricians and Gynecologists (ACOG) issued guidelines in 2016 that state that exercising during pregnancy is encouraged. They also list out several forms of exercise like walking, swimming, stationary biking, and modified versions of yoga and pilates as good options. ACOG also says that, if you were a runner before you got pregnant, you're fine to keep on running. That seems to be the advice for pretty much everything—you can keep up your pre-pregnancy routine, as long as there's no complications. The only things ACOG advise against are contact sports and activities with a high risk of falling.
"Whether or not we're talking about Olympic or elite athletes or the average pregnant woman, all women should avoid any exercise that has an increased risk of falling or abdominal injury," says women's health expert Jennifer Wider, M.D. "And everyone should check in with a health professional."
Given that Serena is an elite athlete, sled pushes and medicine ball throw-downs are probably no biggie for her. But Jim Pivarnik, Ph.D., a professor of kinesiology at Michigan State University who studies the effect of exercise on pregnant women, says most pregnant women probably shouldn't be doing this if they weren't also doing it before they got pregnant.
"I would never suggest that a pregnant woman do this during pregnancy if she did not do it prior to pregnancy," he says. But, he adds, if Serena's doctor is okay with it, this intense routine should be fine for her.
If you're working out late in your pregnancy, Pivarnik recommends doing things where you can maintain your balance and avoid overheating (and, of course, avoiding exercises where you're at risk of getting hit in the stomach). You're also going to get tired more easily than you have in the past, Wider points out, so it's important to keep that on the back burner.
Just don't feel pressure to pull a Serena—she's not an average pregnant woman. "She is a high level athlete who happens to be pregnant," Pivarnik says.
JOIN OUR PULSE COMMUNITY!
Recommended articles
The style evolution of Davido from teenager star to timeless fashion icon
5 reasons why you'd be lucky to date a woman with a higher s*x drive than you
For women: Here are 4 kinky ways to arouse your man
Top 5 Nigerian queens of luxury and the soft life
5 signs you are addicted to skincare products
Bajau people spend most of their lives under water, here's how they survive
7 rules for drinking water properly
5 essential items for a frontal wig installation
5 Ways to keep warm this rainy season
Palm Wine: The health benefits of this drink will amaze you
How to spend less money when out on a date
The best way to brush your teeth to prevent mouth odour
Victor Osimhen: Where should the Super Eagles striker go this summer?
Peseiro chasing Rohr's feat as the Super Eagles resume campaign
Nigerian sensation Gift Orban wanted by AC Milan and Napoli
"Present crop of quartermilers are not challenging me enough to retire" - Patience George
Serie A: Udinese renew 'cornerstone' Isaac Success contract
Nigeria to play New Zealand and Haiti in April
PSV fan bags 40-year stadium ban after attack on Sevilla's goalkeeper