Try these exercises to improve your balance
As you age, the muscles that help you stay upright start to weaken. In fact, some people can begin to feel an imbalance from age 40. This is why it is essential to keep active.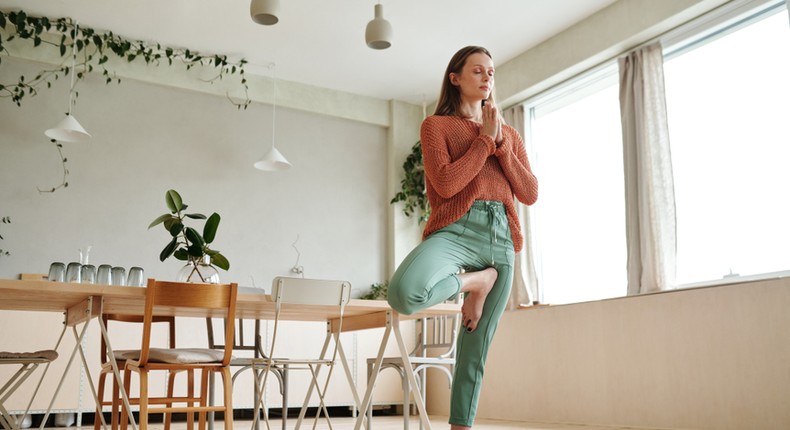 Not only will exercise help you get coordination, but it will also improve your overall health and fitness.
Just like strength and flexibility, you can achieve balance by working on it regularly. The more you do balance exercises, the better you'll stand on your feet. You should do at least 150 minutes of moderate exercise every week.
If you are new to exercise or have a medical condition, consult your doctor to know if it's safe.
Below are the exercises you can do to maintain balance.
It sounds easy, right? However, most people can't stand on one leg for a minute without wiggling and falling.
This is an exercise that can be done anywhere, and it is very effective.
You can start by holding a chair or any other surface then learn to balance independently in no time.
Building your leg strength is a fantastic way to work on your balance.
To squat correctly, start with your feet facing forward and slowly lower your hips while stretching your arms forward. After you go down, go back up and repeat the process.
This is also called heel or calf raises. It is a great way to strengthen your ankle and calf muscles to support good balance.
To do a toe stand. Hold on to a wall, the back of a chair, or any other rigid surface and tiptoe. Hold on for about three seconds and lower back down. Repeat the process 15 to 20 times every day.
This is popularly referred to as meditation in motion. It involves a series of gentle movements accompanied by deep breathing.
The exercise targets all the components needed to maintain balance, like a good range of motion, leg strength, reflexes, and flexibility.
Tai chi does not greatly impact the body, so it is safe for all ages.
If you are interested in learning tai chi, watch a video online to get started.
Oluwatimilehin Ademosu is a passionate content writer and copywriter.
Pulse Contributors is an initiative to highlight diverse journalistic voices. Pulse Contributors do not represent the company Pulse and contribute on their own behalf.
JOIN OUR PULSE COMMUNITY!
Recommended articles
An evening with Chimamanda Ngozi Adichie for a private reading of 'Notes on Grief'
5 positive changes caused by Covid-19
5 drinks pregnant women must avoid
Top 5 romantic wedding proposals
22-year-old woman seeks advice on whether she should get married or go abroad for her master's degree
5 herbs and spices to help you get pregnant fast
11 things women do that turn men on
The harsh truth about hair relaxers
How to spice up your relationship and keep it exciting