Africa's special relationship with China
A district of Guangzhou settled predominantly by male African migrant workers, nicknamed Little Africa by the Chinese press.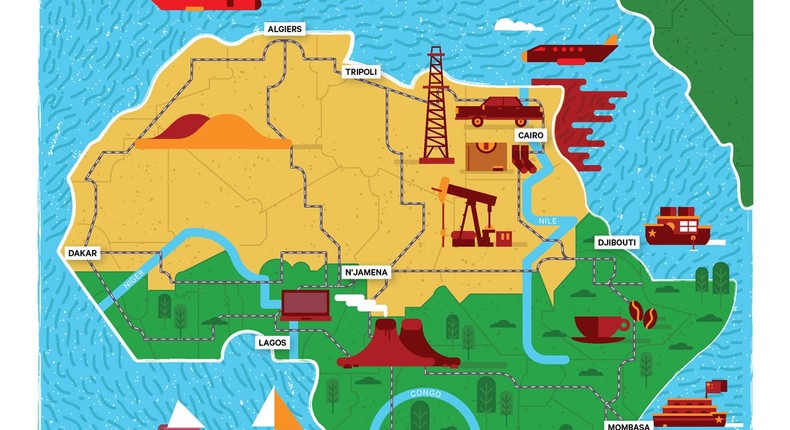 Wriiten by Michael Schmidt
Illustrationsby AmICollective
The African Diaspora in China itself has become entrenched. Nothing proves that as clearly as the rise in Afro-Chinese marriages in the special economic zone of Guangzhou, reported last year by The South China Morning Post, covering Nigerian Eman Okonkwo's wedding to Jennifer Tsang:
"In Guangzhou, weddings like this take place every day. There are no official figures on Afro-Chinese marriages, but visit any trading warehouse in the city and you will see scores of mixed-race couples running wholesale shops, their coffee-coloured, hair-braided children racing through the corridors."
One Afro-Chinese youngster, Lou Jing, then 20, caused a sensation in 2009, appearing on a Chinese imitation of American Idols.
A district of Guangzhou settled predominantly by male African migrant workers, nicknamed Little Africa by the Chinese press, is home to as many as 200 000 Africans, mostly Nigerian, Malian and Guinean, but also Angolan, Burkinabé, Somali and others.
Their presence increased in the wake of the 1997 Asian economic crisis after Africans abandoned their trading posts in Thailand and Indonesia for the great profits to be made by exporting cut-price Chinese goods back home, contributing to the whopping $198-billion trade peak between China and Africa in 2012.
But it would be a mistake to think all African traders in Guangzhou are hawkers of low-end goods. Professor Adams Bodomo, of Ghana, in a survey for his 2012 book Africans in China, found that 40% of migrants had tertiary education.
Marsh interviewed Amadou Issa, 34, who had arrived in China in 2004 with only $300 to his name; today, with his Chinese wife, Issa is a wealthy exporter of construction materials back to Africa, lives in a $800 000 apartment in the city's smartest district, drives a $64 000 car, and boasts about stuffing suitcases with millions of dollars of profit from his sales in Africa.
As in ancient days, Africa's trade withs China brings more than just goods, but also skills and ideas, as evidenced by Senegalese footballer Youssou Ousagna, who relocated to Sichuan in 2005 after being scouted by Chengdu Tiancheng FC (fluent in Mandarin, he too would marry a Chinese wife), or Nigerian Pat Chukwuonye Chike, who moonlights as hip-hop artist Dibaocha Sky, or his compatriot Pastor Daniel Michael-Mbawike, who founded the Pentecostal Royal Victory Church in Hong Kong.
One of the most colourful African characters in Guangzhou is Nigerian Ojukwu Emmanuel, 42, who since arriving in 2007 has built a political profile as elected head of the Nigerian expatriate community and calls himself "the President of Africa in China".
Professor Bodomo argued as early as 2010 that within a century, the Afro-Chinese population would be large enough to demand recognition as an official ethnicity – but Emmanuel, who also married a Chinese woman, is campaigning for such recognition from the authorities now.
He knows that back in Africa, where perhaps 1-million Chinese migrants have settled according to University of Johannesburg migration expert Yoon Jung Park – 350 000 of them in South Africa and 259 000 in Angola alone – the expat communities closely watch how China treats the Diaspora of their African host countries.
Although much Chinese business in Africa involves massive mining and infrastructural projects, Ethiopian Emeritus Professor Fantu Cheru of the Nordic Africa Institute notes that many Chinese who immigrate to work on such mega-projects stay on as entrepreneurs.
But in addition to the stereotypical traders are creative enterprises such as Chinese Diaspora-owned Majority Entertainment, established in Los Angeles in the late 1990s but relocated to Johannesburg in 2004, which makes films and TV programming for the Chinese mainland market – and in turn these movies of African life drive further interest among adventurous Chinese in migrating to the continent to make their fortunes.
With supertankers, jet aircraft and cybernauts now plying  trade routes in place of dhows, cows and dromedaries, with 79% of the
60 000km of the Trans-African Highway now complete, with the Tripartite Free Trade Area almost a reality and regional integration well underway, Africa has come a long way towards repositioning itself no longer as a mere raw materials exporter, but as an efficient transnational zone of manufactured goods, high-end skills and leading-edge ideas.
JOIN OUR PULSE COMMUNITY!
Recommended articles
This week's best celebrity pictures on Instagram
For women: 4 foreplay tips to drive men wild
5 people share awful and sometimes funny things their bosses have said to them
Ramadan: Six facts about the holy month for non-muslims
These are 5 top signs of fake love in a relationship
5 interesting health benefits of Agbalumo (African star apple)
The best 5 cities in Nigeria
The oldest woman ever to be on a Vogue magazine cover is a Filipino tattoo artist
Why your body suffers when you don't have regular s*x
6 reasons your nipples hurt
5 celebs with face cards that never declines and their makeup techniques
Chicken vs Turkey: Here are 3 nutritional differences
Manchester United identify Portuguese goal-machine Goncalo Ramosas Osimhen alternative
Giannis Antetokounmpo outshines Jordan Nwora as Bucks set record against Pacers
NPFL Review: Rangers continue to flirt with relegation, 3SC vs Plateau produce another classic
Arsenal reach first Champions League semi-final in 9 years with victory over Bayern