Outcycling the past (Part 2)
Every morning young men knock on the door of the training centre asking to join the team.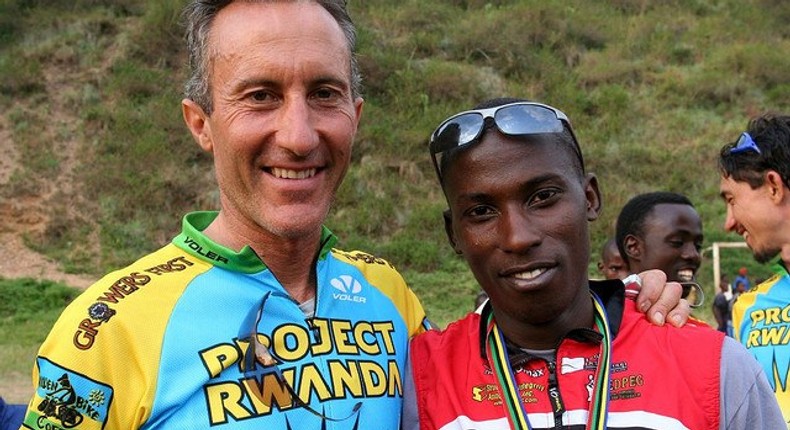 Written by Elles van Gelder
The team is clustered in the living room, talking and laughing.
Byukusenge sits beside Gasore Hategeka, a Hutu, who as an infant lost his mother and his father a few years after the genocide.
His father was reportedly killed by Tutsi soldiers. But Hategeka doesn't talk about that – he'd rather describe how he saved up for his first bike by selling potatoes.
It's easier for Tutsis to talk about their past than for Hutus.
Coach Boyer doesn't discuss the genocide or who is Hutu or Tutsi with any of the team members.
"I never wanted to be biased. I can't let that affect how I look at a rider," he says.
"I think half of the team is Hutu and half is Tutsi. Every one of them has been traumatised, you can tell. I see a lot of trauma in their eyes. I can't imagine how some of them function with the past they have experienced."
For the older riders cycling helps to deal with their memories.
Niyonshuti feels no pain as he climbs and descends the hills of Rwanda – it only hurts when he goes too long without cycling.
During the annual Tour of Rwanda, when he cycles past the family home that he fled as a young boy, those hellish genocide memories return to make his head throb in pain.
"They come back in my mind. I then wish my family could see me. They never saw me on my bike. For one kilometre I hit the pedals, and it is away."
Every morning young men knock on the door of the training centre asking to join the team.
This morning, Boyer puts one of them on his testing bike, the Velo Tron. The bike has a flywheel and is linked to a computer that measures the power of the rider in Watts.
"Allez, allez," Boyer shouts while the rider's face turns red. The rider shows enough potential on the Velo Tron to join a training session.
He walks to the workshop of the team's mechanic to borrow a bike. His eyes look hopeful: joining the team can change his life.
Niyonshuti has spent the money he's earned so far renovating his mother's home and hooking it up to water and electricity, which are not standard amenities in Rwanda.
He wants to take care of his family first, then himself. That's hard, too. From distant cousins to great-uncles, everyone knocks on his door for help.
"When I am at my mother's house people pass by asking if I can help with hospital expenses or other bills. If it is one per week, I can try to manage. But imagine 10 people with different problems. They think I am getting money for free, but I work so hard."
Nathan could have performed as well as Niyonshuti, but his traumatic past stood in his way. He, too, trained with MTN in South Africa. He begged Boyer to let him come home after six armed men forced their way into the team's house.
Niyonshuti hid in a closet, but Nathan saw how another teammate was stabbed in the leg with a knife. "Oh, God help me!" echoed through his mind.
The fear he felt as a child in hiding had reclaimed his body. All he could think of was running away to a place without violence.
But even racing with Team Rwanda means Nathan has much more spending money than his average countryman.
The cyclists are paid $100 per month, plus $50 for each training camp. The real fortune lies in prize money: seven cyclists have already bought or built houses.
There are no bike shops in Kigali, so the team has to be self-sufficient. All the equipment is imported, and Boyer and his wife never travel back to Rwanda without equipment or spare parts in their suitcases.
In the past six years they went through thousands of Vittoria Tires.
"Reynolds Wheels just sent us $25 000 worth of wheels," says Coats, who is the driving force behind donations and fundraising.
The team has a budget of about $300 000 per year. "That includes day to day operations, training camps, rider stipends and salaries," says Coats.
"We probably get around $150 000-$200 000 worth of equipment donated or steeply discounted annually."
"It costs a lot to race at a high level," says Boyer.
"We would like to ride in the Canadian Tour of Alberta but that will cost us $60 000 for eight riders. The riders can only grow if they compete at a high level, so we want to enter as many international races as possible."
Soon Boyer hopes to take the team to The Netherlands to train. His men are strong in the mountains, but have to learn how to ride on flat terrain with wind.
"They exhaust themselves too quickly," he says.
The team receives help from the Rwandan government.
President Kagame has committed to purchasing 18 new Pinarello race bikes, eight new time-trial bikes and mechanical parts for the team.
JOIN OUR PULSE COMMUNITY!
Recommended articles
7 incredible health benefits of bitter kola
5 most fashionable plus-size celebs in Nigeria
See the forest in Ondo where masquerades are forbidden
Blow by blow of how Hypo made an all - white impression at the AMVCA 2023
3 foods believed to have spiritual significance
You should visit 5 of Africa's most popular and historic markets
The scary and toxic side of applying sunscreen every day
YAPPI: Opportunity for youth empowerment through animation, post-production industry
How music can transform a bland s*xual experience into an enjoyable one
Original name of Africa and how it got its current name
3 mistakes to avoid when cooking fried rice
How unmarried people in Nigeria will be affected by fuel subsidy removal