This grown man serves as flower girl at cousin's wedding
He performed his duties pretty seriously.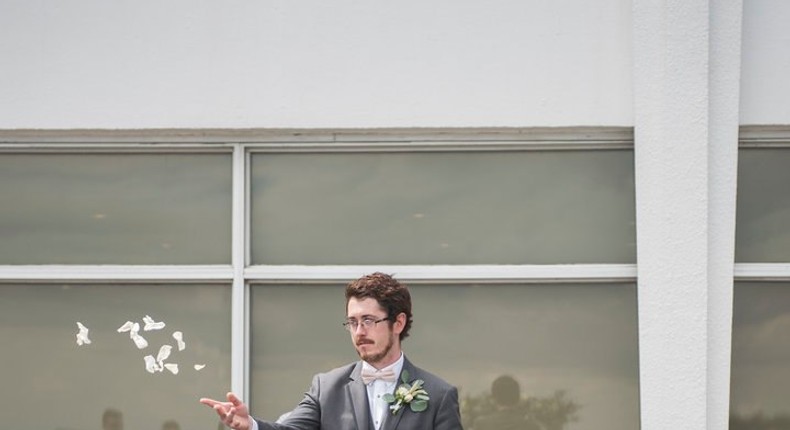 Whats the most unusual thing youve ever seen at a wedding ceremony?
While we have seen a female groomsman and male bridesmaids, we still can't resist a laugh at the epicness of this 28-year-old American gladly takes on the role of flower girl at his cousin's wedding and does it so beautifully.
Casey Patrick and Andria Farthing were so close while growing up and even once served as flower girl and ring bearer at a wedding together when they were little kids.
So when Casey was introduced to Casey new husband, Jake, some years before the wedding, he instantly liked Jake's personality and suspected the couple would end up getting married.
Prior to their June 17, 2017 wedding, Casey pestered the couple so much to include him in their wedding.
"I was lobbying to be their 'flower man' even before they were engaged," he tells Huffington Post.
And as it turns out, the couple thought it was a bright idea, too.
"A little later, after their engagement, they honored me by bestowing me with the duty I so craved," he says.
And when the wedding day came, Casey took his role very seriously, even using the same flower basket that Andria used when they both served on the bridal party all those years back!
JOIN OUR PULSE COMMUNITY!
Recommended articles
Food recipes you should try out this festive period
6 common things men do when they love you
7 reasons why you're still single
Can dating a divorced man work?
Who died and made you 'God'?
Natural Hair Girl: Natural hairstyles to make in under an hour
5 life milestones for every millennial
5 ways to take care of your wigs
Easy-peasy method of preparing Nigerian fried rice without frying