3 lessons to learn from new movie
"The Wedding Party" premiered yesterday, September 8th 2016, amidst funfair and all. What quick wedding lessons can we learn from the comedy movie?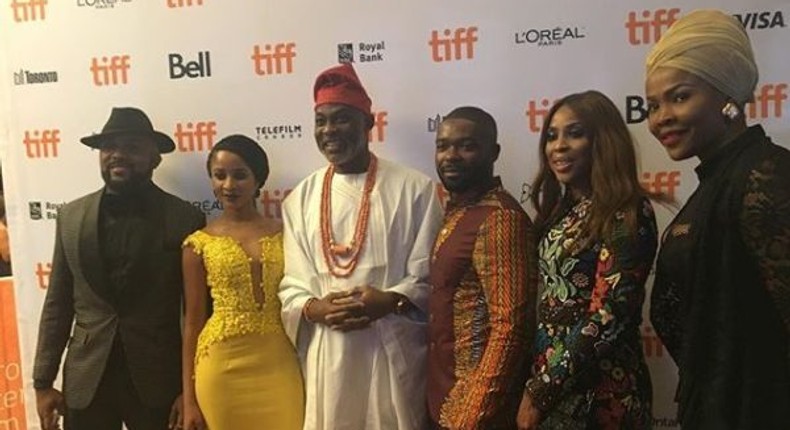 The much-awaited movie "The Wedding Party" premiered yesterday, September 8 2016 in Toronto.
The new movie features Banky W, Adesua Etomi, Sola Sobowale, David Oyelowo, Omoni Oboli, Ufuoma McDermott, Beverly Naya, Richard Mofe-Damijo, Ireti Doyle, among others.
The romantic comedy was created by Kemi Adetiba,  and going by the synopsis, the star-studded movie portrays some of the surest things one will still experience when it comes to Nigerian weddings.
Below are the three we have chosen to talk about.
Nigerians still put a mighty emphasis on wedding night sex
In the movie, the bride, Dunni Coker [Adesua Etomi] and Dozie [Banky W] reached an agreement not to have sex until their wedding night.
Forget all the 'hoe stories' you've read on Twitter. Disregard all the 'sex confessions' you've ever come across, and sure enough, forget the few guys and girls that have tweeted that they will be too tired to have sex on their wedding night.
The truth is wedding night sex is still very eagerly awaited and keenly looked forward to.
And that is not just talking about the virgins only. Even those that have tasted from the honey jar several times before the wedding night still look forward to that particular event.
Please don't ask why there's such a 'frenzy' for it, I am just as clueless as you.
The fear when the Pastor says "If anyone has any reason why this couple should not be joined..."
While reading the synopsis, this line catches your attention; "the groom's ex-girlfriends looking to make their mark..."
Let's face it; when you do a girl dirty and she threatens to 'make a mark' on your forthcoming wedding, what comes to your mind first?
There's a reason why guys with several broken hearts to their credit always fidget when the pastor comes up with that fear-inducing line. I am not married, but I hear, from credible sources, that couples usually experience something of a near-paralysis between the 30 seconds to one minute that the Pastor uses to wait for potential 'naysayers' to take the mic and ruin the day.
You can not run from your village people forever
Another one that grabs your attention is this "the unruly behaviour of some 'village' guests..."
We all know that most Nigerian weddings are avenues for the extended family to come together for a common purpose. So you've stayed away from your 'embarrassing' extended family for a long time, but it's now time for you to get married...
There's a high chance that that your uncle from the village, the one with kolanut-stained teeth will come, that your 30-year old cousin with a foul-mouth and really big tummy will show up, your stern-looking aunt with 'those slippers' will also most likely be there.
When these people gather, believe me, there's bound to be unruly behaviour and a number of 'embarrassing' situations, especially if your family is yorub... never mind.
This one could be quite hilarious, really, but it could also be annoying, depending on the level these relatives of yours take it to.
JOIN OUR PULSE COMMUNITY!
Recommended articles
Here are 5 things no one tells you about sleeping with your bestie
All friends of Enioluwa are friends of Crocs
Here are questions to ask yourself before sleeping with a close friend
Do's and Don'ts: How should you wash your vagina?
Sperm- killers, here are 7 things that men need to watch out for
5 tips for planning the perfect baecation
5 surprising things coconut water can do for skin
6 foods to add to your diet if you want a bigger butt
Chaotic life of an HR: Chaotic reveal (Ep.22)