Disabled bridesmaid walks down the aisle to surprise sister on wedding day (PHOTOS,VIDEO)
Bridesmaid, Stephanie Carfrae had put in six months of hard work to make sure she walked for her sister, to make the wedding a special one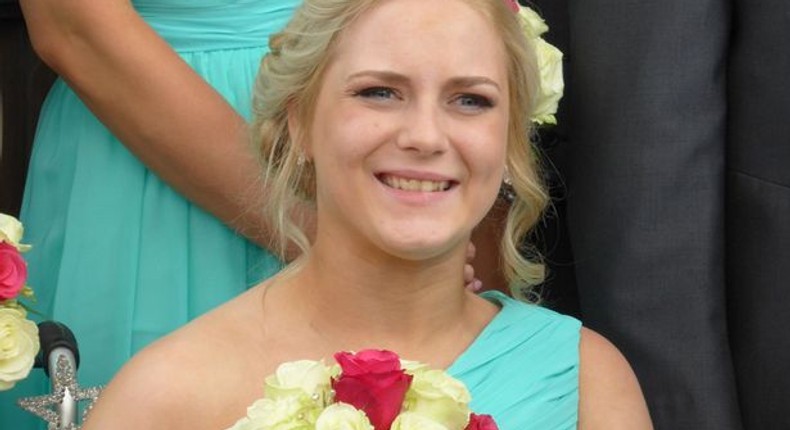 A 23-yr-old disabled woman gave her bride sister a memorable surprise on her wedding day by walking down the aisle.
Bridesmaid, Stephanie Carfrae had put in six months of hard work to make sure she walked for her sister, to make the wedding a special one.
But she decided in January to surprise her sister by walking down the aisle at her wedding in July to make her day "even more special".
Stephanie's brother Adam also lives with the condition, called spastic paraplegia genome 35, which is caused by a faulty gene and is incredibly rare.
According to Get Surrey, with the help of Kate Busby, a physiotherapist from University College Hospital in London, Stephanie began a physiotherapy course at her home to learn how to walk. So she started months of regular physio visits, with Stephanie given daily exercises to strengthen her arms and legs.
Speaking to reporters, her mother Sue Carfrae said, "Walking for Steph is not easy - she has a metal plate in her left foot to keep it stable, but her right foot is not as stable so she had to be fitted for a splint to hold it in place but the foot still drags.
"The solution was to wear boots with a little heel which lifted her foot off the floor enough to take a step.
"She practised and exercised every day without fail. She also took care not to let her sister, Georgina, see her standing or walking as she wanted it to be a complete surprise."
By June, Stephanie was ready to try walking down the aisle at St Lawrence Church in Chobham. She met her physio and began practising.
On the night before the wedding on July 31, there was a full wedding rehearsal with Georgina seeing her sister walking for the first time in seven years - with the whole family looking on in tears.
On the day of the wedding, the family took a video of Stephanie walking down the aisle with a broad smile on her face, supported by two bridesmaids.
Stephanie said: "The walking felt incredible, although at one point it was a bit tough as my feet met and I nearly tripped, but I remembered to take very small steps, so I felt confident. I did it."
Georgina said: "It was so special when I found out that my little sister wanted to try and practise walking, and put up with intense physio, in order to walk down the aisle for my wedding. I always told her not to put pressure on herself, but I knew she was determined to try.
"It was truly the icing on the cake for us on the day and a true gift to be able to watch her walk down the aisle in front of me beaming. She has always been an inspiration to me, but on that day she was an inspiration to everyone and it just added to what was already an amazing and unforgettable day."
Mum Sue added: "We are so proud of all our four children, but on this day, Steph's determination to walk added an extra special moment to treasure on what was an amazing family occasion."
JOIN OUR PULSE COMMUNITY!
Recommended articles
5 unique wedding food traditions from around the world
FreshYo made 10 fresh millionaires in the Mega Millions Promo!
Let your skin glow, this beauty month!
'How to summon a demon' and 9 other strange questions people ask Google
5 biggest culture shocks from around the world
3 BY 4 Gourmet celebrates Africa's culture with Street Food Celebration
Sleep paralysis: Caused by witches or a natural occurrence?
Here's all you need to know about Kegel exercises
Irish Board launches €1m Spirits campaign in Nigeria
5 proven ways to deal with disappointment and move on from it
itel's Love Always on CSR initiative enriches education in Nigeria
Ralph Lauren fragrances unveils CKay as face of the world of Polo Franchise
AFCON 2027: Algeria hands Nigeria a major boost
TikTok wahala: Osimhen deletes Napoli pictures from Instagram
Wilfred Ndidi: Style Essentials inspired by the Leicester City's Nigerian midfield maestro
TikTok trolling: Osimhen set to sue Napoli for serious damage
Manchester United senior players beg Sancho to apologise to Ten Hag
Ukrainian club copy Nigeria's Super Eagles jersey
Victor Osimhen dodges fine for substitution bust up
Mikel Obi: Super Eagles legend branded 'fine boy no pimple' in Dubai
Give us Mourinho! Chelsea fans beg for 'Special One' after latest defeat