Couple celebrate 60th anniversary by eating their original wedding cake
So for every anniversary, Ann and Ken would eat a portion of the cake, and now 60 years after they got married, the couple are still eating a slice of the same wedding cake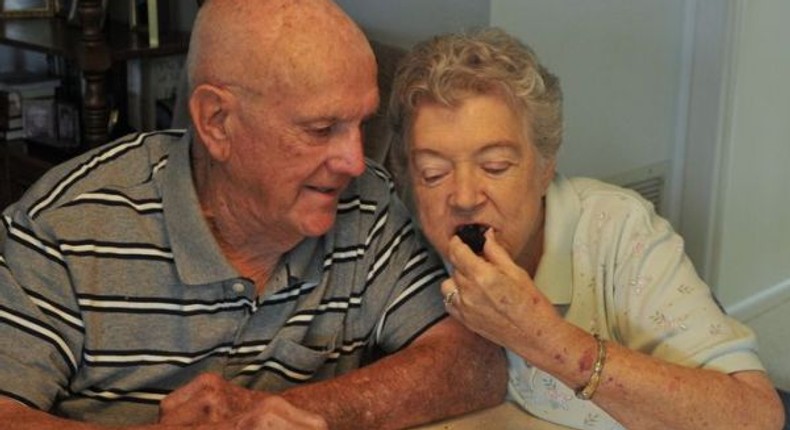 Ann and Ken Fredericks of Satellite Beach, Florida were married 60 years ago in Nyack, New York.
Their wedding cake was baked by Ann's grandmother who then had it iced by a baker. Most of the cake was eaten at the wedding reception but the top layer was saved.
So for every anniversary, they would eat a portion of the cake, and now 60 years after they got married, the couple are still eating a slice of the same wedding cake.
According to reports, Ann and Ken wrapped the cake in a plastic wrap, placed it inside an old coffee can, then placed the can inside a room-temperature closet.
Florida Today (auto-start video) reports, the Fredericks get a kick out of teasing their children. They said they've offered all three a bite of the cake over the years, but it has always been refused.
"They won't taste it," Ken said.
"And we tell them, it tastes fine," Ann said. "They always say, 'Oh, there's not that much. You two keep it for yourself.' I don't know, we may have to be buried with it."
After the annual bite, the cake, which is now about 4-by-3 inches big, will be wrapped in Saran and nestled back into its coffee can with a yellowed slip of paper that reads: "Top tier, Ann's wedding cake."
"We're hoping we can do it again next year," Ken said.
"It has lasted us 60 years, and so has the marriage," Ann said, "which is much more important than the wedding cake."
JOIN OUR PULSE COMMUNITY!
Recommended articles
How to handle a cheating partner
Ways to get closer to achieving your goals
Do you have Gamophobia?
7 Reasons why your partner may lose interest in you?
Pulse First Love: "He said it's never too late to be served breakfast"
What exactly does a side chick do better than a main chick?
Fun ways to celebrate Christmas this year
Is living together before marriage good or bad?
See the countries where Nigerian Languages can actually come in handy