Ghanaian bride wears a 'RED' sneaker on her big day [Photos]
Vera Ewura Obeng, Ghanaian professional photographer ditched heels on her big day for a custom-made red sneaker.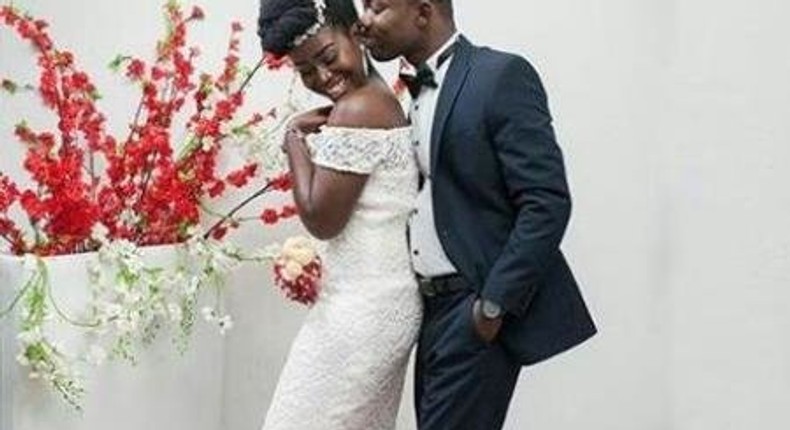 A sneaker on your wedding day! That's a bold one girl!
Vera Ewura Obeng, Ghanaian professional photographerditched heels on her big day for a custom-made red desert boots sneaker.
The stand-out Cinderella, Obeng in a Facebook post stated that being a wedding photographer for about six years have opened her eyes to the amount of discomfort women go through to look glam.
"After being a wedding photographer(VeraObengphotography) for 6 years its only fair that I learn not to repeat what Brides go through over and over again.
"For me, What is the point in wearing heels to church and remove it during reception? I just don't get it. If you want heels wear it throughout the event. I wore mine for 9 hours. I see Brides complaining about the heels all the time. It even doesn't make my photos nice. My "comboo" as some are calling it is actually custom made "HORESEMAN HOOVES".
"We all copy and paste including me. Our problem is we do it without reading through what we have copied"
"For those saying I am manifest? sister, "eeeiiii ghanafo kasa" I've only seen him once. It was from a distance in a hotel I went to work in. It would be nice to have him as a big brother though. Never heard any of his songs except the recent one to sarkodie?. And I can say I don't understand a thing. Call me "kolo". ' I like it like that'
"Again for those suggesting my husband should have been in something similar, thanks a lot for your suggestion. The idea was not to "combine powers like captain planet". He is an academician and I am an artist. We can only adjust but not to change who we are. He loves me and I do love him also. No need to change. "love you Festus Attah Isoah Iso
"And for my dress, I just don't get the bit where I spend thousands of Mahama cedis on a dress I can't wear again.. "I just can't think far". Invite me to your baby christening and I will gladly come in it.
"For me this was my dream wedding, if you choose to wear a heel as tall as me, at the end of the day, it's all about our choices.
"Note that I don't have anything against wearing of heels and gowns. (you look like Disney princesses)
"To all those who made Wednesday 13th July a Special day for my husband and I, thank you. You have no Idea what it means to us. For those who "run" away to come, I hope your bosses didnBetty Aidoo"
Would you rock a sneaker on your wedding day?
JOIN OUR PULSE COMMUNITY!
Recommended articles
Denola Grey is one of the new faces of Fenty Beauty
How to survive the rising cost of petrol and transport in Nigeria
7 incredible health benefits of bitter kola
5 most fashionable plus-size celebs in Nigeria
See the forest in Ondo where masquerades are forbidden
Blow by blow of how Hypo made an all - white impression at the AMVCA 2023
3 foods believed to have spiritual significance
You should visit 5 of Africa's most popular and historic markets
The scary and toxic side of applying sunscreen every day
YAPPI: Opportunity for youth empowerment through animation, post-production industry
How music can transform a bland s*xual experience into an enjoyable one
Original name of Africa and how it got its current name