Here's why settling is a wrong relationship move to make
Why you should explore your options and choose wisely rather than settle for just anyone to be in a relationship with.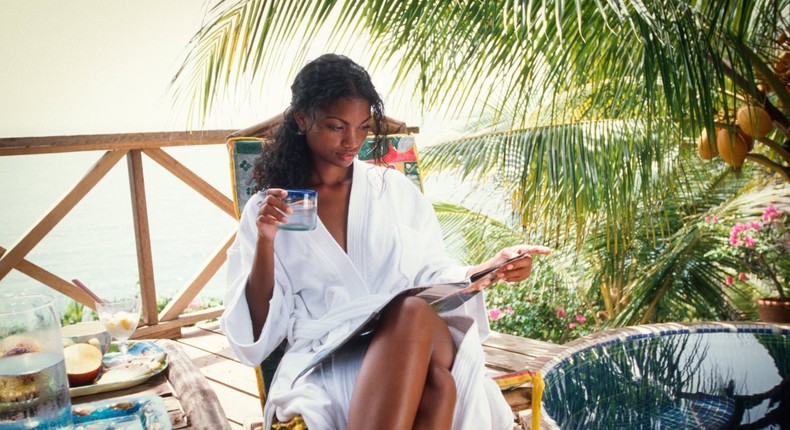 Because of the type of society we in live in, and the attachment of 'too much' importance on relationships and love, especially when you get to a certain age, too many people have had to settle for relationships that are less than fulfilling, because they simply want to conform to society's standards, or because they don't want to be alone.
Yes, I totally understand how crazy things might get; your friends repeatedly asking you why you don't have a girlfriend, your mum asking when you are going to come introduce your girlfriend to her, etc.
Woman stares blankly into space [Credit: All This]
The pressure could be exhausting and annoying, but you don't have to cave in and settle for just anybody because you are being pressured Don't be pushed into a life of unhappiness.
Here are three reasons why you should not settle for a relationship just for the sake of it.
Your odds are better than you think
You are an amazing young man, an amazing lady with straight priorities, you do not cheat, you are faithful and loyal and sweet and smart.
Come on, that you haven't met someone yet, or that you have heard so much bad things about cheaters, and read so many hoe stories on Twitter does not mean that there are no good people out there anymore.
Don't ever settle for the mentality of "there are no good girls out there anymore," or "all guys are cheaters."
In love or just filled with sexual energy that needs expellation? [Credit: Portra/Getty] Portra/Getty
Don't do that to yourself. There are tons of great people and your chances of finding them are greater than you think.
There's still a lot out here to enjoy
When you allow yourself too focused on being in a relationship, you lose out on all the fun and benefits of being single.
Don't become obsessed with falling in love by all means. Relax and enjoy the freedom you still have now, relationships are meant to go on and on, and you have all your life to be committed to one person.
Till that happens, keep calm and enjoy your freedom.
Some men are attracted to women wearing glasses [Credit: Fotolia] Pulse Nigeria
Being single is actually not a bad thing
Being in a relationship, any relationship, is better than being alone.
Never believe that, don't let them make you settle for average crap. Being single is not a disease, regardless of what this ridiculous study says. Never was, never will be.
Rather than settling for a relationship that is less than ideal, take the opportunity to get to know yourself better.
Figure out what you like and don't like, your deal breakers, and what you actually want in an ideal partner.
The more you learn to love and accept yourself, and the more you open yourself up to the world around you, the better your chances of meeting someone real and avoid the sadness of a heartbreak.
Get our Top Stories delivered to your inbox
Recommended articles
Meet the tribe that believes spitting on people is a sign of respect
Nike to launch flagship store at Ikeja City Mall
A trip down memory lane: The timeline of currency in Nigeria
How to survive a building collapse and rescue people trapped
How far away should your cell phone be when you sleep?
5 single ladies share their reactions to unexpected pregnancy
Prime Video hosts Nigeria's biggest stars & consumers at its first experience Prime Video event in Nigeria
5 court wedding outfit inspiration
5 reasons men cry at their wedding