Top gospel actors celebrate 28th wedding anniversary
Mike Bamiloye took to Facebook today, October 8th 2016, to celebrate the 28th year of being married to Gloria Bamiloye.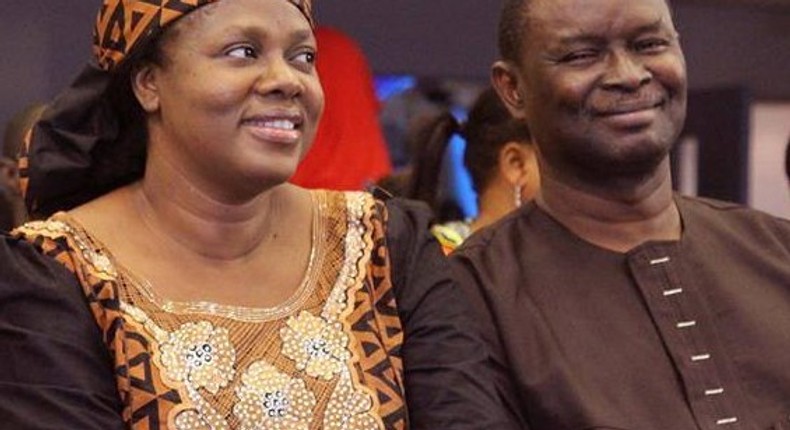 The veteran actor and actress got married in a sponsored ceremony in the year 1988.
In celebration of the occasion, the much-respected actor and director went on his Facebook page to write of the humble beginning he and Gloria Bamiloye had in their marriage.
In a long note, he expressed how the wedding had been funded by friends, family and other well-wishers.
The jacket he wore had been bought by the Best Man, the house they moved into was funded by a relative...
Beginning the inspiring narrative, he wrote, "This day on October 8th, 1988, we married. A marriage born out of raw faith in the Lord alone."
He then got into more details...
"We were two years into full time drama ministry when we married on this day 28 years ago. I had spent all the money I had on ministry matters and I had no more money.
"Today I remember that it was just May 2016, this year, we got our marriage certificate from a registry in Ibadan.
"So we married without a Government marriage Certificate. Why?
"We both went to Ilesha registry to file for the Marriage Certificate when it was two months to our wedding, but we did not have the money to pay for the Registration.
"We were to pay about N120, or so, but we did not have the money. So we told the registry we would come back and we never went back, because we did not have the money.
"Therefore, it was the Church Certificate only we had until may this year, when it was demanded at an embassy for Visa.
"Then, I searched the house and came up the Church Marriage Certificate, and I then remember that the Visa Officer would not accept that.
"So, I went to a Registry in Ibadan and secure our government marriage certificate after 28 years.
"The Marriage was born out of deep faith. I remember it was my Best Man who bought my Wedding Suit and shirt. May God bless him wherever he is now.
"It was my sister-in-Law who bought the shoes i wore on my wedding day. It was a ministry member who gave us money to [sew] the wedding gown, because we had already gone to a place where we could rent the wedding gown.
"It was the money my Sister-in-Law sent to us I used to deposit for the seats in our living room. May the Lord bless Sister Taye, my sister-in-law.
"It was my mama-sister, (my elder sister) who got the 3-Room-Flat we married into. She paid the first year rent. May the Lord ever bless Mummy Felicia Adesiyan.
"It was my another elder sister who got the Boys Bridgade that played for us as we were driving into the Reception place at Ilesha Grammar School, in a car that belonged to one of my Cousins.
"I remember all the monetary gift given to us on the Wedding Day were used to pay some outstanding debts incurred on ministry printings we made before the wedding and some debts on the wedding programs.
"So three days after the Wedding, we had no money again and the idea of [honeymoon] never even crossed our mind, because there was no money to attempt such luxury.
"I remember that the following Saturday, our ministry had a drama ministration in Ilesha, at the Advertisers for Jesus Christ, Ishokun, Ilesha.
"That was a week after our wedding day Gloria Olushola and I had to stand beside the road looking for a lift that could carry us to Ilesha.
"There was absolutely no money on us, a week after our wedding, to go to our next drama ministration.
"So, I had to walk to my Elder Sister's house, to ask her for money to travel. She gave us enough money. God bless Mummy Adesiyan.
"We travelled to Ilesha and met the brethren waiting for us at the venue of Ministration of our first outreach after wedding. That was then.....28 years ago. Our marriage was born out of deep-rooted faith...
"But today....the Lord has been Faithful. Today... the Lord has been wonderful to us. The Marriage has been fruitful and productive. But the journey of faith has not stopped since then.
"The marriage that was born out if faith… But the journey of faith has not stopped since then. The marriage that was born out of faith... has continued to grow by faith...
"We had all our children in faith... They grew up and went to schools in faith... They graduated from universities in faith... and they are on full time together with us in faith....
"All the glory belongs to Jesus the Christ, the son of God, our redeemer. Happy anniversary to us and celebrate... Gloria Bamiloye, a woman who married a man who had nothing but faith... raw faith..."
"Hebrews 11:6 - But without faith it is impossible to please Him, for he who comes to God must believe that he is, and that he is a rewarder of those who diligently seek him."
Many of us grew up watching the movies produced by this couple. Amazing movies, really.
The least we can do from this side, is to wish them many more productive years in health and limitless prosperity.
Congratulations to you on your 28th wedding anniversary, Mr. and Mrs. Bamiloye!!!
JOIN OUR PULSE COMMUNITY!
Recommended articles
Yellow Dot CEO, Olubukola Bolarinde to celebrate African heritage in solo art exhibition
Meet the African tribe that offers s*x to guests
7 best foods to eat for more breast milk
Why is it difficult for men to forgive when women cheat?
Why women lie about their virginity in relationships
3 easy ways you can make money on Instagram
5 money talks to have with your partner before your wedding day
5 signs you're consuming too much salt
5 reasons why you should avoid boat rides in Lagos