Tonto Dikeh, Oladunni Churchill's colourful traditional wedding
Throwback to when Tonto Dikeh and Oladunni Churchill had their traditional wedding ceremony in August, 2015.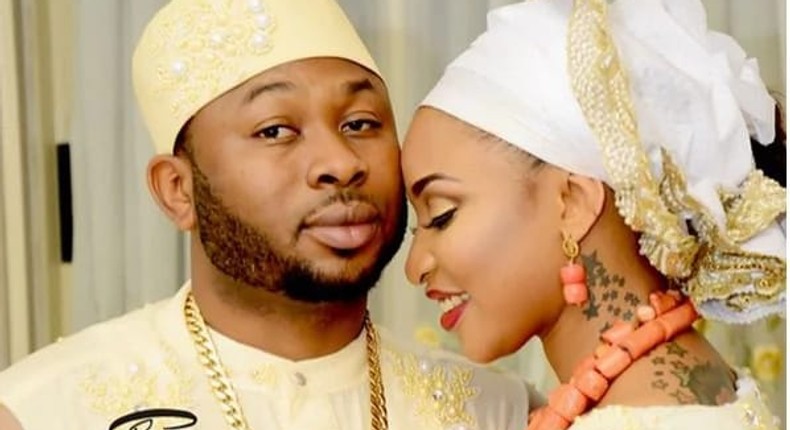 Tonto Dikeh and Oladunni Churchill have been married for close to two years now.
We go down memory lane and bring back memories from their wedding ceremony.
Nollywood actress and screen diva Tonto Dikeh raised a few eyebrows when it appeared she was going to get married few years back.
After few months of suspense, Tonto tied the knot with Oladunni Churchill in Obiokpor Local government of Rivers state and it was one heck of a ceremony!
The couple had only a traditional wedding ceremony, and she would later explain that the decision was because she was pregnant with her son, , at the time.
Just before the wedding itself, there was an introduction ceremony and Tonto got a $60K ring from her sweetheart which was [of course] flaunted on Instagram for all to see.
For the wedding ceremony, the couple wore matching traditional fabric in shades of white, cream and gold, and looked just gorgeous in their outfits.
We remember Tonto and Oladunni's traditional wedding ceremony as one that showed luxury, elegance and eye-catching beauty.
The marriage, judging by all the actress shows us on IG, has been spectacular and filled with many moments of happiness and romance.
Despite rumours that the couple might now be experiencing some problems in their marriage, all that came to mind for today's Flash Back Friday, is the joy and laughter on the faces of Tonto Dikeh and Oladunni Churchill when they wedded in August 2015...
JOIN OUR PULSE COMMUNITY!
Recommended articles
Wonders of the world: 30,00-year-old mummified baby mammoth found in the muck
Ever felt sudden weakness/shakiness? These are 7 possible reasons
5 natural ways to make your lips soft and pink
Fashion Police: Tems custom-made gown for her big night at the BETs
Male infertility more likely than female: 8 lifestyle habits to avoid
Friendship slay: 5 pictures on Instagram we love
7 cute things that happen when you get comfortable in a relationship
Here are 7 things your partner does not need to know about you
5 things you should never do to please a woman