Mom gives her daughter best wedding gift ever! [VIDEO]
This bride got the surprise of her life when her mother gives her a letter she saved for twenty years on her wedding day.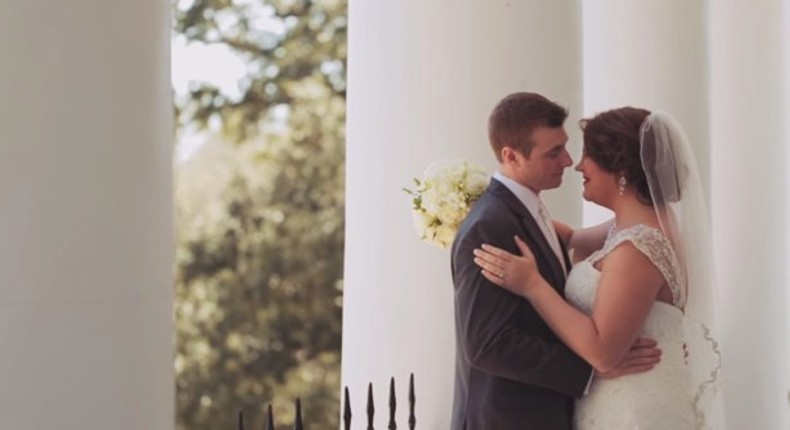 For this bride, Brooke Zugg, March 7th, 2015, will always hold a special place in her heart.
Not just because it marks the day she got married to husband, Tyler Zugg, in Natchez, Mississippi, but also because it is the day she received the best wedding gift ever.
Unknown to Brooke, when she was just 18 months old, her adoptive mother had written a simple but sentimental letter that was to be opened on her wedding day.
As I write this you are sleeping soundly in your baby bed. You are 18 months old. We just want you to know how very much love and happiness you have brought to us. You have made us a truly great family. A little precious baby girl to me and Daddy and a baby sister to  Before me and Daddy were married we always said we wanted a little boy and a little girl. When we were dating, we said if we had a little girl she would be a little . You are our little Baby . , we just want you to know that you are very special to us and that God picked you extra special and he sent you to Mommy, Daddy and  We love you Mommy and Daddy .
On why she did it, the mother of the bride, Sherry, said:
"Being adopted, I wanted her to know how much I loved her. And I thought it would be extremely precious when she opened it up and read it on her wedding day."
The bride, Brooke, told The Huffington Post that she was very surprised saying:
"My mom had never mentioned the letter at all until the moment she gave it to me! Talk about being surprised!"
Luckily, wedding videographers, The Film Poets, were on hand to capture the love-filled moment when Brooke read the words her parents, Sherry and Craig Blackledge, had written so many years ago.
This special gift has given Brooke and her husband, who are expecting their first child in January, 2016, a great idea.
"My mom's letter has sparked the idea to go ahead and begin writing our baby letters to give him or her on their wedding day."
The epic letter was printed onto a piece of the bride's mother, Sherry's wedding dress and will put into a shadow box by Brooke to be displayed in her home.
Watch the incredibly moving moment below.
JOIN OUR PULSE COMMUNITY!
Recommended articles
7 ways celebrities can make fashion statements without eccentric outfits
CHI Limited set to hold 2nd annual Hollandia Dairy Day Celebration
5 things to know about law that says men must marry 2 or more wives
Here are 5 things no one tells you about sleeping with your bestie
All friends of Enioluwa are friends of Crocs
Here are questions to ask yourself before sleeping with a close friend
Do's and Don'ts: How should you wash your vagina?
Sperm- killers, here are 7 things that men need to watch out for
5 tips for planning the perfect baecation