6 simple rules to follow
To throw a successful parking lot party that makes guests forget they have tickets to an actual game, you'll have to pull out all the stops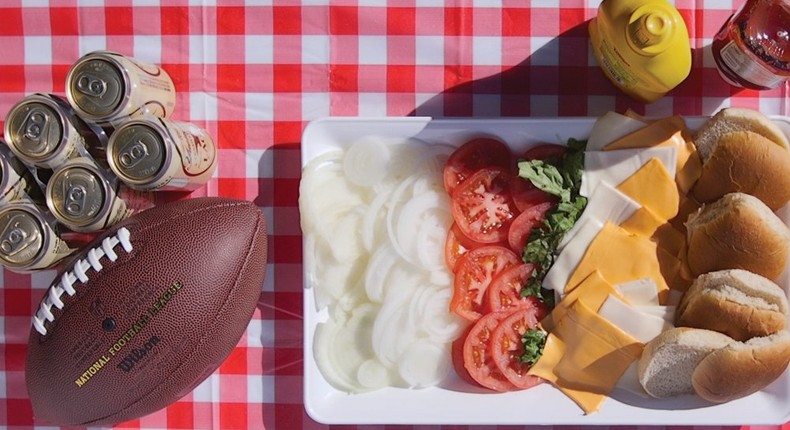 Take it from the "Commissioner of Tailgating"
The job of the tailgate guest is easy: Show up, grab a burger, pound a beer, fling a football.
But the job of the tailgate host is considerably trickier. In order to throw a successful parking lot party that makes guests forget they have tickets to an actual game, you'll have to pull out all the stops.
Luckily, Joe Cahn is here to help. After selling his cooking school in 1996, the self-proclaimed "Commissioner of Tailgating" has spent the last 20 years traveling around the country, hosting epic tailgates for college and pro football teams.
Here are Cahn's six simple rules for mastering the art of the tailgate.
1. Snag the First Spot
There's nothing worse than showing up with a Winnebago full of beer, brats, and buddies, only to be turned away from the stadium.
"Find out exactly when the parking lot opens," Cahn advises. Even if it's before the home team gets there, it'll be worth pulling in early to stake out your spot as the king.
2. Rep Your Team
Don't have a jersey? At least sport the colors of your squad. Cahn says fans can have an impact on the game if they truly bleed their team's colors.
3. Prep At Home
You don't want to miss out on valuable cornhole time, so shape the patties and marinate the wings the night before your tailgate.
"If you're chopping and dicing any food, do it at home, and put it in reusable containers," Cahn says.
4. Use Cans, Not Bottles
Cans don't just fit better in your coozies—"they're also easier to clean up than glass bottles," Cahn says.
5. Stay Hydrated
Make sure you drink enough H2O in between beers. Cahn's tip: "Freeze bottles of water to keep your cooler cold. When they thaw, you have a cool bottle of water to drink."
6. Safety First
Over the last 20 years, Cahn has seen his fair share of tailgate disasters. (It's all fun and games until someone gets trigger-happy with the lighter fluid.)
"Anything can happen," he says. "Bring a fire extinguisher, a first-aid kit, and most importantly, a designated driver."
JOIN OUR PULSE COMMUNITY!
Recommended articles
20 ways people experience unexpected orgasms
Everything you missed at the #TheMeistersExpression Concert in Ibadan
In this Ugandan tribe, the bride's aunt has s*x with the groom to test his sexual prowess
Skinny shaming: 5 things you should never say to a slim person
The importance of boundaries in relationships: Nurturing love and respect
Trace to set the African music scene ablaze with first Trace Awards & Festival in Kigali
Study shows men have been peeing wrong; they ought to sit and not stand
Denola Grey is one of the new faces of Fenty Beauty
How to survive the rising cost of petrol and transport in Nigeria
7 incredible health benefits of bitter kola
5 most fashionable plus-size celebs in Nigeria
See the forest in Ondo where masquerades are forbidden