'I hated running, until I tried this one piece of gear'
I knew it wouldn't be pretty toward the end, but this time I'd have the watch to help me through the run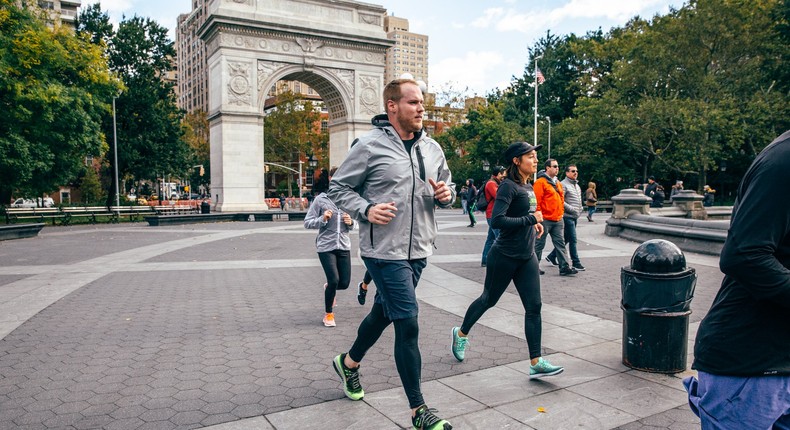 A little distraction helped one editor go a long way
I don't like running, never have.
I'm a tall, broad guy whose body is made for lifting weights, so I much prefer the gym. But I know how good cardio is for your heart health and waistline.
So, when I got an invite from Nike to test out the Apple Watch 2 Nike+ with a running club—something I'd normally pass on—I was nervous but committed to roughly three and a half miles.
I knew it wouldn't be pretty toward the end, but this time I'd have the watch to help me through the run.
I need music when I run, but I get annoyed by my phone rattling in my pocket and headphones get snagged on my clothes and arms.
This watch has built-in GPS, stores music locally, and pairs directly with wireless headphones (I used PowerBeats, the only wireless headphones that don't cut out when I'm running) so I got to leave my phone in my locker.
We're already off to a good start.
As the club met outside, we all hit our "go" buttons in unison and took off.
I almost yelled "don't wait up, I'll see you guys at the end," knowing these more experienced runners were going to smoke me.
Luckily, we were running in the city and had to stop for red lights and crosswalks along the way. The Nike Run Club app has a handy feature called auto-pause, so intermittent stopping didn't count against my pace time.
Now, my legs—and attention span—typically start to putter out after a mile or two. I start to get antsy and check my phone for time and distance—basically asking "when this will be over?"
That would then mess with my stride, which is clunky to begin with, and it was all downhill from there.
But before I started to lose my patience on this run, my watch gave me a little buzz and a notification: "One mile down."
It was actually loud enough to hear on a New York City street, which was impressive itself. With a quick, mid-stride glance at my wrist I knew where I stood and didn't miss a beat.
Miles one and two went by with no problem, but around mile three I needed a pick-me-up.
So I tapped the PowerSong button so my watch would play a high-octane song (Sia's "Move Your Body," if you must know) to help me through the last leg.
I ended up at the finish line no worse for wear, and proud that I actually ran a 5K and was still standing.
Over the next few weeks, I ended up running more and more, thanks to the watch asking me "are we running today?"
It also gives encouraging messages to help you beat your previous personal records, which you can post to all forms of social media as a kind of fitness bragging right.
All in all, this watch gave me the music I needed to keep running, the updates so I knew I was making good time, and the information I wanted to ensure I'm progressing with each run.
It's too early to call myself a converted runner, but one thing is certain: If I am running, this little gadget is strapped firmly to my wrist.
JOIN OUR PULSE COMMUNITY!
Recommended articles
3 easy ways to shape your bofrot (Puff puff)
8 bedroom essentials that will enhance your restful retreat
8 reasons you should switch from pads and tampons to a menstrual cup
Discover 5 must-try beauty and skincare ingredients from around the world
5 reasons your ex left and why you should not consider taking them back
Toyin Abraham's corset gown looks uncomfortable, here's why the trend needs to die
Debunking 3 breastfeeding myths
From sheep penis to chicken testicles, here are 7 weird foods eaten in China
Medlin Couture: Elevating Nigerian fashion on the global stage
7 signs your child could be experiencing a mental illness
5 unique wedding food traditions from around the world
I slept with an onion in my sock, here is what happens
I still love guys - Super Falcons' Michelle Alozie reacts to lesbian rumour
Heartbreak for Nigeria as AFCON 2027 bid slips away to East African rivals
Victor Boniface or Harry Kane: Who has had the better Bundesliga start?
Steph Curry: NBA star lists Nigeria's Burna Boy and WizKid among favorite music artists
Controversy as Super Falcons' Michelle Alozie unveils her 'female lover'
AFCON 2027: Algeria hands Nigeria a major boost
TikTok wahala: Osimhen deletes Napoli pictures from Instagram
Wilfred Ndidi: Style Essentials inspired by the Leicester City's Nigerian midfield maestro
TikTok trolling: Osimhen set to sue Napoli for serious damage