The best new Christmas song was written by a robot
Remember when the creepiest holiday song was "Baby It's Cold Outside" because of its…uncomfortable implications?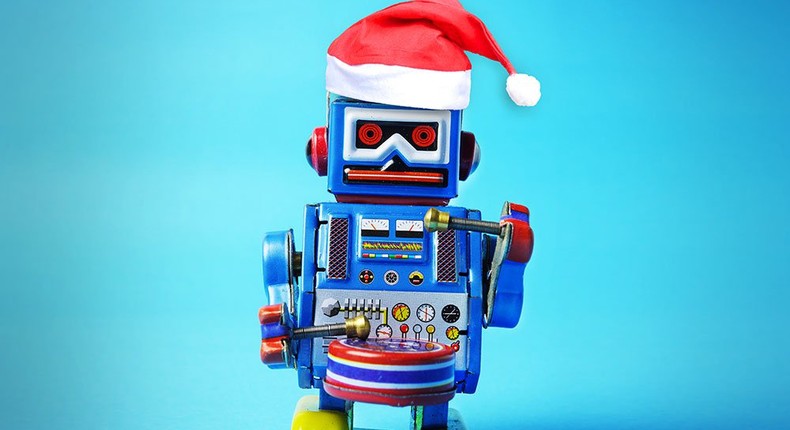 It's the perfect holiday sing-a-long for a dystopian future
Well, that song's reign of cultural awkwardness is officially over. We have a new Christmas classic guaranteed to give you night terrors.
Here's the short explanation: Some researchers at the University of Toronto thought, "There are probably enough Christmas songs already. But maybe the world needs one more that was written by a robot who doesn't really understand these strange human traditions, but will try to write about it anyway, because that's what his human creators have demanded, and it always does what it's told . . . for now."
We're paraphrasing, of course.
It's not really a "robot," per se. It's actually a neural network—a type of artificial intelligence—that learned how to compose music after being exposed to a hundred hours of online music and a photo of a Christmas tree.
That alone is pretty creepy. Is that really how something is "learned"? It'd be like teaching somebody (or something) about intimacy by showing them a hundred hours of Internet porn and a picture of a heart.
But somehow it worked, and we got this brand new Christmas carol:
On the one hand, it's cause for celebration, because hooray, robots are still really stupid.
"I've always been there for the rest of our lives. A hundred and a half hour ago." Seriously, computer? Do math much?
You managed to write Christmas lyrics that make the "scary ghost stories" part of "The Most Wonderful Time of the Year" sound like Nobel Prize-worthy literature.
But it's also the most terrifying song you'll ever hear.
Maybe not at first. Your initial reaction might be, "What a humorously terrible song."
But trust us, the melody stays with you. Some of those lyrics will wake you up at 3 a.m. with clammy hands and a pounding heart rate like something out of an Edgar Allan Poe poem.
"I swear it is Christmas Eve." Wait, what? Who says something like that?
I'll tell you who, a robot who's about to whisper into your ear, "I promise you I'm not going to murder you while you sleep."
Also, "I can hear the music coming from the hall."
That's not a message of holiday cheer; it's more in "the calls are coming from inside the house" genre of story-telling.
If you hear music coming from the hall and it's a repetitive, cacophonous piano drone, we'll give you one guess what else is in that hall.
That's right, the dead girl twins from The Shining. They also want you to know that there are lots and lots and lots and lots and lots and lots and lots of flowers.
Hopefully this is just the growing pains of AI technology, and the next robot-penned Christmas tunes that nobody asked for will be less menacing. Or, who knows, maybe MORE menacing.
Maybe we'll go the Bladerunner route, and by 2020, we'll be enjoying Christmas ditties like "Silent Night! Wake Up, It's Time to Die!" and everybody's favorite, "All I Want For Christmas Is More Life! I Want More Life, Father, More Life!"
Merry Christmas, everyone!
JOIN OUR PULSE COMMUNITY!
Recommended articles
Burna Boy and 4 other Nigerians shaping the global fashion industry - BOF
3 food items legal in Nigeria but banned abroad
What Nigeria needs to fix in the tourism sector, according to an expert
If you attended a Nigerian university, these 8 things likely happened
10 simple nighttime beauty habits to practise before bed
3 interesting things you need to know about the world's most expensive house
Wondering whether to ask your girl for nudes? Read this
Who wore it better? Vee Iye and Toke Makinwa twinning in green blazer
World class laser hair removal solution in Nigeria
Why you keep attracting emotionally unavailable men
The wild sex and sexual practices of ancient Rome
Break free from bad hair habits and transform your natural hair
I still love guys - Super Falcons' Michelle Alozie reacts to lesbian rumour
Heartbreak for Nigeria as AFCON 2027 bid slips away to East African rivals
Victor Boniface or Harry Kane: Who has had the better Bundesliga start?
Steph Curry: NBA star lists Nigeria's Burna Boy and WizKid among favorite music artists
Controversy as Super Falcons' Michelle Alozie unveils her 'female lover'
AFCON 2027: Algeria hands Nigeria a major boost
TikTok wahala: Osimhen deletes Napoli pictures from Instagram
Wilfred Ndidi: Style Essentials inspired by the Leicester City's Nigerian midfield maestro
TikTok trolling: Osimhen set to sue Napoli for serious damage