How many calories does it take to make you gain a 1/2Kg?
The fastest way to do it would be to chug a pint of water or to consume four(ish) quarter pounders.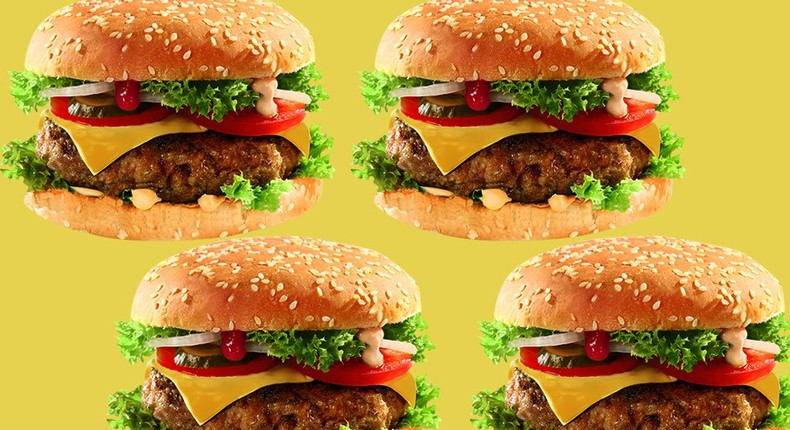 A dietician explains how food really impacts your weight
Let's say you wanted to gain a pound(1/2kg) and quickly.
The fastest way to do it would be to chug a pint of water or to consume four(ish) quarter pounders. Mass is mass, and you'll weigh the same holding a burger in your hand as you would holding it in your stomach.
But your results won't last.
If you chugged water, you'll soon pee it out, naturally. If you gobbled quarter pounders, there's a host of factors that determine how much of that weight actually sticks to you, says Heather Caplan, a Washington, D.C.-based registered dietitian.
First, know that calories are fuel. When you eat, your body uses some of those calories immediately and stores some of them for later.
What determines which calories go where? Well, what else have you recently eaten? When did you last workout? Did you just roll out of bed? Many factors influence calorie burn.
"Even digestion requires energy," says Caplan. "High protein meals are often the most thermogenic," she adds. Some estimates say that you may burn up to a quarter of protein calories just by digesting them.
Just for fun, let's pretend you just carnivore-d your way through a medium-rare rib eye.
"Sixteen ounces of steak could be well over 1,000 calories," explains Caplan.
And because a pound of fat contains 3,500 calories, the most basic math would suggest gains of about one-third of a pound, she adds.
But that would be wrong. Caplan says the one-pound-equals-3,500-calories-myth is one of the most pervasive misconceptions in her field.
The research for this number comes from a 1958 study, and more recent analysis of this long-held belief shows that it simply does not work that way, Caplan explains.
That's because weight gain is affected by basal metabolic rates (energy the body needs to use to maintain systems), energy levels, lifestyle, and body composition, she says.
As many dieters know, you can cut 3,500 calories from your diet and still not see a pound drop off that scale.
While a pound of burgers won't attach a full pound of flab to your gut, it's hard to know exactly how much weight—if any—it will translate to.
So instead of focusing on the weight of what you eat, look instead at the nutrients you're eating per pound.
Kale is stuffed with good-for-you stuff and eating a pound of it would be a gastronomic feat.
Empty carb burger buns? Not so much.
JOIN OUR PULSE COMMUNITY!
Recommended articles
No Rules, All Thrills: The Naija Highlandah grand finale lights up Lagos!!!
Denrele and Tiwa Savage rock the stage at Phantom V Flip 5G grand launch
5 ways Ghanaian jollof is different from Nigerian jollof
3 easy ways to shape your bofrot (puff puff)
8 bedroom essentials that will enhance your restful retreat
8 reasons you should switch from pads and tampons to a menstrual cup
Discover 5 must-try beauty and skincare ingredients from around the world
5 reasons your ex left and why you should not consider taking them back
Toyin Abraham's corset gown looks uncomfortable, here's why the trend needs to die
Debunking 3 breastfeeding myths
From sheep penis to chicken testicles, here are 7 weird foods eaten in China
Medlin Couture: Elevating Nigerian fashion on the global stage
I still love guys - Super Falcons' Michelle Alozie reacts to lesbian rumour
Heartbreak for Nigeria as AFCON 2027 bid slips away to East African rivals
Victor Boniface or Harry Kane: Who has had the better Bundesliga start?
Steph Curry: NBA star lists Nigeria's Burna Boy and WizKid among favorite music artists
Controversy as Super Falcons' Michelle Alozie unveils her 'female lover'
AFCON 2027: Algeria hands Nigeria a major boost
TikTok wahala: Osimhen deletes Napoli pictures from Instagram
Wilfred Ndidi: Style Essentials inspired by the Leicester City's Nigerian midfield maestro
TikTok trolling: Osimhen set to sue Napoli for serious damage