Businessman Samuel Mensah sells Africa's brightest fashion talents to the world (Part 1)
It's no secret that in recent years there has been a huge surge of interest and activity in African fashion.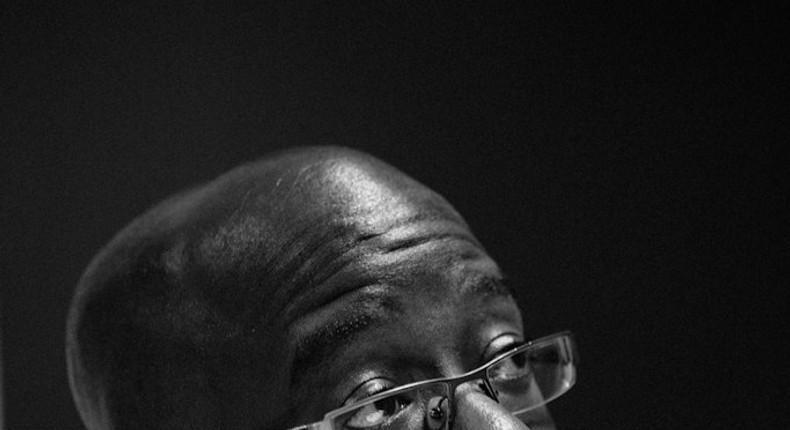 Written by Helen Jennings
It's the Holy Grail for any fashion brand to have Beyoncé wear its clothes.
So when the Kisua.com customer care department received an email from the superstar's stylist last December they couldn't quite believe it.
"At first we thought it was a scam," confesses Kisua CEO and founder Samuel Mensah. But this was no joke.
Queen B was soon snapped wearing a Kisua coat to a Broadway premiere and posed in a skirt on Instagram for the viewing pleasure of her 30 million followers.
"I was blown away," says Danica Lepen, Kisua creative director.
"No one is bigger than Beyoncé. She could wear anything she wants, so the fact that she supports African fashion is so great.
"In a world where celebrity endorsement and social media hype is prized above all, this unexpected turn of events was just reward for the team who have been working hard for two years to break new ground in African fashion with their first-of-its-kind e-commerce platform."
Mensah's background is in finance, not frocks. He grew up between Ghana, Scotland, Nigeria and Swaziland thanks to his parents' academic careers.
He completed an MA in economics and management at Oxford University before pursuing a career in investment banking.
As the Africa director for Intel Capital – a role in which he would invest in innovative technology companies and start-ups – he continued to journey extensively around Africa, and in so doing inadvertently identified a demand for African fashion that wasn't being met.
"Friends would ask me to bring clothes back for them from my travels. They wanted contemporary African fashion but just couldn't find it," he says.
Fledgling fashion scenes in the continent's major capitals are bubbling over with talent and enterprise, and global brands are finally beginning to explore the continent's consumer potential.
Euromonitor calculates sub-Saharan Africa's apparel and footwear market to be worth $31billion and rising fast.
But the industry remains plagued by infrastructural, financial and logistical hurdles that limit designers' ability to produce collections efficiently and reach eager customers worldwide.
"The irony is that that Africans are blessed with so many cultural assets that have inspired international brands for decades," Mensah says.
"Yet we haven't monetised them ourselves because the operational capabilities that Western brands take for granted have not been built here yet. In my view, the greatest need is in the missing middle.
We have high-end designers and second-hand markets,but what most people want is good quality, affordable clothing within the $50-$400 price range", he added.
Once Mensah set upon this new course, there was no stopping him.
"Every big idea starts with a first step. For me that meant resigning from a really good job, selling everything I had and cashing in my pension and shares. My parents found it confusing.
"They asked why I was throwing my education and career away to go and make dresses. 'If this is some sort of mid-life crisis, why don't I go buy a motorbike?'" he recalls with a chuckle.
Instead he secured seed capital and sought insights from distinguished experts who now form Kisua's advisory board: Savile Row tailor Ozwald Boateng, former CEO of textile company Vlisco Joop van der Meij and founder of Lagos Fashion & Design Week Omoyemi Akerele.
Mensah established Kisua (meaning 'well-dressed person' in Swahili) in Johannesburg in 2013, with further operations in Mauritius, UK and USA, and brought together a team who could realise his dream of a fully-integrated online fashion business.
Everything in the supply chain is done in-house – from design, sampling, sizing, sourcing and development to production, warehousing, distribution, public relations, sales and customer service – thus ensuring consistent products and delivery.
But what really makes Kisua inspiring is its creative vision, which is headed up by Lepen.
The Johannesburg-born designer spent her formative years in Croatia and returned home to study fashion at the Midrand Graduate Institute.
She was mentored at Luna and Strangelove and flourished for seven years at the conceptual catwalk brand Black Coffee alongside its founder, Jacques van der Watt.
She then gained commercial experience at Marion & Lindie before being won over by Mensah.
"I got involved with the Kisua because it was a dream for me to build and promote a global platform for African design," she recalls.
"We are so used to bringing goods into Africa and not taking Africa out. Nurturing local talent and growing our industry is something I am very passionate about."
The brand began by selecting 10 designers across the continent, both emerging and established, to develop unique capsule collections that Kisua then produced and sold, with a percentage of profits going back to the designers.
Beatrice Black Atari, Chechi Arinze, Kiki Kamanu, Lola Buttons, Tae Afrika and Tobi Martins from Nigeria; Jamil Walji and Kanga Kulture from Kenya; Poqua Poqu from Ghana and Tina Lobondi from Democratic Republic of the Congo all worked closely with Lepen and her team to come up with ranges that combined each designer's personal style with Kisua's strong, modern signature.
"There was a lot of back and forth with designers to find a smart way of working together, and because there is no financial risk to them, it was a true collaboration," she explains.
"The Kisua aesthetic is African inspired, has clean lines and lots of prints. We combine traditional textiles and techniques with cutting-edge know-how.
"There's a story behind each piece that makes it special but also accessible and affordable."
JOIN OUR PULSE COMMUNITY!
Recommended articles
From Waves to Weaves: 10×10 storms hair industry with a 9-day market activation in Lagos
This week's best celebrity pictures on Instagram
20 ways people experience unexpected orgasms
Everything you missed at the #TheMeistersExpression Concert in Ibadan
In this Ugandan tribe, the bride's aunt has s*x with the groom to test his sexual prowess
Skinny shaming: 5 things you should never say to a slim person
The importance of boundaries in relationships: Nurturing love and respect
Trace to set the African music scene ablaze with first Trace Awards & Festival in Kigali
Study shows men have been peeing wrong; they ought to sit and not stand
Denola Grey is one of the new faces of Fenty Beauty
How to survive the rising cost of petrol and transport in Nigeria
7 incredible health benefits of bitter kola