Recipe of the day: How to prepare Liberian Kanyan snack
Here's a popular Liberian street snack made with peanuts, very similar to kuli-kuli.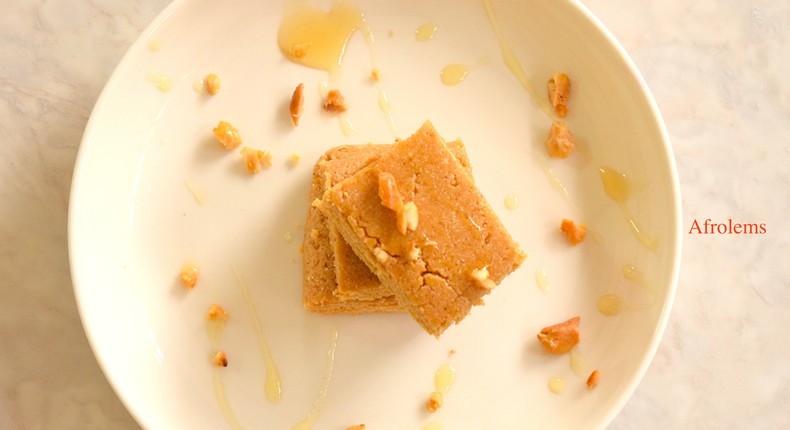 ingredients
Half cup of Garri
1.5 cup of roasted nuts
1.5 tbsp of Sugar
3 tbsp of Honey
Recipe category
Recipe cuisine
Cooking method
Recipe Yield
Instructions
Blend the garri with sugar till you get a smooth powder.
Blend your peanuts till you get a smooth paste.
In the garri and sugar mixture, slowly pour in the honey.
Add the peanut butter into the mixture and blend till paste is a bit smooth. Alternatively, you can pound ingredients in small quantities.
Scoop the mix into a bowl and smoothen to mould into a large square shape.
On a flat plate, flip over the bowl with the mould and cut into small squares.
Alternatively, scoop the mix into your palm and roll into a ball. 
JOIN OUR PULSE COMMUNITY!
Recommended articles
5 surprising things coconut water can do for skin
6 foods to add to your diet if you want a bigger butt
Chaotic life of an HR: Chaotic reveal (Ep.22)
4 reasons why couples should sleep naked
Chaotic life of an HR: Zainab's little secret (Ep. 20)
Chaotic life of an HR: Crushing on who? (Ep.19)
Do you really need complete honesty to have a happy relationship?
You should not do any of these while visiting the Oba's palace in Benin
7 incredible health benefits of bitter kola