Recipe of the day: How to prepare Liberian Kanyan snack
Here's a popular Liberian street snack made with peanuts, very similar to kuli-kuli.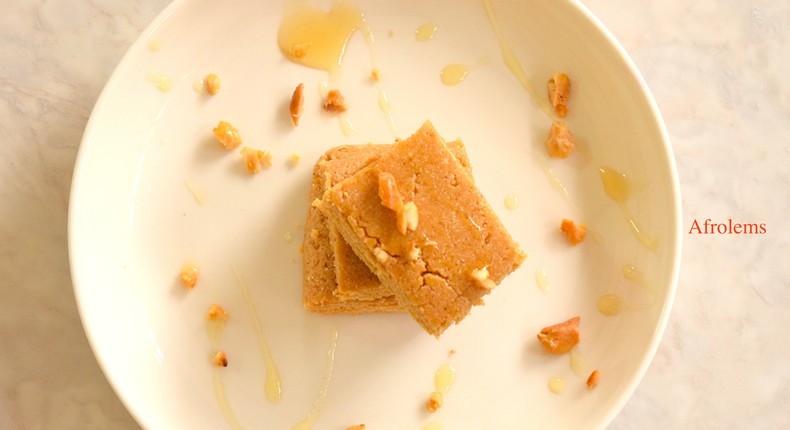 Recipe category
Recipe cuisine
Cooking method
Recipe Yield
Instructions
Blend the garri with sugar till you get a smooth powder.
Blend your peanuts till you get a smooth paste.
In the garri and sugar mixture, slowly pour in the honey.
Add the peanut butter into the mixture and blend till paste is a bit smooth. Alternatively, you can pound ingredients in small quantities.
Scoop the mix into a bowl and smoothen to mould into a large square shape.
On a flat plate, flip over the bowl with the mould and cut into small squares.
Alternatively, scoop the mix into your palm and roll into a ball. 
JOIN OUR PULSE COMMUNITY!
Recommended articles
5 things a cheating partner says that prove they cheated
Braids by Hilda: 4 simple and stylish braids Hilda Baci loves
The top 10 poorest countries in the world are all in Africa
15 unconventional foods that Nigerians eat
5 concert safety tips that should be on your mind for Detty December
Top 5 coldest countries in the world
DIY Recipes: How to make shawarma bread using oats
Mingle Yard - Your premier online dating destination!
Senator Ekpenyong's Thanksgiving celebration attended by Senate President and others
Get ready to kick it up, a notch at Sneakerfest 2023
5 signs they are the villain even if they claim to be a victim
5 kinds of butts and clothes that fit them
Thiago Silva recalls TB fright ahead of Chelsea debut
Brazil vs Argentina: Bloody scenes at the Maracana as Brazilian police and Argentine fans clash
Arda Turan: Ex-Atletico star in hot tears after losing $13 million to 'yahoo yahoo'
Global Soccer Award: Osimhen to battle Messi and Ronaldo
Lionel Messi and Scaloni's Argentina relationship set to end